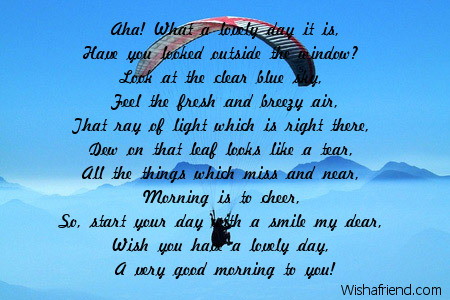 What a lovely day it is
Aha! What a lovely day it is,
Have you looked outside the window?
Look at the clear blue sky,
Feel the fresh and breezy air,
That ray of light which is right there,
Dew on that leaf looks like a tear,
All the things which miss and near,
Morning is to cheer,
So, start your day with a smile my dear,
Wish you have a lovely day,
A very good morning to you!
Other Popular Good Morning Poems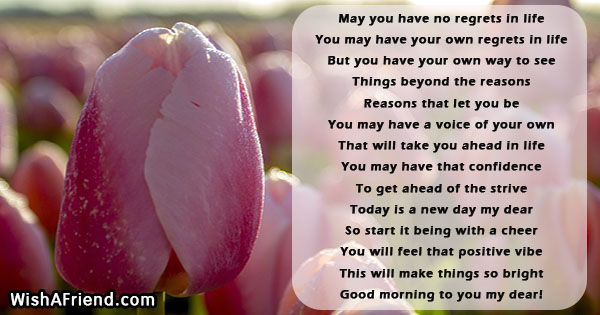 May you have no regrets in life
You may have your own regrets in life
But you have your own way to see
Things beyond the reasons
Reasons that let you be
You may have a voice of your own
That will take you ahead in life
You may have that confidence
To get ahead of the strive
Today is a new day my dear
So start it being with a cheer
You will feel that positive vibe
This will make things so bright
Good morning to you my dear!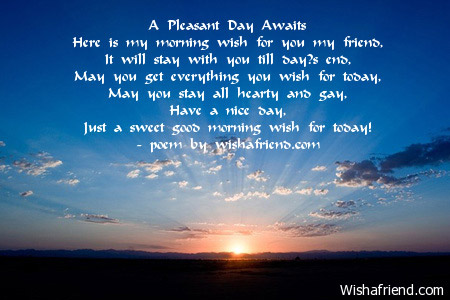 A Pleasant Day Awaits
Here is my morning wish for you my friend,
It will stay with you till day's end,
May you get everything you wish for today,
May you stay all hearty and gay,
Have a nice day,
Just a sweet good morning wish for today!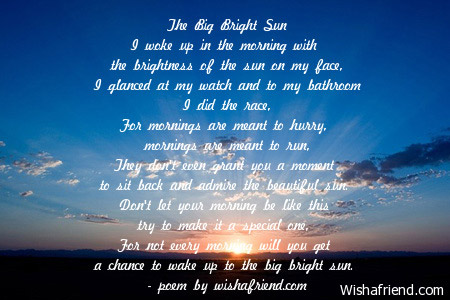 The Big Bright Sun
I woke up in the morning with
the brightness of the sun on my face,
I glanced at my watch and to my bathroom
I did the race,
For mornings are meant to hurry,
mornings are meant to run,
They don't even grant you a moment
to sit back and admire the beautiful sun.
Don't let your morning be like this
try to make it a special one,
For not every morning will you get a chance to wake up to the big bright sun.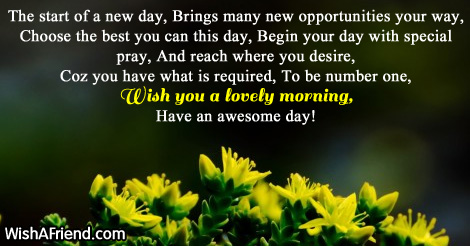 New start for the day
The start of a new day,
Brings many new opportunities your way,
Choose the best you can this day,
Begin your day with special pray,
And reach where you desire,
Coz you have what is required,
To be number one,
Wish you a lovely morning,
Have an awesome day!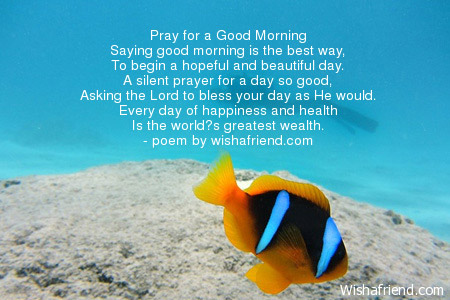 Pray for a Good Morning
Saying good morning is the best way,
To begin a hopeful and beautiful day.
A silent prayer for a day so good,
Asking the Lord to bless your day as He would.
Every day of happiness and health
Is the world's greatest wealth.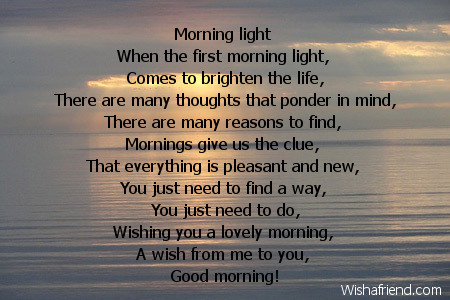 Morning light
When the first morning light, Comes to brighten the life,
There are many thoughts that ponder in mind,
There are many reasons to find,
Mornings give us the clue,
That everything is pleasant and new,
You just need to find a way,
You just need to do,
Wishing you a lovely morning,
A wish from me to you,
Good morning!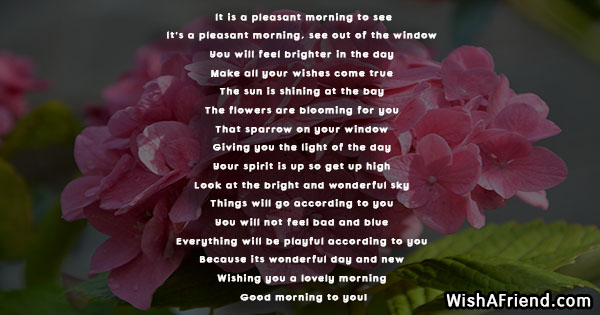 It is a pleasant morning to see
It's a pleasant morning, see out of the window
You will feel brighter in the day
Make all your wishes come true
The sun is shining at the bay
The flowers are blooming for you
That sparrow on your window
Giving you the light of the day
Your spirit is up so get up high
Look at the bright and wonderful sky
Things will go according to you
You will not feel bad and blue
Everything will be playful according to you
Because its wonderful day and new
Wishing you a lovely morning
Good morning to you!