A beautiful day
A beautiful sunrise and a new day,
Where you can have your say,
Take this day as a start,
Of another bright day,
Wish you have a lovely morning,
Wish you have a lovely day,
Good morning for today!
Other Popular Good Morning Poems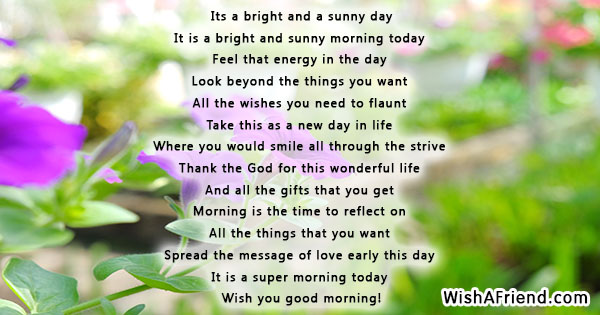 Its a bright and a sunny day
It is a bright and sunny morning today
Feel that energy in the day
Look beyond the things you want
All the wishes you need to flaunt
Take this as a new day in life
Where you would smile all through the strive
Thank the God for this wonderful life
And all the gifts that you get
Morning is the time to reflect on
All the things that you want
Spread the message of love early this day
It is a super morning today
Wish you good morning!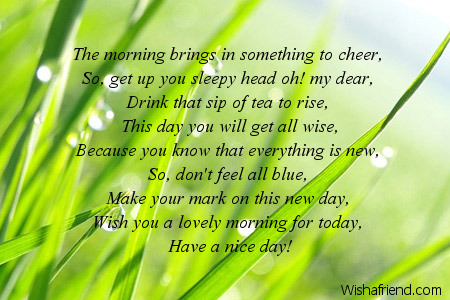 Something to cheer
The morning brings in something to cheer,
So, get up you sleepy head oh! my dear,
Drink that sip of tea to rise,
This day you will get all wise,
Because you know that everything is new,
So, don't feel all blue,
Make your mark on this new day,
Wish you a lovely morning for today,
Have a nice day!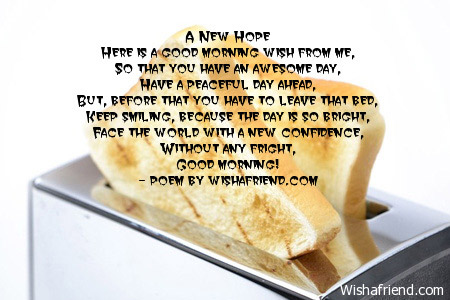 A New Hope
Here is a good morning wish from me,
So that you have an awesome day,
Have a peaceful day ahead,
But, before that you have to leave that bed,
Keep smiling, because the day is so bright,
Face the world with a new confidence,
Without any fright,
Good morning!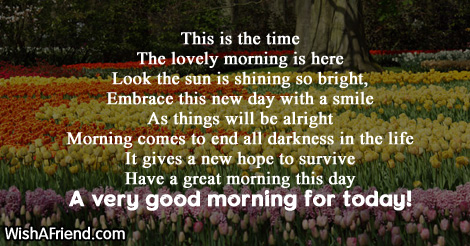 This is the time
The lovely morning is here
Look the sun is shining so bright,
Embrace this new day with a smile
As things will be alright
Morning comes to end all darkness in the life
It gives a new hope to survive
Have a great morning this day
A very good morning for today!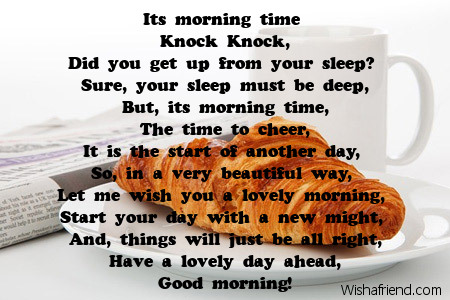 Its morning time
Knock Knock,
Did you get up from your sleep?
Sure, your sleep must be deep,
But, its morning time,
The time to cheer,
It is the start of another day,
So, in a very beautiful way,
Let me wish you a lovely morning,
Start your day with a new might,
And, things will just be all right,
Have a lovely day ahead,
Good morning!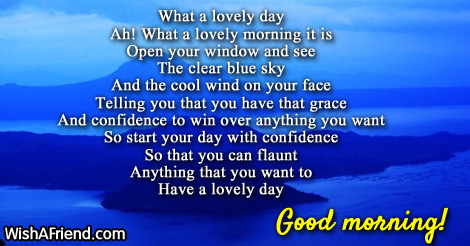 What a lovely day
Ah! What a lovely morning it is
Open your window and see
The clear blue sky
And the cool wind on your face
Telling you that you have that grace
And confidence to win over anything you want
So start your day with confidence
So that you can flaunt
Anything that you want to
Have a lovely day
Good morning!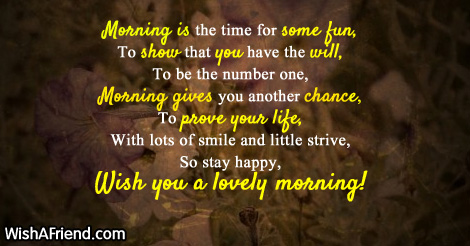 Time for some fun
Morning is the time for some fun,
To show that you have the will,
To be the number one,
Morning gives you another chance,
To prove your life,
With lots of smile and little strive,
So stay happy,
Wish you a lovely morning!