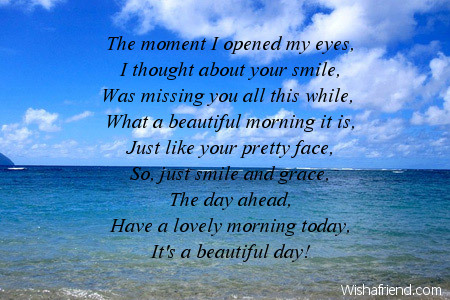 The moment with you
The moment I opened my eyes,
I thought about your smile,
Was missing you all this while,
What a beautiful morning it is,
Just like your pretty face,
So, just smile and grace,
The day ahead,
Have a lovely morning today,
It's a beautiful day!
Other Popular Good Morning Poems for Her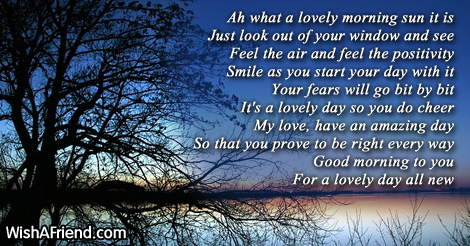 What a lovely morning it is
Ah what a lovely morning sun it is
Just look out of your window and see
Feel the air and feel the positivity
Smile as you start your day with it
Your fears will go bit by bit
It's a lovely day so you do cheer
My love, have an amazing day
So that you prove to be right every way
Good morning to you
For a lovely day all new!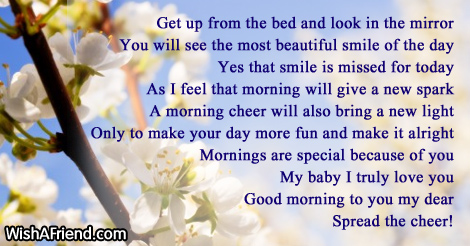 Get up from the bed
Get up from the bed and look in the mirror
You will see the most beautiful smile of the day
Yes that smile is missed for today
As I feel that morning will give a new spark
A morning cheer will also bring a new light
Only to make your day more fun and make it alright
Mornings are special because of you
My baby I truly love you
Good morning to you my dear
Spread the cheer!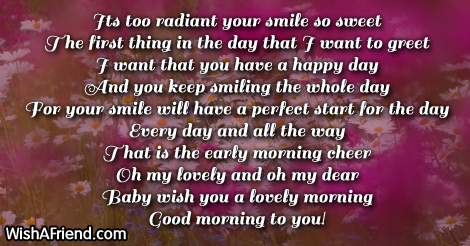 Its so radiant your smile
Its too radiant your smile so sweet
The first thing in the day that I want to greet
I want that you have a happy day
And you keep smiling the whole day
For your smile will have a perfect start for the day
Every day and all the way
That is the early morning cheer
Oh my lovely and oh my dear
Baby wish you a lovely morning
Good morning to you!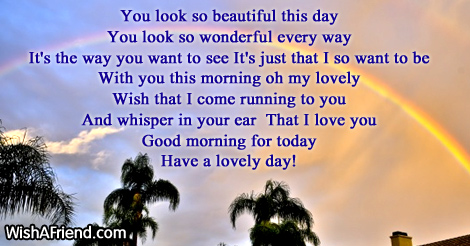 You look so pretty
You look so beautiful this day
You look so wonderful every way
It's the way you want to see
It's just that I so want to be
With you this morning oh my lovely
Wish that I come running to you
And whisper in your ear
That I love you
Good morning for today
Have a lovely day!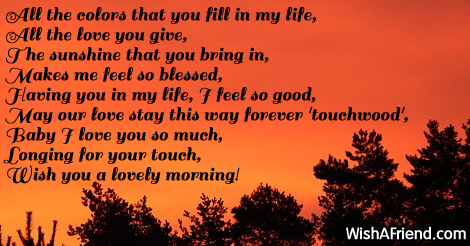 You are the color of life
All the colors that you fill in my life,
All the love you give,
The sunshine that you bring in,
Makes me feel so blessed,
Having you in my life, I feel so good,
May our love stay this way forever 'touchwood',
Baby I love you so much,
Longing for your touch,
Wish you a lovely morning!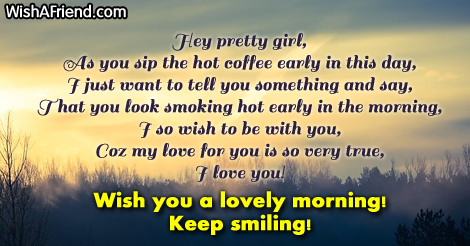 I wish to be with you
Hey pretty girl,
As you sip the hot coffee early in this day,
I just want to tell you something and say,
That you look smoking hot early in the morning,
I so wish to be with you,
Coz my love for you is so very true,
I love you!
Wish you a lovely morning!
Keep smiling!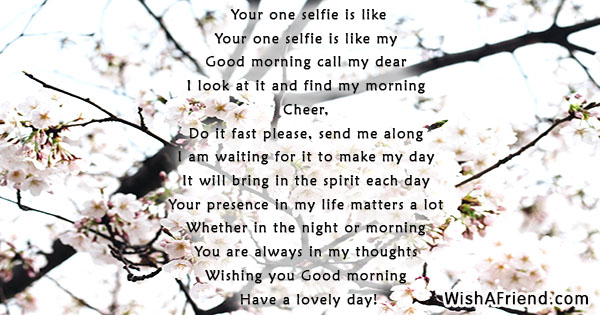 Your one selfie is like
Your one selfie is like my
Good morning call my dear
I look at it and find my morning
Cheer,
Do it fast please, send me along
I am waiting for it to make my day
It will bring in the spirit each day
Your presence in my life matters a lot
Whether in the night or morning
You are always in my thoughts
Wishing you Good morning
Have a lovely day!