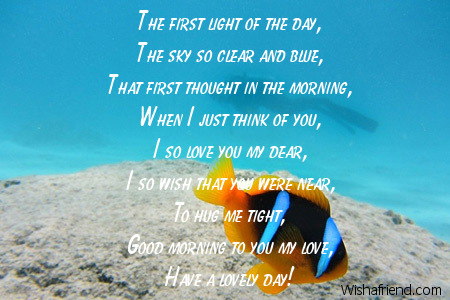 The first ray of light
The first light of the day,
The sky so clear and blue,
That first thought in the morning,
When I just think of you,
I so love you my dear,
I so wish that you were near,
To hug me tight,
Good morning to you my love,
Have a lovely day!
Other Popular Good Morning Poems for Him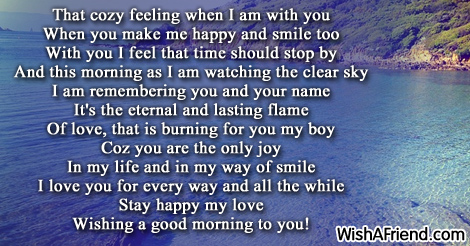 That cozy feeling when
That cozy feeling when I am with you
When you make me happy and smile too
With you I feel that time should stop by
And this morning as I am watching the clear sky
I am remembering you and your name
It's the eternal and lasting flame
Of love, that is burning for you my boy
Coz you are the only joy
In my life and in my way of smile
I love you for every way and all the while
Stay happy my love
Wishing a good morning to you!
Without you my love
I know I can't stay away from you for long,
I know that to me,
You truly belong,
Early in the morning, I miss you the most,
In your thoughts I am engrossed,
Sending you warm wishes for this morning,
Have a lovely day,
Good morning!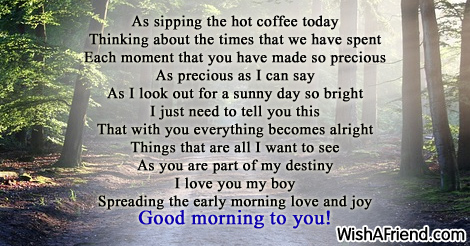 As sipping the coffee
As sipping the hot coffee today
Thinking about the times that we have spent
Each moment that you have made so precious
As precious as I can say
As I look out for a sunny day so bright
I just need to tell you this
That with you everything becomes alright
Things that are all I want to see
As you are part of my destiny
I love you my boy
Spreading the early morning love and joy
Good morning to you!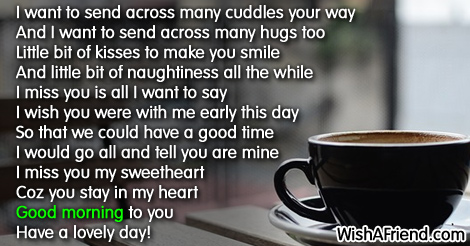 I want to send across
I want to send across many cuddles your way
And I want to send across many hugs too
Little bit of kisses to make you smile
And little bit of naughtiness all the while
I miss you is all I want to say
I wish you were with me early this day
So that we could have a good time
I would go all and tell you are mine
I miss you my sweetheart
Coz you stay in my heart
Good morning to you
Have a lovely day!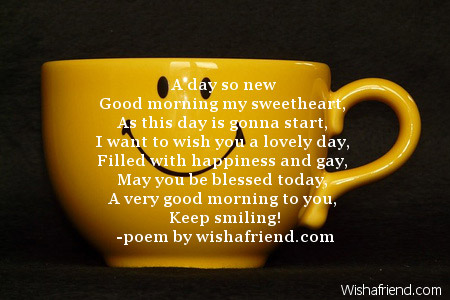 A day so new
Good morning my sweetheart,
As this day is gonna start,
I want to wish you a lovely day,
Filled with happiness and gay,
May you be blessed today,
A very good morning to you,
Keep smiling!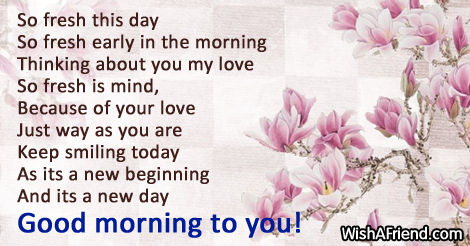 So fresh this day
So fresh early in the morning
Thinking about you my love
So fresh is mind,
Because of your love
Just way as you are
Keep smiling today
As its a new beginning
And its a new day
Good morning to you!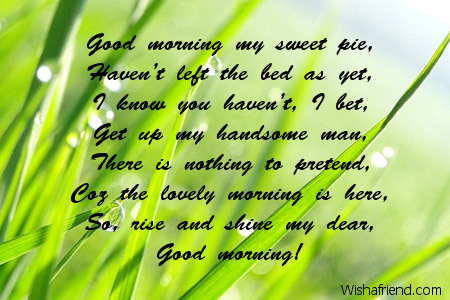 To my love in morning
Good morning my sweet pie,
Haven't left the bed as yet,
I know you haven't, I bet,
Get up my handsome man,
There is nothing to pretend,
Coz the lovely morning is here,
So, rise and shine my dear,
Good morning!