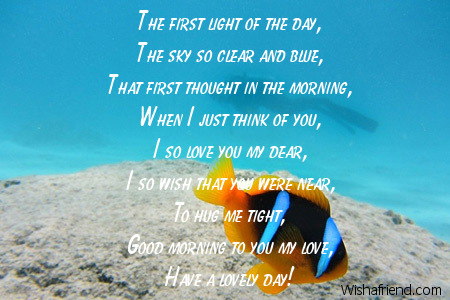 The first ray of light
The first light of the day,
The sky so clear and blue,
That first thought in the morning,
When I just think of you,
I so love you my dear,
I so wish that you were near,
To hug me tight,
Good morning to you my love,
Have a lovely day!
Other Popular Good Morning Poems for Him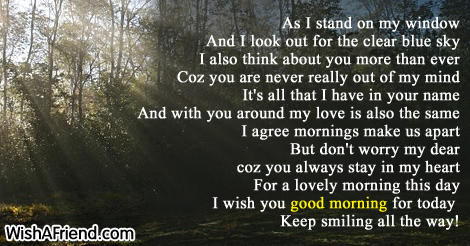 As I stand on my window
As I stand on my window
And I look out for the clear blue sky
I also think about you more than ever
Coz you are never really out of my mind
It's all that I have in your name
And with you around my love is also the same
I agree mornings make us apart
But don't worry my dear coz you always stay in my heart
For a lovely morning this day
I wish you good morning for today
Keep smiling all the way!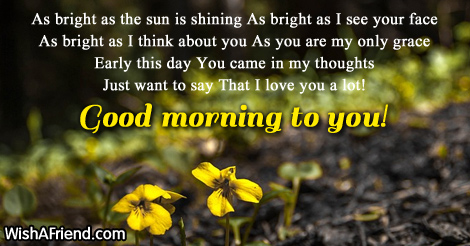 As bright as
As bright as the sun is shining
As bright as I see your face
As bright as I think about you
As you are my only grace
Early this day
You came in my thoughts
Just want to say
That I love you a lot!
Good morning to you!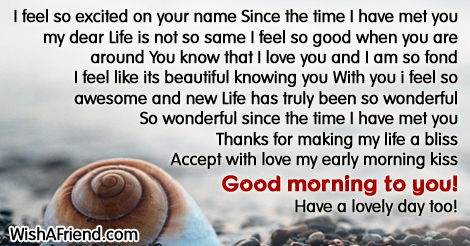 I feel so good on your name
I feel so excited on your name
Since the time I have met you my dear
Life is not so same
I feel so good when you are around
You know that I love you and I am so fond
I feel like its beautiful knowing you
With you i feel so awesome and new
Life has truly been so wonderful
So wonderful since the time I have met you
Thanks for making my life a bliss
Accept with love my early morning kiss
Good morning to you!
Have a lovely day too!
With the first day
With the first ray of the sun,
I think about you my dear,
So lovely is the morning time,
Feels so good, wish you were near
So that I could hug you tight,
And make the moment oh so bright
Here is wishing you a pleasant morning
My boy, a very happy morning!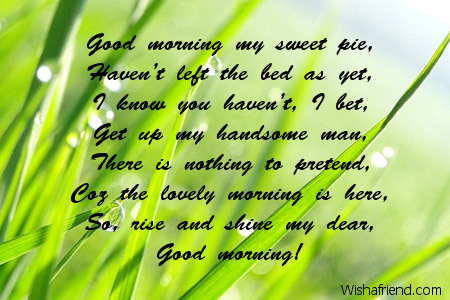 To my love in morning
Good morning my sweet pie,
Haven't left the bed as yet,
I know you haven't, I bet,
Get up my handsome man,
There is nothing to pretend,
Coz the lovely morning is here,
So, rise and shine my dear,
Good morning!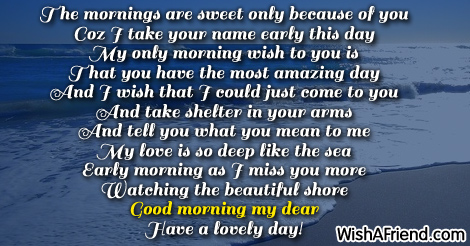 The mornings are so special
The mornings are sweet only because of you
Coz I take your name early this day
My only morning wish to you is
That you have the most amazing day
And I wish that I could just come to you
And take shelter in your arms
And tell you what you mean to me
My love is so deep like the sea
Early morning as I miss you more
Watching the beautiful shore
Good morning my dear
Have a lovely day!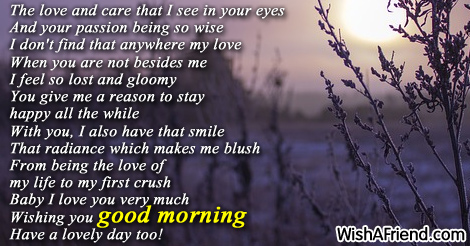 The love and care
The love and care that I see in your eyes
And your passion being so wise
I don't find that anywhere my love
When you are not besides me
I feel so lost and gloomy
You give me a reason to stay happy all the while
With you, I also have that smile
That radiance which makes me blush
From being the love of my life to my first crush
Baby I love you very much
Wishing you good morning
Have a lovely day too!