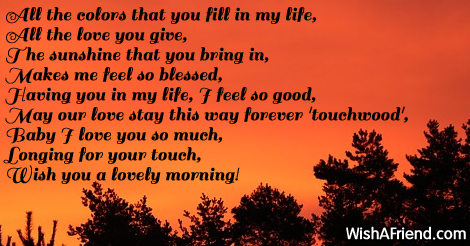 You are the color of life
All the colors that you fill in my life,
All the love you give,
The sunshine that you bring in,
Makes me feel so blessed,
Having you in my life, I feel so good,
May our love stay this way forever 'touchwood',
Baby I love you so much,
Longing for your touch,
Wish you a lovely morning!
Other Popular Good Morning Poems for Her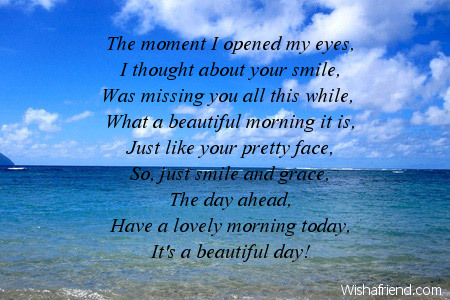 The moment with you
The moment I opened my eyes,
I thought about your smile,
Was missing you all this while,
What a beautiful morning it is,
Just like your pretty face,
So, just smile and grace,
The day ahead,
Have a lovely morning today,
It's a beautiful day!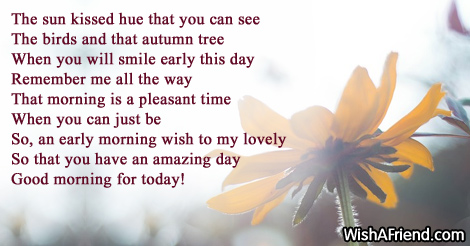 The sun kissed hue
The sun kissed hue that you can see
The birds and that autumn tree
When you will smile early this day
Remember me all the way
That morning is a pleasant time
When you can just be
So, an early morning wish to my lovely
So that you have an amazing day
Good morning for today!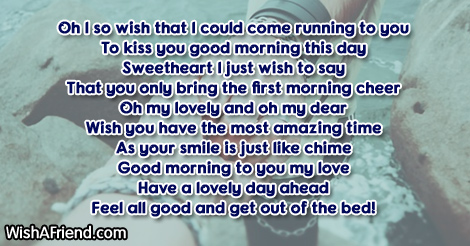 I wish that I could just
Oh I so wish that I could come running to you
To kiss you good morning this day
Sweetheart I just wish to say
That you only bring the first morning cheer
Oh my lovely and oh my dear
Wish you have the most amazing time
As your smile is just like chime
Good morning to you my love
Have a lovely day ahead
Feel all good and get out of the bed!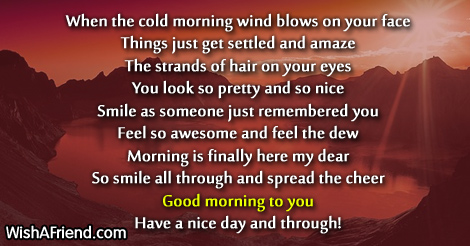 When the cold morning wind blows
When the cold morning wind blows on your face
Things just get settled and amaze
The strands of hair on your eyes
You look so pretty and so nice
Smile as someone just remembered you
Feel so awesome and feel the dew
Morning is finally here my dear
So smile all through and spread the cheer
Good morning to you
Have a nice day and through!
Sweet morning wishes
Mornings are filled with mist,
Mornings are delight,
Was thinking about you all night,
Coz you are not in sight,
Wishing you a lovely morning today,
Because it's just another awesome day,
Good morning my dear,
Wish you were near!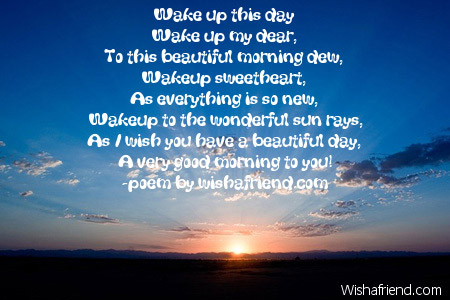 Wake up this day
Wake up my dear,
To this beautiful morning dew,
Wakeup sweetheart,
As everything is so new,
Wakeup to the wonderful sun rays,
As I wish you have a beautiful day,
A very good morning to you!
Missing your smile
Missing your smile early this day,
Missing your sweet talks,
Missing your endless chats,
This day is bright and will bring a hope,
You and I together make a great scope,
Wish you a lovely morning my dear,
Spread the cheer!