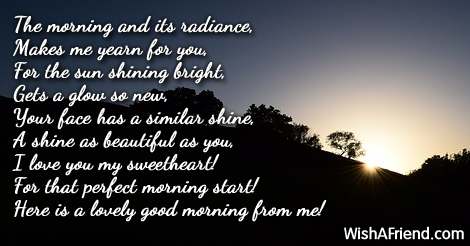 The radiance of morning
The morning and its radiance,
Makes me yearn for you,
For the sun shining bright,
Gets a glow so new,
Your face has a similar shine,
A shine as beautiful as you,
I love you my sweetheart!
For that perfect morning start!
Here is a lovely good morning from me!
Other Popular Good Morning Poems for Her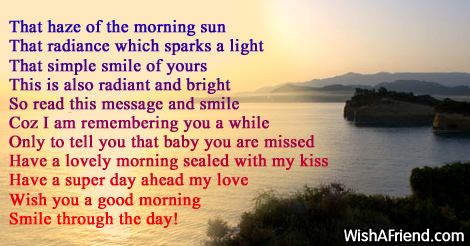 That haze in the morning
That haze of the morning sun
That radiance which sparks a light
That simple smile of yours
This is also radiant and bright
So read this message and smile
Coz I am remembering you a while
Only to tell you that baby you are missed
Have a lovely morning sealed with my kiss
Have a super day ahead my love
Wish you a good morning
Smile through the day!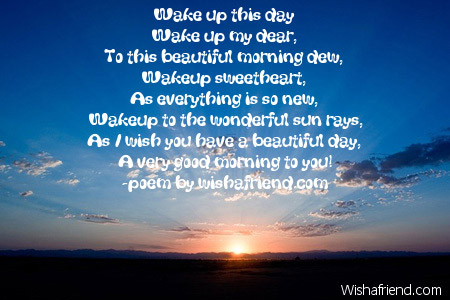 Wake up this day
Wake up my dear,
To this beautiful morning dew,
Wakeup sweetheart,
As everything is so new,
Wakeup to the wonderful sun rays,
As I wish you have a beautiful day,
A very good morning to you!
The radiant morning
The morning is radiant as you are
So I request you to get up with a smile
Feel so special every while
Morning is a time when I miss you
So sending you a morning message
Just to remember you
Embrace this with a kiss
Early in the morning and this mist
Good morning to you!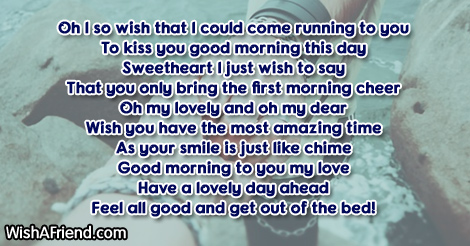 I wish that I could just
Oh I so wish that I could come running to you
To kiss you good morning this day
Sweetheart I just wish to say
That you only bring the first morning cheer
Oh my lovely and oh my dear
Wish you have the most amazing time
As your smile is just like chime
Good morning to you my love
Have a lovely day ahead
Feel all good and get out of the bed!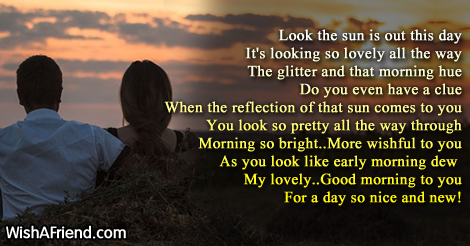 Look at the sun
Look the sun is out this day
It's looking so lovely all the way
The glitter and that morning hue
Do you even have a clue
When the reflection of that sun comes to you
You look so pretty all the way through
Morning so bright..More wishful to you
As you look like early morning dew
My lovely..Good morning to you
For a day so nice and new!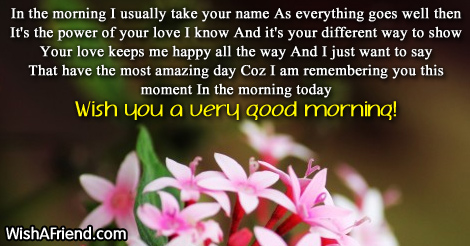 In the morning this way
In the morning I usually take your name
As everything goes well then
It's the power of your love I know
And it's your different way to show
Your love keeps me happy all the way
And I just want to say
That have the most amazing day
Coz I am remembering you this moment
In the morning today
Wish you a very good morning!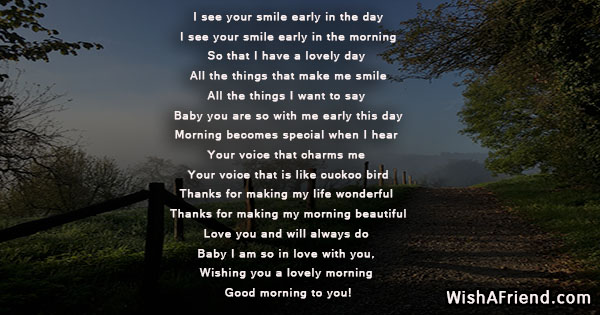 I see your smile early in the day
I see your smile early in the morning
So that I have a lovely day
All the things that make me smile
All the things I want to say
Baby you are so with me early this day
Morning becomes special when I hear
Your voice that charms me
Your voice that is like cuckoo bird
Thanks for making my life wonderful
Thanks for making my morning beautiful
Love you and will always do
Baby I am so in love with you,
Wishing you a lovely morning
Good morning to you!