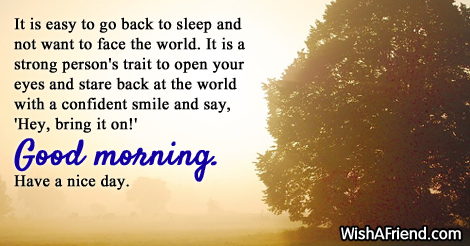 It is easy to go back to sleep and not want to face the world. It is a strong person's trait to open your eyes and stare back at the world with a confident smile and say, 'Hey, bring it on!' Good morning. Have a nice day.
Other Popular Good Morning Greetings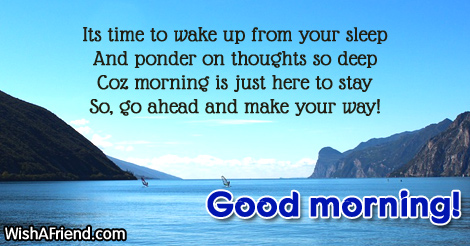 Its time to wake up from your sleep
And ponder on thoughts so deep
Coz morning is just here to stay
So, go ahead and make your way!
Good morning!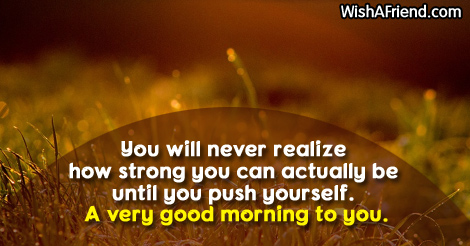 You will never realize how strong you can actually be until you push yourself. A very good morning to you.
Each morning reminds me of the wrong dreams I have been chasing all night long, because when I open my eyes I see you. You are like the best dream come true. Have a great morning.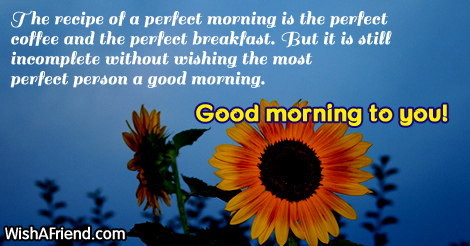 The recipe of a perfect morning is the perfect coffee and the perfect breakfast. But it is still incomplete without wishing the most perfect person a good morning. Good morning to you!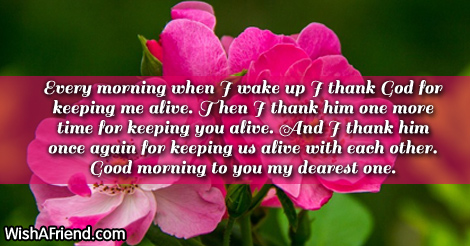 Every morning when I wake up I thank God for keeping me alive. Then I thank him one more time for keeping you alive. And I thank him once again for keeping us alive with each other. Good morning to you my dearest one.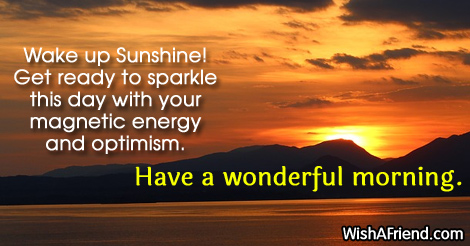 Wake up Sunshine! Get ready to sparkle this day with your magnetic energy and optimism. Have a wonderful morning.
May happiness, peace and love follow you all day long through the morning light till night, so that you can go to bed at night thinking of what a wonderful day today was. Good morning to you my friend.