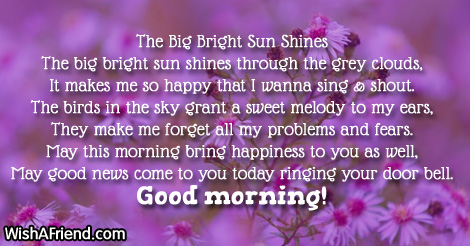 The Big Bright Sun Shines
The big bright sun shines through the grey clouds,
It makes me so happy that I wanna sing & shout.
The birds in the sky grant a sweet melody to my ears,
They make me forget all my problems and fears.
May this morning bring happiness to you as well,
May good news come to you today ringing your door bell.
Good morning!
Other Popular Good Morning Poems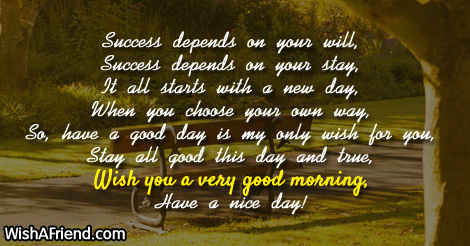 On your will
Success depends on your will,
Success depends on your stay,
It all starts with a new day,
When you choose your own way,
So, have a good day is my only wish for you,
Stay all good this day and true,
Wish you a very good morning,
Have a nice day!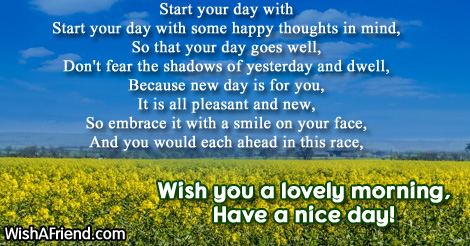 Start your day with
Start your day with some happy thoughts in mind,
So that your day goes well,
Don't fear the shadows of yesterday and dwell,
Because new day is for you,
It is all pleasant and new,
So embrace it with a smile on your face,
And you would each ahead in this race,
Wish you a lovely morning,
Have a nice day!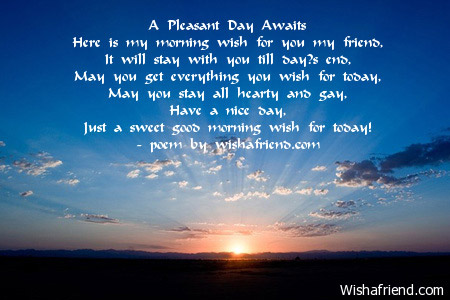 A Pleasant Day Awaits
Here is my morning wish for you my friend,
It will stay with you till day's end,
May you get everything you wish for today,
May you stay all hearty and gay,
Have a nice day,
Just a sweet good morning wish for today!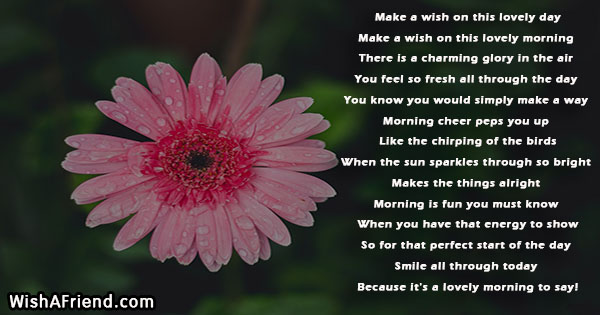 Make a wish on this lovely day
Make a wish on this lovely morning
There is a charming glory in the air
You feel so fresh all through the day
You know you would simply make a way
Morning cheer peps you up
Like the chirping of the birds
When the sun sparkles through so bright
Makes the things alright
Morning is fun you must know
When you have that energy to show
So for that perfect start of the day
Smile all through today
Because it's a lovely morning to say!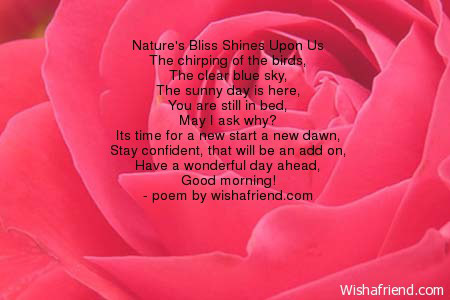 Nature's Bliss Shines Upon Us
The chirping of the birds,
The clear blue sky,
The sunny day is here,
You are still in bed,
May I ask why?
Its time for a new start a new dawn,
Stay confident, that will be an add on,
Have a wonderful day ahead,
Good morning!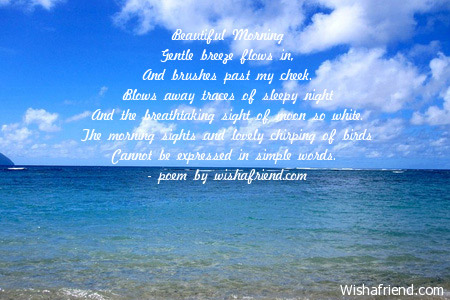 Beautiful Morning
Gentle breeze flows in,
And brushes past my cheek.
Blows away traces of sleepy night
And the breathtaking sight of moon so white.
The morning sights and lovely chirping of birds
Cannot be expressed in simple words.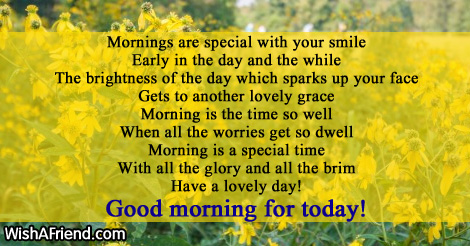 It is so special
Mornings are special with your smile
Early in the day and the while
The brightness of the day which sparks up your face
Gets to another lovely grace
Morning is the time so well
When all the worries get so dwell
Morning is a special time
With all the glory and all the brim
Have a lovely day!
Good morning for today!