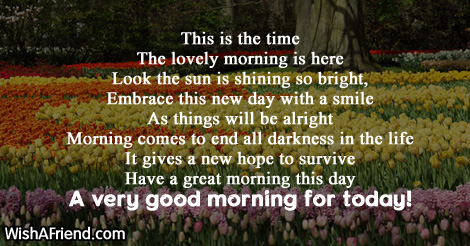 This is the time
The lovely morning is here
Look the sun is shining so bright,
Embrace this new day with a smile
As things will be alright
Morning comes to end all darkness in the life
It gives a new hope to survive
Have a great morning this day
A very good morning for today!
Other Popular Good Morning Poems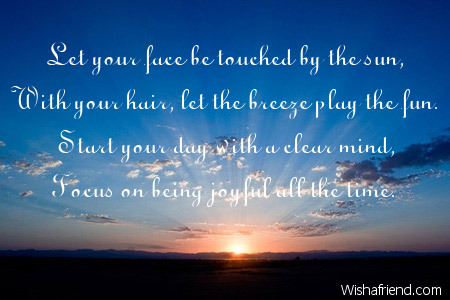 The Morning Nature
Let your face be touched by the sun,
With your hair, let the breeze play the fun.
Start your day with a clear mind,
Focus on being joyful all the time.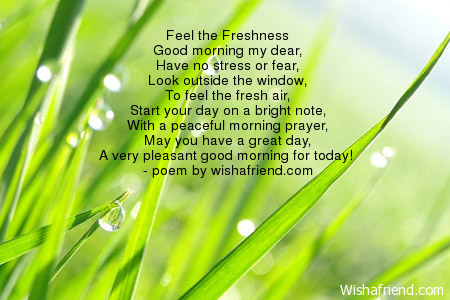 Feel the Freshness
Good morning my dear,
Have no stress or fear,
Look outside the window,
To feel the fresh air,
Start your day on a bright note,
With a peaceful morning prayer,
May you have a great day,
A very pleasant good morning for today!
It's time for cheer
Morning is the time to cheer,
Oh my lovely, oh my dear,
So I want you to smile a lot,
With cheering with positive thought,
Coz your day will be awesome,
So, be ready for some fun,
Have a nice day,
Wish you a lovely morning for today!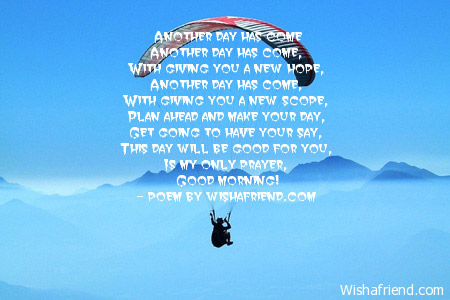 Another day has come
Another day has come,
With giving you a new hope,
Another day has come,
With giving you a new scope,
Plan ahead and make your day,
Get going to have your say,
This day will be good for you,
Is my only prayer,
Good morning!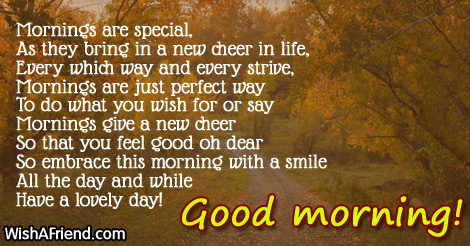 It is truly special
Mornings are special,
As they bring in a new cheer in life,
Every which way and every strive,
Mornings are just perfect way
To do what you wish for or say
Mornings give a new cheer
So that you feel good oh dear
So embrace this morning with a smile
All the day and while
Have a lovely day!
Good morning!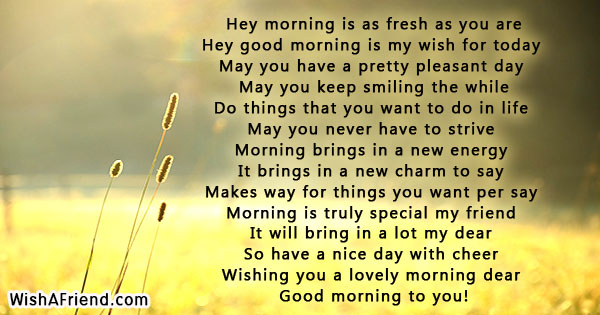 Hey morning is as fresh as you are
Hey good morning is my wish for today
May you have a pretty pleasant day
May you keep smiling the while
Do things that you want to do in life
May you never have to strive
Morning brings in a new energy
It brings in a new charm to say
Makes way for things you want per say
Morning is truly special my friend
It will bring in a lot my dear
So have a nice day with cheer
Wishing you a lovely morning dear
Good morning to you!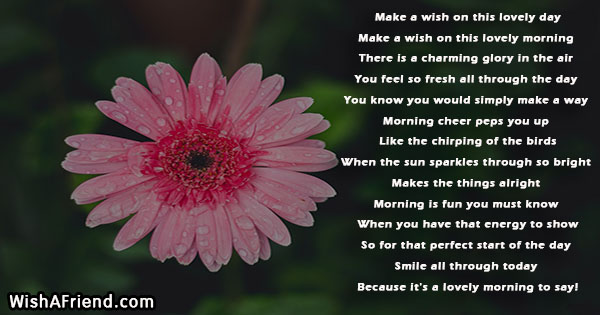 Make a wish on this lovely day
Make a wish on this lovely morning
There is a charming glory in the air
You feel so fresh all through the day
You know you would simply make a way
Morning cheer peps you up
Like the chirping of the birds
When the sun sparkles through so bright
Makes the things alright
Morning is fun you must know
When you have that energy to show
So for that perfect start of the day
Smile all through today
Because it's a lovely morning to say!