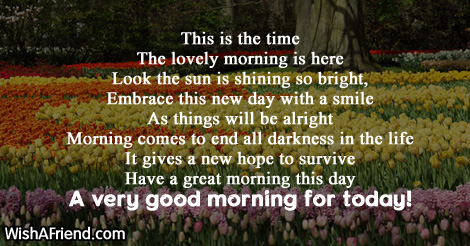 This is the time
The lovely morning is here
Look the sun is shining so bright,
Embrace this new day with a smile
As things will be alright
Morning comes to end all darkness in the life
It gives a new hope to survive
Have a great morning this day
A very good morning for today!
Other Popular Good Morning Poems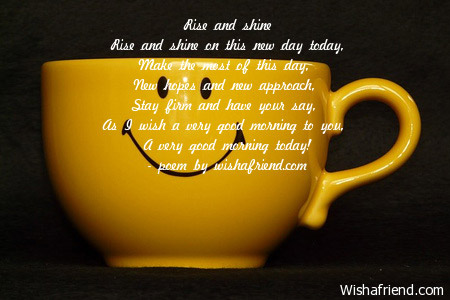 Rise and shine
Rise and shine on this new day today,
Make the most of this day,
New hopes and new approach,
Stay firm and have your say,
As I wish a very good morning to you,
A very good morning today!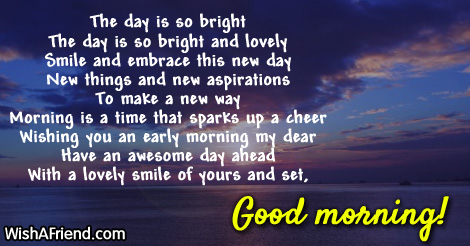 The day is so bright
The day is so bright and lovely
Smile and embrace this new day
New things and new aspirations
To make a new way
Morning is a time that sparks up a cheer
Wishing you an early morning my dear
Have an awesome day ahead
With a lovely smile of yours and set,
Good morning!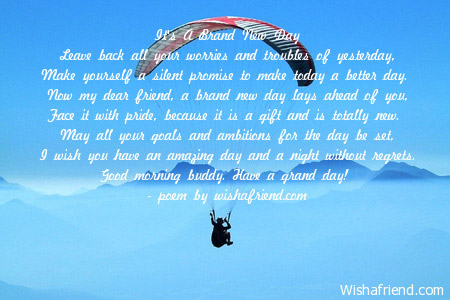 It's A Brand New Day
Leave back all your worries and troubles of yesterday,
Make yourself a silent promise to make today a better day.
Now my dear friend, a brand new day lays ahead of you,
Face it with pride, because it is a gift and is totally new.
May all your goals and ambitions for the day be set,
I wish you have an amazing day and a night without regrets.
Good morning buddy. Have a grand day!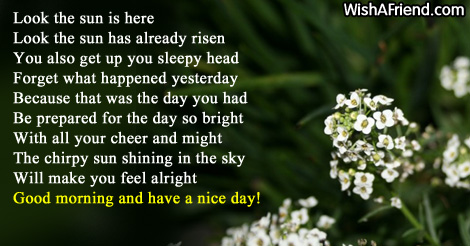 Look the sun is here
Look the sun has already risen
You also get up you sleepy head
Forget what happened yesterday
Because that was the day you had
Be prepared for the day so bright
With all your cheer and might
The chirpy sun shining in the sky
Will make you feel alright
Good morning and have a nice day!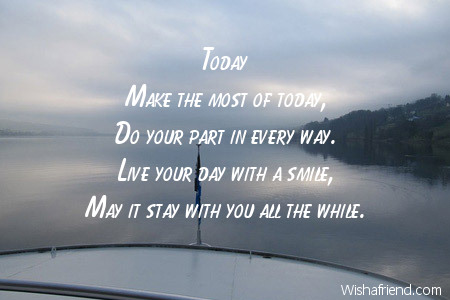 Today
Make the most of today,
Do your part in every way.
Live your day with a smile,
May it stay with you all the while.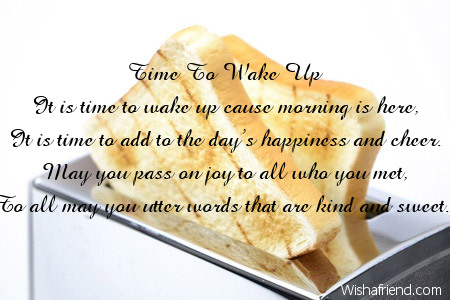 Time To Wake Up
It is time to wake up cause morning is here,
It is time to add to the day's happiness and cheer.
May you pass on joy to all who you met,
To all may you utter words that are kind and sweet.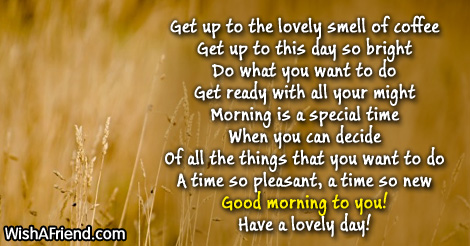 Get up and smell
Get up to the lovely smell of coffee
Get up to this day so bright
Do what you want to do
Get ready with all your might
Morning is a special time
When you can decide
Of all the things that you want to do
A time so pleasant, a time so new
Good morning to you!
Have a lovely day!