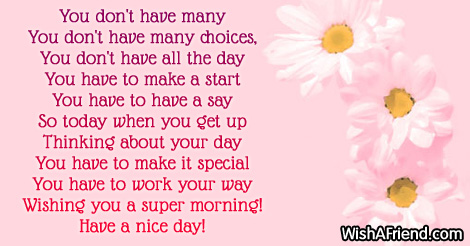 You don't have many
You don't have many choices,
You don't have all the day
You have to make a start
You have to have a say
So today when you get up
Thinking about your day
You have to make it special
You have to work your way
Wishing you a super morning!
Have a nice day!
Other Popular Good Morning Poems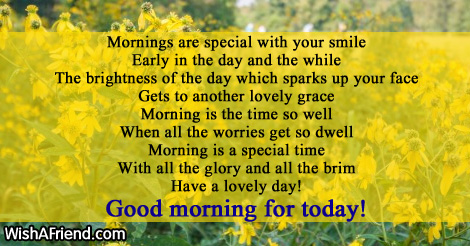 It is so special
Mornings are special with your smile
Early in the day and the while
The brightness of the day which sparks up your face
Gets to another lovely grace
Morning is the time so well
When all the worries get so dwell
Morning is a special time
With all the glory and all the brim
Have a lovely day!
Good morning for today!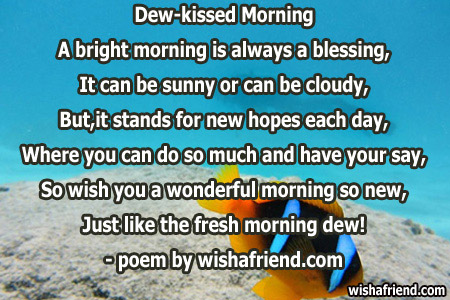 Dew-kissed Morning
A bright morning is always a blessing,
It can be sunny or can be cloudy,
But,it stands for new hopes each day,
Where you can do so much and have your say,
So wish you a wonderful morning so new,
Just like the fresh morning dew!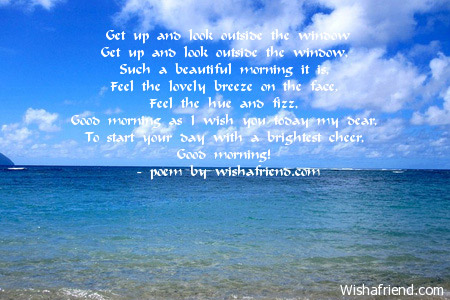 Get up and look outside the window
Get up and look outside the window,
Such a beautiful morning it is,
Feel the lovely breeze on the face,
Feel the hue and fizz,
Good morning as I wish you today my dear,
To start your day with a brightest cheer,
Good morning!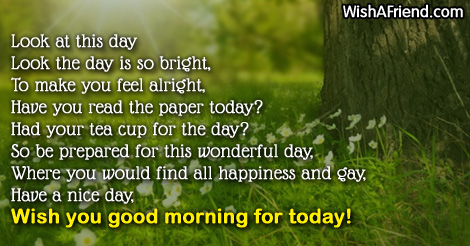 Look at this day
Look the day is so bright,
To make you feel alright,
Have you read the paper today?
Had your tea cup for the day?
So be prepared for this wonderful day,
Where you would find all happiness and gay,
Have a nice day,
Wish you good morning for today!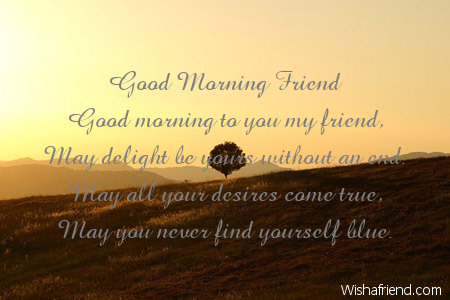 Good Morning Friend
Good morning to you my friend,
May delight be yours without an end.
May all your desires come true,
May you never find yourself blue.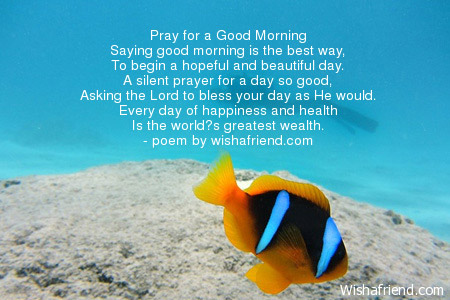 Pray for a Good Morning
Saying good morning is the best way,
To begin a hopeful and beautiful day.
A silent prayer for a day so good,
Asking the Lord to bless your day as He would.
Every day of happiness and health
Is the world's greatest wealth.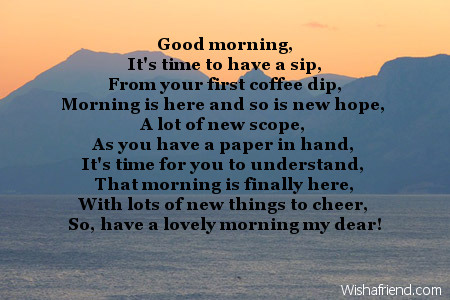 Morning fun
Good morning,
It's time to have a sip,
From your first coffee dip,
Morning is here and so is new hope,
A lot of new scope,
As you have a paper in hand,
It's time for you to understand,
That morning is finally here,
With lots of new things to cheer,
So, have a lovely morning my dear!