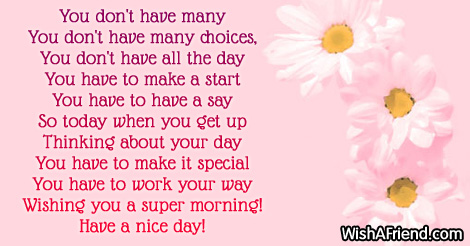 You don't have many
You don't have many choices,
You don't have all the day
You have to make a start
You have to have a say
So today when you get up
Thinking about your day
You have to make it special
You have to work your way
Wishing you a super morning!
Have a nice day!
Other Popular Good Morning Poems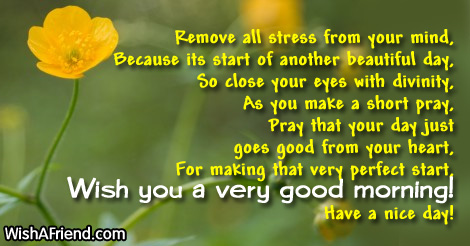 Have a good morning
Remove all stress from your mind,
Because its start of another beautiful day,
So close your eyes with divinity,
As you make a short pray,
Pray that your day just goes good from your heart,
For making that very perfect start,
Wish you a very good morning!
Have a nice day!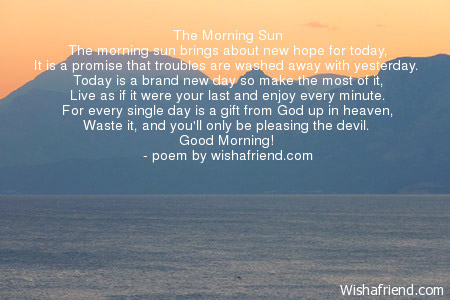 The Morning Sun
The morning sun brings about new hope for today,
It is a promise that troubles are washed away with yesterday.
Today is a brand new day so make the most of it,
Live as if it were your last and enjoy every minute.
For every single day is a gift from God up in heaven,
Waste it, and you'll only be pleasing the devil.
Good Morning!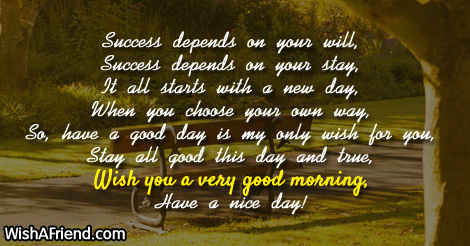 On your will
Success depends on your will,
Success depends on your stay,
It all starts with a new day,
When you choose your own way,
So, have a good day is my only wish for you,
Stay all good this day and true,
Wish you a very good morning,
Have a nice day!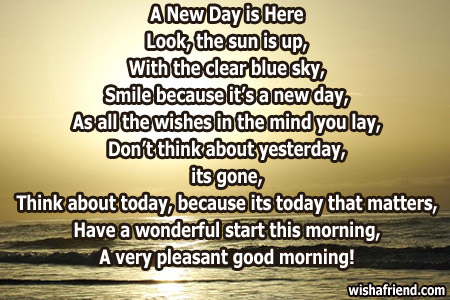 A New Day is Here
Look, the sun is up,
With the clear blue sky,
Smile because it's a new day,
As all the wishes in the mind you lay,
Don't think about yesterday,
its gone,
Think about today, because its today that matters,
Have a wonderful start this morning,
A very pleasant good morning!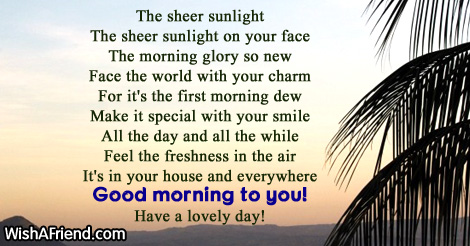 The sheer sunlight
The sheer sunlight on your face
The morning glory so new
Face the world with your charm
For it's the first morning dew
Make it special with your smile
All the day and all the while
Feel the freshness in the air
It's in your house and everywhere
Good morning to you!
Have a lovely day!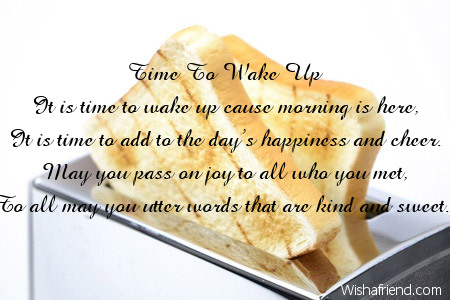 Time To Wake Up
It is time to wake up cause morning is here,
It is time to add to the day's happiness and cheer.
May you pass on joy to all who you met,
To all may you utter words that are kind and sweet.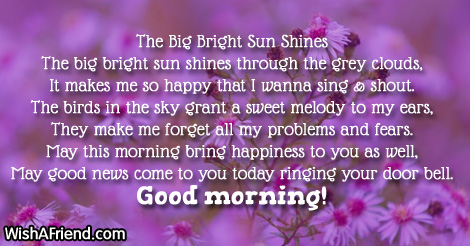 The Big Bright Sun Shines
The big bright sun shines through the grey clouds,
It makes me so happy that I wanna sing & shout.
The birds in the sky grant a sweet melody to my ears,
They make me forget all my problems and fears.
May this morning bring happiness to you as well,
May good news come to you today ringing your door bell.
Good morning!