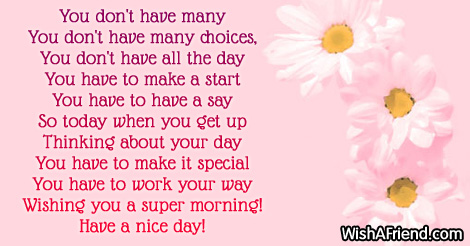 You don't have many
You don't have many choices,
You don't have all the day
You have to make a start
You have to have a say
So today when you get up
Thinking about your day
You have to make it special
You have to work your way
Wishing you a super morning!
Have a nice day!
Other Popular Good Morning Poems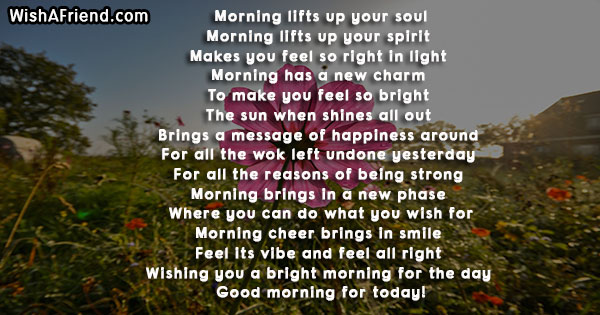 Morning lifts up your soul
Morning lifts up your spirit
Makes you feel so right in light
Morning has a new charm
To make you feel so bright
The sun when shines all out
Brings a message of happiness around
For all the wok left undone yesterday
For all the reasons of being strong
Morning brings in a new phase
Where you can do what you wish for
Morning cheer brings in smile
Feel its vibe and feel all right
Wishing you a bright morning for the day
Good morning for today!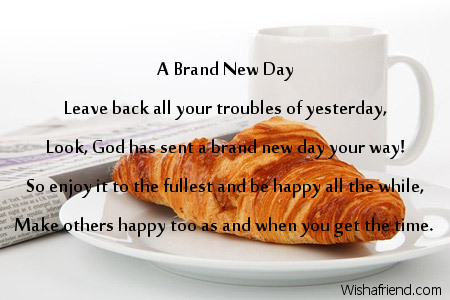 A Brand New Day
Leave back all your troubles of yesterday,
Look, God has sent a brand new day your way!
So enjoy it to the fullest and be happy all the while,
Make others happy too as and when you get the time.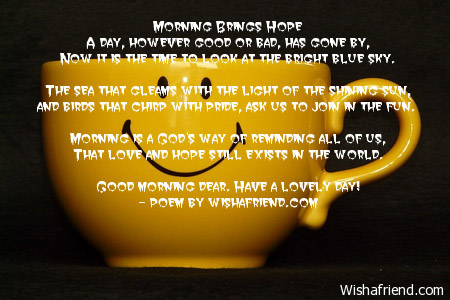 Morning Brings Hope
A day, however good or bad, has gone by,
Now it is the time to look at the bright blue sky.
The sea that gleams with the light of the shining sun,
and birds that chirp with pride, ask us to join in the fun.
Morning is a God's way of reminding all of us,
That love and hope still exists in the world.
Good morning dear. Have a lovely day!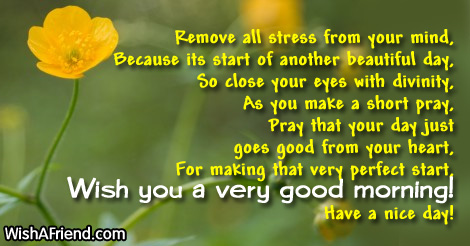 Have a good morning
Remove all stress from your mind,
Because its start of another beautiful day,
So close your eyes with divinity,
As you make a short pray,
Pray that your day just goes good from your heart,
For making that very perfect start,
Wish you a very good morning!
Have a nice day!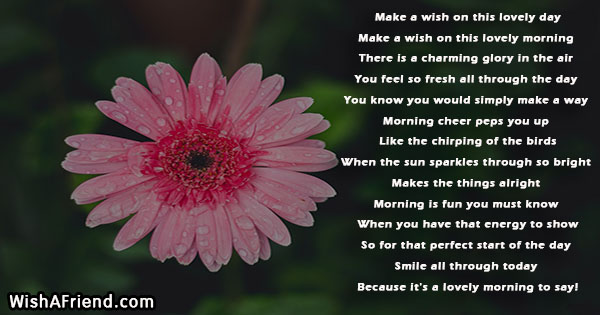 Make a wish on this lovely day
Make a wish on this lovely morning
There is a charming glory in the air
You feel so fresh all through the day
You know you would simply make a way
Morning cheer peps you up
Like the chirping of the birds
When the sun sparkles through so bright
Makes the things alright
Morning is fun you must know
When you have that energy to show
So for that perfect start of the day
Smile all through today
Because it's a lovely morning to say!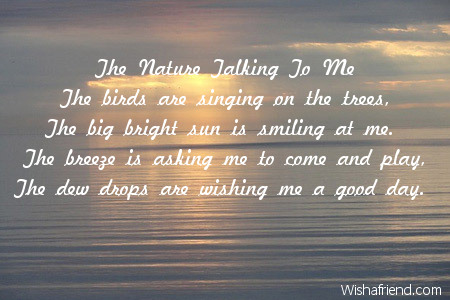 The Nature Talking To Me
The birds are singing on the trees,
The big bright sun is smiling at me.
The breeze is asking me to come and play,
The dew drops are wishing me a good day.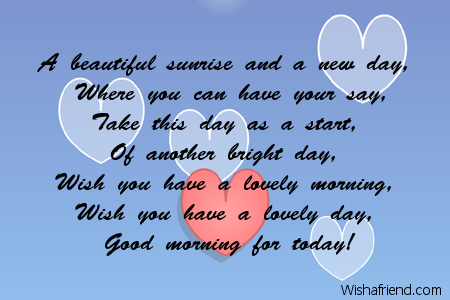 A beautiful day
A beautiful sunrise and a new day,
Where you can have your say,
Take this day as a start,
Of another bright day,
Wish you have a lovely morning,
Wish you have a lovely day,
Good morning for today!