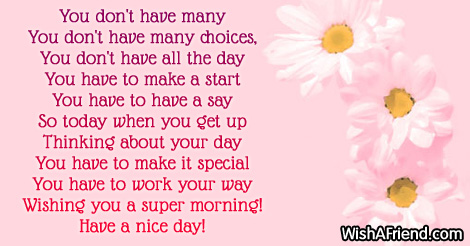 You don't have many
You don't have many choices,
You don't have all the day
You have to make a start
You have to have a say
So today when you get up
Thinking about your day
You have to make it special
You have to work your way
Wishing you a super morning!
Have a nice day!
Other Popular Good Morning Poems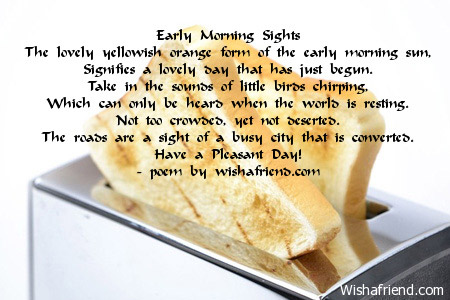 Early Morning Sights
The lovely yellowish orange form of the early morning sun,
Signifies a lovely day that has just begun.
Take in the sounds of little birds chirping,
Which can only be heard when the world is resting.
Not too crowded, yet not deserted.
The roads are a sight of a busy city that is converted.
Have a Pleasant Day!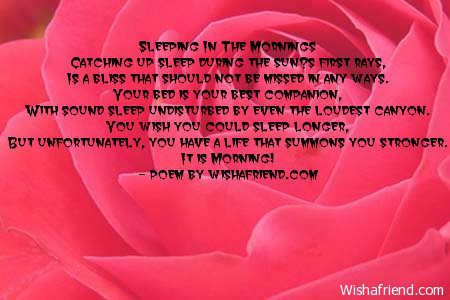 Sleeping In The Mornings
Catching up sleep during the sun's first rays,
Is a bliss that should not be missed in any ways.
Your bed is your best companion,
With sound sleep undisturbed by even the loudest canyon.
You wish you could sleep longer,
But unfortunately, you have a life that summons you stronger.
It is Morning!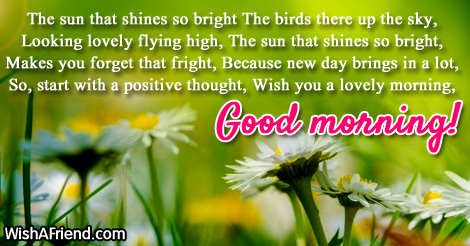 The sun that shines so bright
The birds there up the sky,
Looking lovely flying high,
The sun that shines so bright,
Makes you forget that fright,
Because new day brings in a lot,
So, start with a positive thought,
Wish you a lovely morning,
Good morning!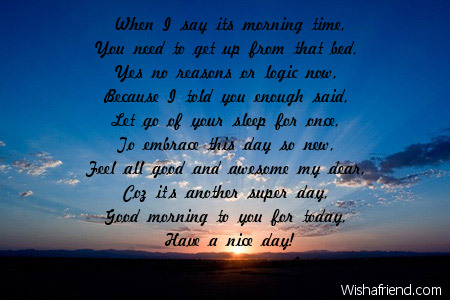 When I wish you
When I say its morning time,
You need to get up from that bed,
Yes no reasons or logic now,
Because I told you enough said,
Let go of your sleep for once,
To embrace this day so new,
Feel all good and awesome my dear,
Coz it's another super day,
Good morning to you for today,
Have a nice day!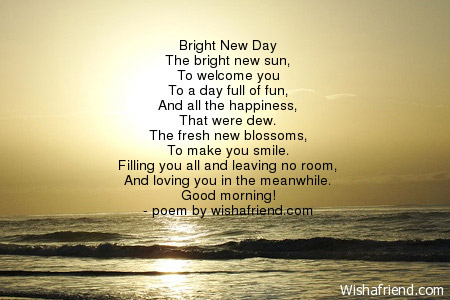 Bright New Day
The bright new sun,
To welcome you
To a day full of fun,
And all the happiness,
That were dew.
The fresh new blossoms,
To make you smile.
Filling you all and leaving no room,
And loving you in the meanwhile.
Good morning!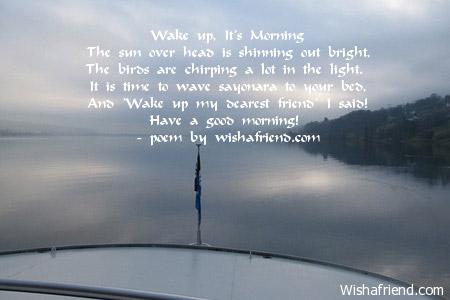 Wake up, It's Morning
The sun over head is shinning out bright,
The birds are chirping a lot in the light.
It is time to wave sayonara to your bed,
And 'Wake up my dearest friend' I said!
Have a good morning!
Give yourself a break in life
Give yourself a break in life
You deserve to take a lot more
Give yourself some respite
By walking through the morning chore
Make a list of things you will do
Make a lot of things in hew
Feel good as it's just the start
Feel good as you have chance ahead
Morning is such a great time
Morning time brings in a new cheer
Morning time is really bright
Makes you feel so awesome and right
Wishing you a lovely morning!