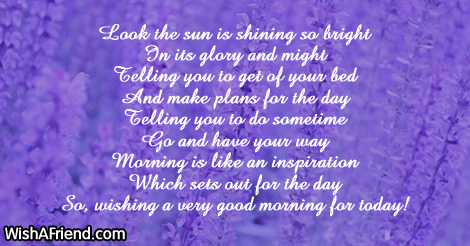 Look at the sun
Look the sun is shining so bright
In its glory and might
Telling you to get of your bed
And make plans for the day
Telling you to do sometime
Go and have your way
Morning is like an inspiration
Which sets out for the day
So, wishing a very good morning for today!
Other Popular Good Morning Poems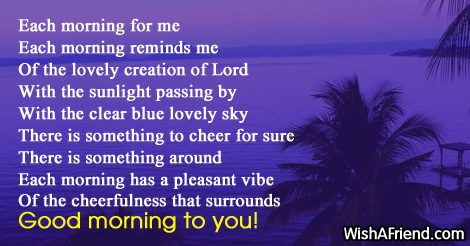 Each morning for me
Each morning reminds me
Of the lovely creation of Lord
With the sunlight passing by
With the clear blue lovely sky
There is something to cheer for sure
There is something around
Each morning has a pleasant vibe
Of the cheerfulness that surrounds
Good morning to you!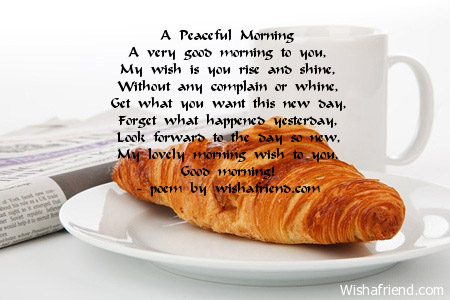 A Peaceful Morning
A very good morning to you,
My wish is you rise and shine,
Without any complain or whine,
Get what you want this new day,
Forget what happened yesterday,
Look forward to the day so new,
My lovely morning wish to you,
Good morning!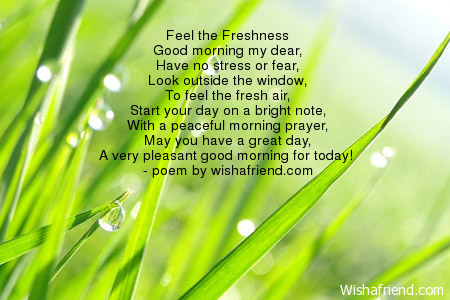 Feel the Freshness
Good morning my dear,
Have no stress or fear,
Look outside the window,
To feel the fresh air,
Start your day on a bright note,
With a peaceful morning prayer,
May you have a great day,
A very pleasant good morning for today!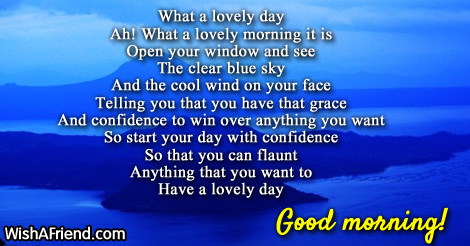 What a lovely day
Ah! What a lovely morning it is
Open your window and see
The clear blue sky
And the cool wind on your face
Telling you that you have that grace
And confidence to win over anything you want
So start your day with confidence
So that you can flaunt
Anything that you want to
Have a lovely day
Good morning!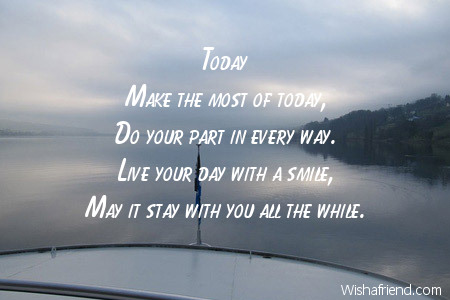 Today
Make the most of today,
Do your part in every way.
Live your day with a smile,
May it stay with you all the while.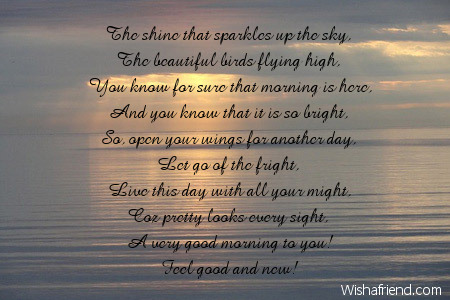 The sun that shines
The shine that sparkles up the sky,
The beautiful birds flying high,
You know for sure that morning is here,
And you know that it is so bright,
So, open your wings for another day,
Let go of the fright,
Live this day with all your might,
Coz pretty looks every sight,
A very good morning to you!
Feel good and new!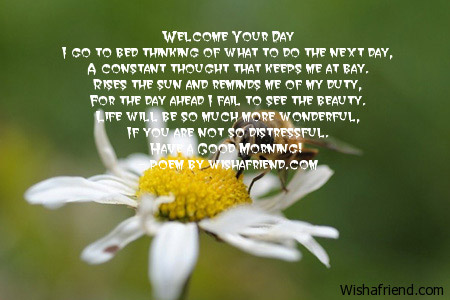 Welcome Your Day
I go to bed thinking of what to do the next day,
A constant thought that keeps me at bay.
Rises the sun and reminds me of my duty,
For the day ahead I fail to see the beauty.
Life will be so much more wonderful,
If you are not so distressful.
Have a Good Morning!