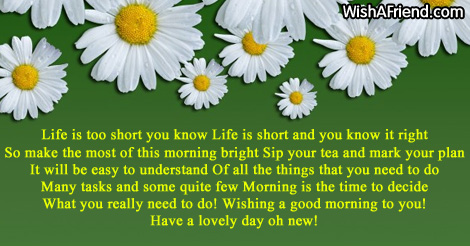 Life is too short you know
Life is short and you know it right
So make the most of this morning bright
Sip your tea and mark your plan
It will be easy to understand
Of all the things that you need to do
Many tasks and some quite few
Morning is the time to decide
What you really need to do!
Wishing a good morning to you!
Have a lovely day oh new!
Other Popular Good Morning Poems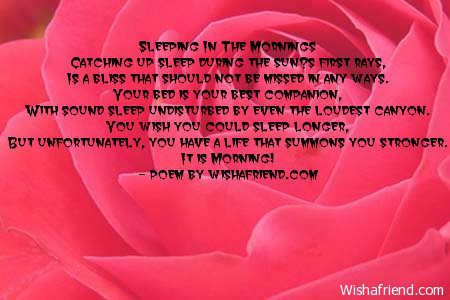 Sleeping In The Mornings
Catching up sleep during the sun's first rays,
Is a bliss that should not be missed in any ways.
Your bed is your best companion,
With sound sleep undisturbed by even the loudest canyon.
You wish you could sleep longer,
But unfortunately, you have a life that summons you stronger.
It is Morning!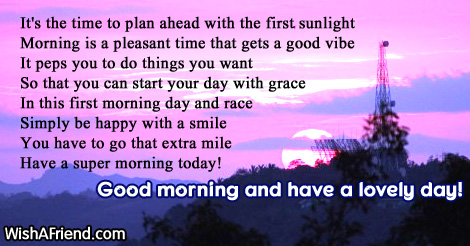 It is a great time
It's the time to plan ahead with the first sunlight
Morning is a pleasant time that gets a good vibe
It peps you to do things you want
So that you can start your day with grace
In this first morning day and race
Simply be happy with a smile
You have to go that extra mile
Have a super morning today!
Good morning and have a lovely day!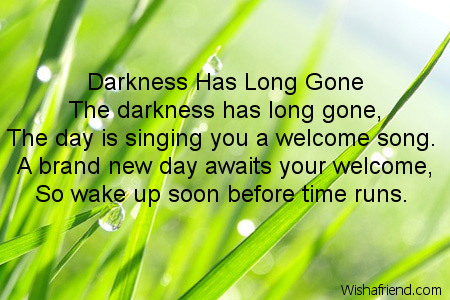 Darkness Has Long Gone
The darkness has long gone,
The day is singing you a welcome song.
A brand new day awaits your welcome,
So wake up soon before time runs.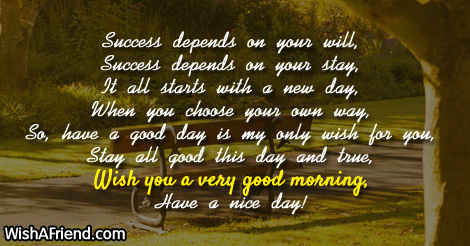 On your will
Success depends on your will,
Success depends on your stay,
It all starts with a new day,
When you choose your own way,
So, have a good day is my only wish for you,
Stay all good this day and true,
Wish you a very good morning,
Have a nice day!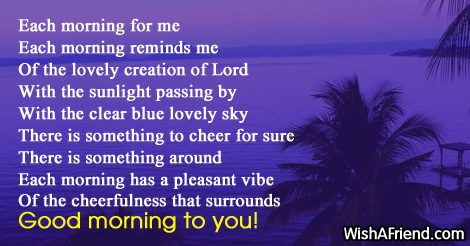 Each morning for me
Each morning reminds me
Of the lovely creation of Lord
With the sunlight passing by
With the clear blue lovely sky
There is something to cheer for sure
There is something around
Each morning has a pleasant vibe
Of the cheerfulness that surrounds
Good morning to you!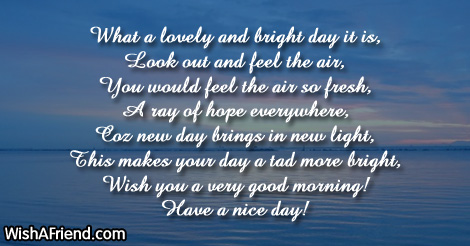 A lovely day
What a lovely and bright day it is,
Look out and feel the air,
You would feel the air so fresh,
A ray of hope everywhere,
Coz new day brings in new light,
This makes your day a tad more bright,
Wish you a very good morning!
Have a nice day!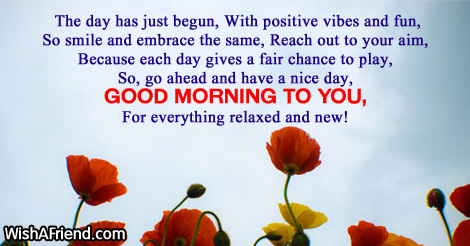 The day has just started
The day has just begun,
With positive vibes and fun,
So smile and embrace the same,
Reach out to your aim,
Because each day gives a fair chance to play,
So, go ahead and have a nice day,
Good morning to you,
For everything relaxed and new!