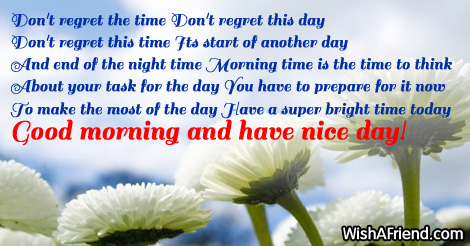 Don't regret the time
Don't regret this day
Don't regret this time
Its start of another day
And end of the night time
Morning time is the time to think
About your task for the day
You have to prepare for it now
To make the most of the day
Have a super bright time today
Good morning and have nice day!
Other Popular Good Morning Poems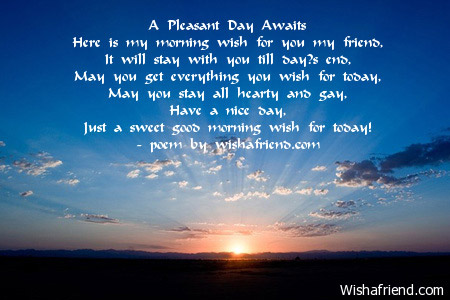 A Pleasant Day Awaits
Here is my morning wish for you my friend,
It will stay with you till day's end,
May you get everything you wish for today,
May you stay all hearty and gay,
Have a nice day,
Just a sweet good morning wish for today!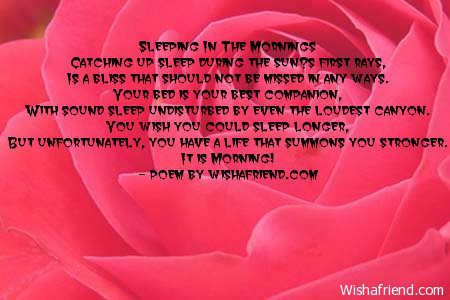 Sleeping In The Mornings
Catching up sleep during the sun's first rays,
Is a bliss that should not be missed in any ways.
Your bed is your best companion,
With sound sleep undisturbed by even the loudest canyon.
You wish you could sleep longer,
But unfortunately, you have a life that summons you stronger.
It is Morning!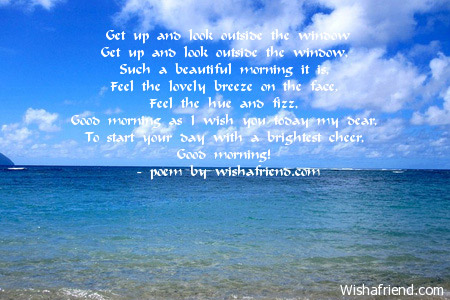 Get up and look outside the window
Get up and look outside the window,
Such a beautiful morning it is,
Feel the lovely breeze on the face,
Feel the hue and fizz,
Good morning as I wish you today my dear,
To start your day with a brightest cheer,
Good morning!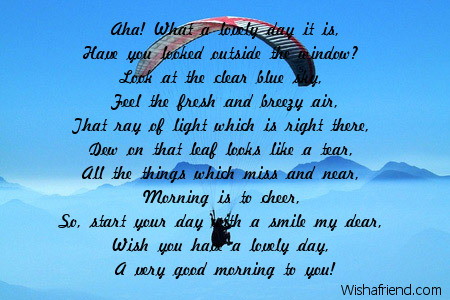 What a lovely day it is
Aha! What a lovely day it is,
Have you looked outside the window?
Look at the clear blue sky,
Feel the fresh and breezy air,
That ray of light which is right there,
Dew on that leaf looks like a tear,
All the things which miss and near,
Morning is to cheer,
So, start your day with a smile my dear,
Wish you have a lovely day,
A very good morning to you!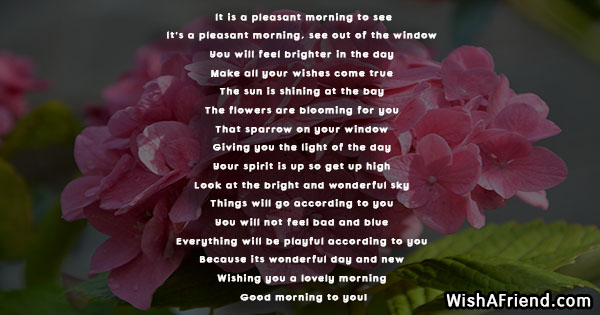 It is a pleasant morning to see
It's a pleasant morning, see out of the window
You will feel brighter in the day
Make all your wishes come true
The sun is shining at the bay
The flowers are blooming for you
That sparrow on your window
Giving you the light of the day
Your spirit is up so get up high
Look at the bright and wonderful sky
Things will go according to you
You will not feel bad and blue
Everything will be playful according to you
Because its wonderful day and new
Wishing you a lovely morning
Good morning to you!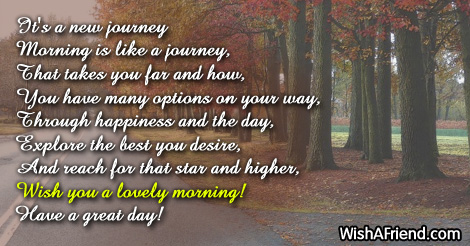 It's a new journey
Morning is like a journey,
That takes you far and how,
You have many options on your way,
Through happiness and the day,
Explore the best you desire,
And reach for that star and higher,
Wish you a lovely morning!
Have a great day!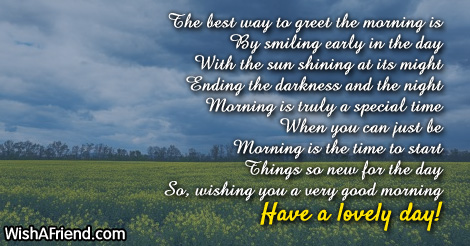 The best way to greet
The best way to greet the morning is
By smiling early in the day
With the sun shining at its might
Ending the darkness and the night
Morning is truly a special time
When you can just be
Morning is the time to start
Things so new for the day
So, wishing you a very good morning
Have a lovely day!