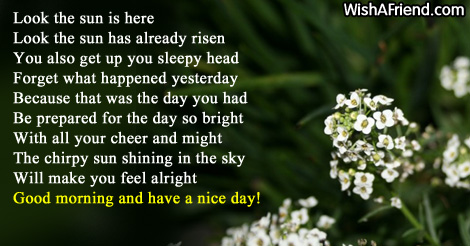 Look the sun is here
Look the sun has already risen
You also get up you sleepy head
Forget what happened yesterday
Because that was the day you had
Be prepared for the day so bright
With all your cheer and might
The chirpy sun shining in the sky
Will make you feel alright
Good morning and have a nice day!
Other Popular Good Morning Poems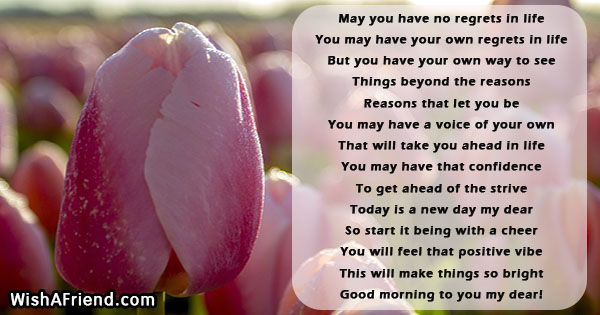 May you have no regrets in life
You may have your own regrets in life
But you have your own way to see
Things beyond the reasons
Reasons that let you be
You may have a voice of your own
That will take you ahead in life
You may have that confidence
To get ahead of the strive
Today is a new day my dear
So start it being with a cheer
You will feel that positive vibe
This will make things so bright
Good morning to you my dear!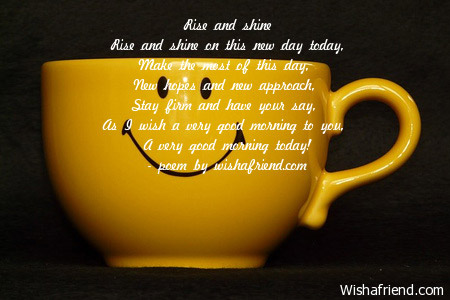 Rise and shine
Rise and shine on this new day today,
Make the most of this day,
New hopes and new approach,
Stay firm and have your say,
As I wish a very good morning to you,
A very good morning today!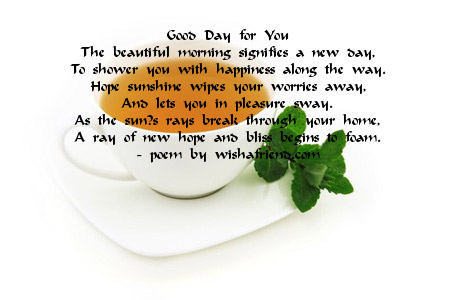 Good Day for You
The beautiful morning signifies a new day,
To shower you with happiness along the way.
Hope sunshine wipes your worries away,
And lets you in pleasure sway.
As the sun's rays break through your home,
A ray of new hope and bliss begins to foam.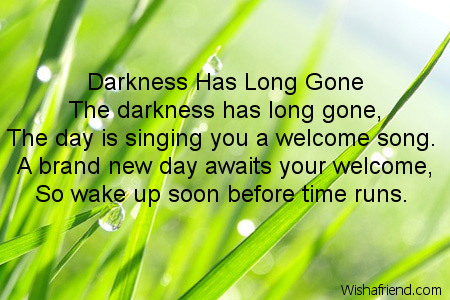 Darkness Has Long Gone
The darkness has long gone,
The day is singing you a welcome song.
A brand new day awaits your welcome,
So wake up soon before time runs.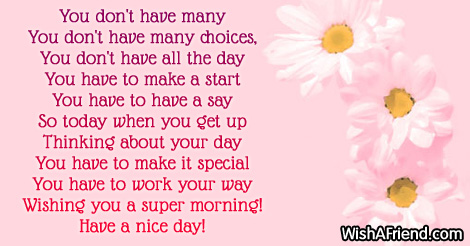 You don't have many
You don't have many choices,
You don't have all the day
You have to make a start
You have to have a say
So today when you get up
Thinking about your day
You have to make it special
You have to work your way
Wishing you a super morning!
Have a nice day!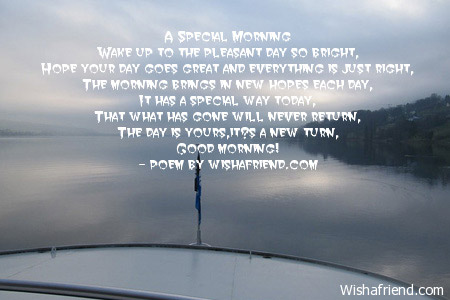 A Special Morning
Wake up to the pleasant day so bright,
Hope your day goes great and everything is just right,
The morning brings in new hopes each day,
It has a special way today,
That what has gone will never return,
The day is yours,it's a new turn,
Good morning!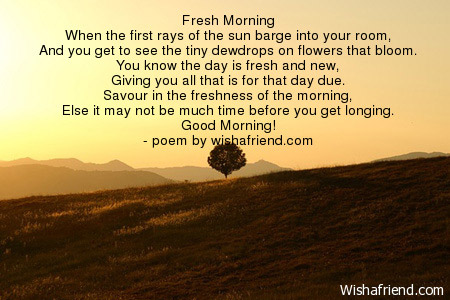 Fresh Morning
When the first rays of the sun barge into your room,
And you get to see the tiny dewdrops on flowers that bloom.
You know the day is fresh and new,
Giving you all that is for that day due.
Savour in the freshness of the morning,
Else it may not be much time before you get longing.
Good Morning!