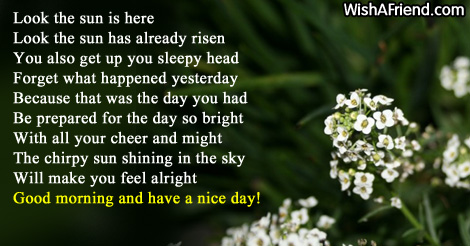 Look the sun is here
Look the sun has already risen
You also get up you sleepy head
Forget what happened yesterday
Because that was the day you had
Be prepared for the day so bright
With all your cheer and might
The chirpy sun shining in the sky
Will make you feel alright
Good morning and have a nice day!
Other Popular Good Morning Poems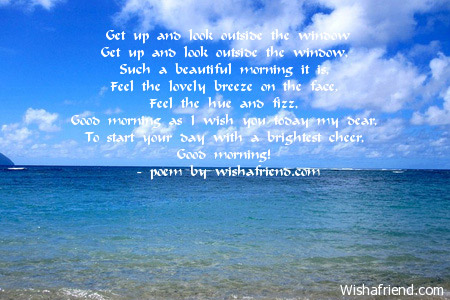 Get up and look outside the window
Get up and look outside the window,
Such a beautiful morning it is,
Feel the lovely breeze on the face,
Feel the hue and fizz,
Good morning as I wish you today my dear,
To start your day with a brightest cheer,
Good morning!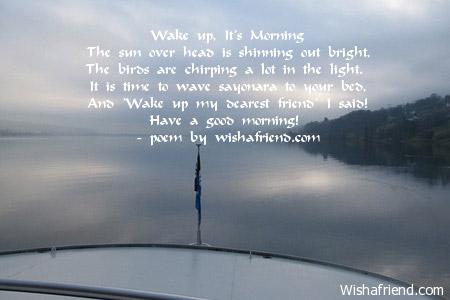 Wake up, It's Morning
The sun over head is shinning out bright,
The birds are chirping a lot in the light.
It is time to wave sayonara to your bed,
And 'Wake up my dearest friend' I said!
Have a good morning!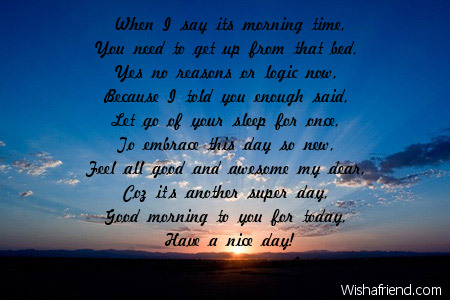 When I wish you
When I say its morning time,
You need to get up from that bed,
Yes no reasons or logic now,
Because I told you enough said,
Let go of your sleep for once,
To embrace this day so new,
Feel all good and awesome my dear,
Coz it's another super day,
Good morning to you for today,
Have a nice day!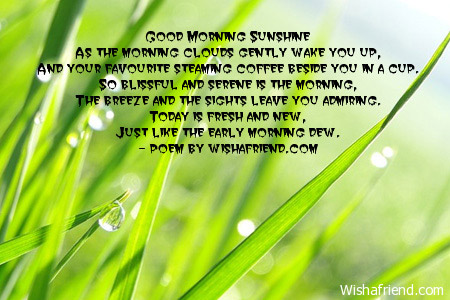 Good Morning Sunshine
As the morning clouds gently wake you up,
And your favourite steaming coffee beside you in a cup.
So blissful and serene is the morning,
The breeze and the sights leave you admiring.
Today is fresh and new,
Just like the early morning dew.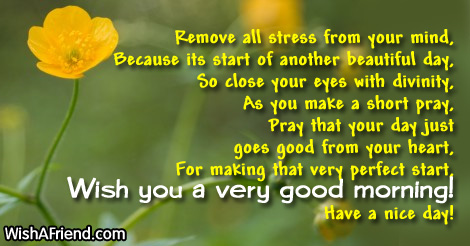 Have a good morning
Remove all stress from your mind,
Because its start of another beautiful day,
So close your eyes with divinity,
As you make a short pray,
Pray that your day just goes good from your heart,
For making that very perfect start,
Wish you a very good morning!
Have a nice day!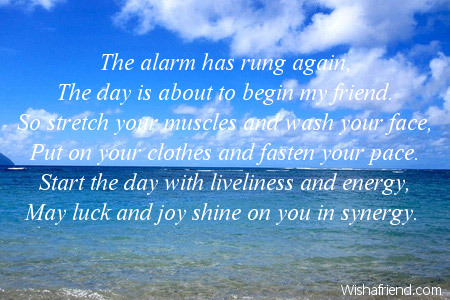 The Alarm Has Rung Again
The alarm has rung again,
The day is about to begin my friend.
So stretch your muscles and wash your face,
Put on your clothes and fasten your pace.
Start the day with liveliness and energy,
May luck and joy shine on you in synergy.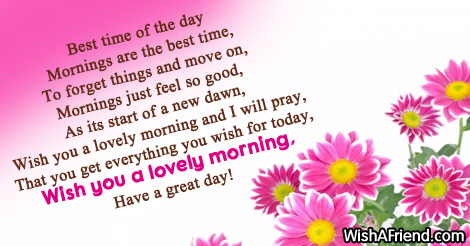 Best time of the day
Mornings are the best time,
To forget things and move on,
Mornings just feel so good,
As its start of a new dawn,
Wish you a lovely morning and I will pray,
That you get everything you wish for today,
Wish you a lovely morning,
Have a great day!