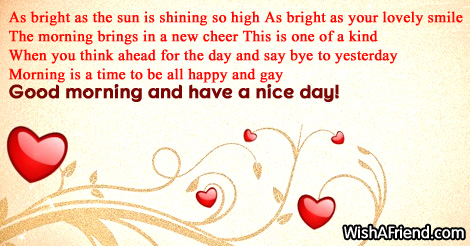 As bright as you can
As bright as the sun is shining so high
As bright as your lovely smile
The morning brings in a new cheer
This is one of a kind
When you think ahead for the day
and say bye to yesterday
Morning is a time to be all happy and gay
Good morning and have a nice day!
Other Popular Good Morning Poems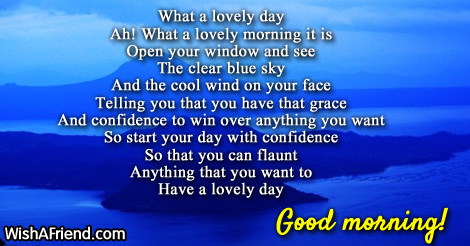 What a lovely day
Ah! What a lovely morning it is
Open your window and see
The clear blue sky
And the cool wind on your face
Telling you that you have that grace
And confidence to win over anything you want
So start your day with confidence
So that you can flaunt
Anything that you want to
Have a lovely day
Good morning!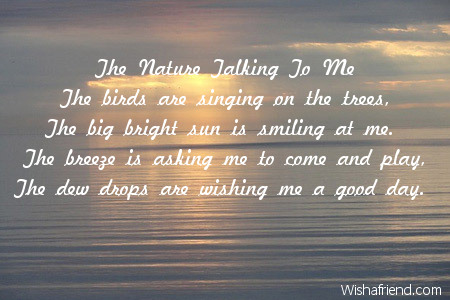 The Nature Talking To Me
The birds are singing on the trees,
The big bright sun is smiling at me.
The breeze is asking me to come and play,
The dew drops are wishing me a good day.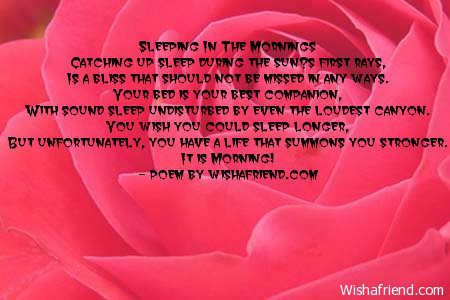 Sleeping In The Mornings
Catching up sleep during the sun's first rays,
Is a bliss that should not be missed in any ways.
Your bed is your best companion,
With sound sleep undisturbed by even the loudest canyon.
You wish you could sleep longer,
But unfortunately, you have a life that summons you stronger.
It is Morning!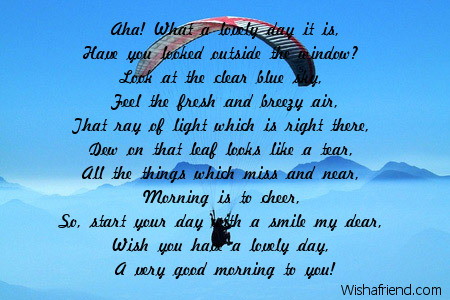 What a lovely day it is
Aha! What a lovely day it is,
Have you looked outside the window?
Look at the clear blue sky,
Feel the fresh and breezy air,
That ray of light which is right there,
Dew on that leaf looks like a tear,
All the things which miss and near,
Morning is to cheer,
So, start your day with a smile my dear,
Wish you have a lovely day,
A very good morning to you!
It's time for cheer
Morning is the time to cheer,
Oh my lovely, oh my dear,
So I want you to smile a lot,
With cheering with positive thought,
Coz your day will be awesome,
So, be ready for some fun,
Have a nice day,
Wish you a lovely morning for today!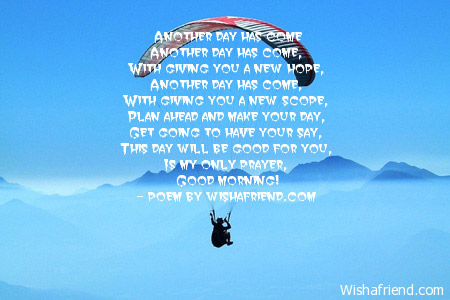 Another day has come
Another day has come,
With giving you a new hope,
Another day has come,
With giving you a new scope,
Plan ahead and make your day,
Get going to have your say,
This day will be good for you,
Is my only prayer,
Good morning!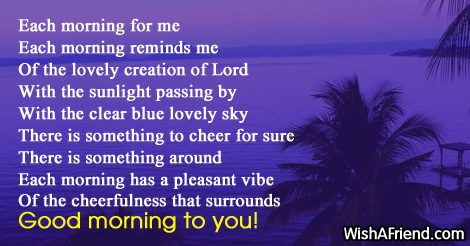 Each morning for me
Each morning reminds me
Of the lovely creation of Lord
With the sunlight passing by
With the clear blue lovely sky
There is something to cheer for sure
There is something around
Each morning has a pleasant vibe
Of the cheerfulness that surrounds
Good morning to you!