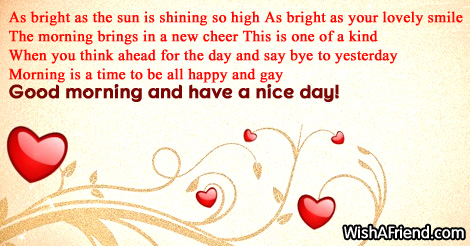 As bright as you can
As bright as the sun is shining so high
As bright as your lovely smile
The morning brings in a new cheer
This is one of a kind
When you think ahead for the day
and say bye to yesterday
Morning is a time to be all happy and gay
Good morning and have a nice day!
Other Popular Good Morning Poems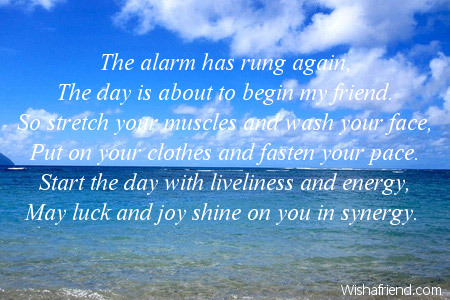 The Alarm Has Rung Again
The alarm has rung again,
The day is about to begin my friend.
So stretch your muscles and wash your face,
Put on your clothes and fasten your pace.
Start the day with liveliness and energy,
May luck and joy shine on you in synergy.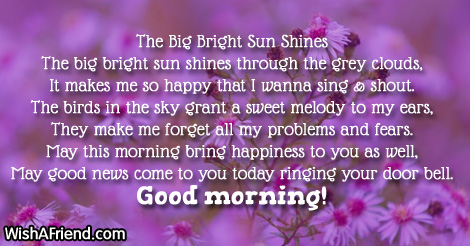 The Big Bright Sun Shines
The big bright sun shines through the grey clouds,
It makes me so happy that I wanna sing & shout.
The birds in the sky grant a sweet melody to my ears,
They make me forget all my problems and fears.
May this morning bring happiness to you as well,
May good news come to you today ringing your door bell.
Good morning!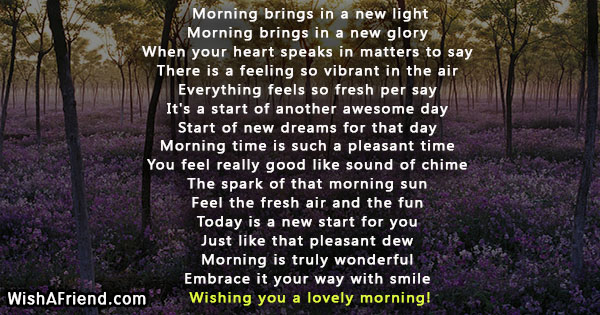 Morning brings in a new light
Morning brings in a new glory
When your heart speaks in matters to say
There is a feeling so vibrant in the air
Everything feels so fresh per say
It's a start of another awesome day
Start of new dreams for that day
Morning time is such a pleasant time
You feel really good like sound of chime
The spark of that morning sun
Feel the fresh air and the fun
Today is a new start for you
Just like that pleasant dew
Morning is truly wonderful
Embrace it your way with smile
Wishing you a lovely morning!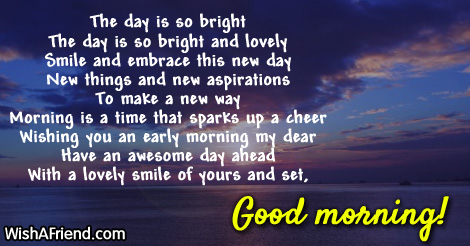 The day is so bright
The day is so bright and lovely
Smile and embrace this new day
New things and new aspirations
To make a new way
Morning is a time that sparks up a cheer
Wishing you an early morning my dear
Have an awesome day ahead
With a lovely smile of yours and set,
Good morning!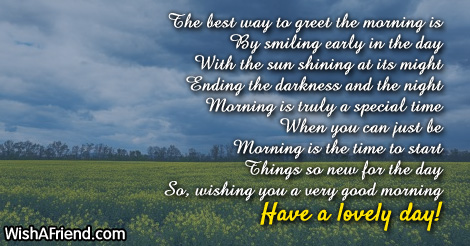 The best way to greet
The best way to greet the morning is
By smiling early in the day
With the sun shining at its might
Ending the darkness and the night
Morning is truly a special time
When you can just be
Morning is the time to start
Things so new for the day
So, wishing you a very good morning
Have a lovely day!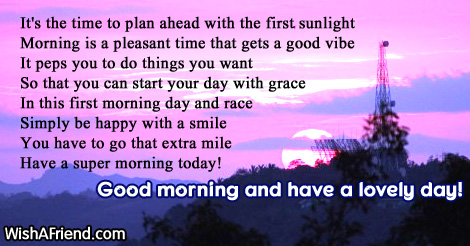 It is a great time
It's the time to plan ahead with the first sunlight
Morning is a pleasant time that gets a good vibe
It peps you to do things you want
So that you can start your day with grace
In this first morning day and race
Simply be happy with a smile
You have to go that extra mile
Have a super morning today!
Good morning and have a lovely day!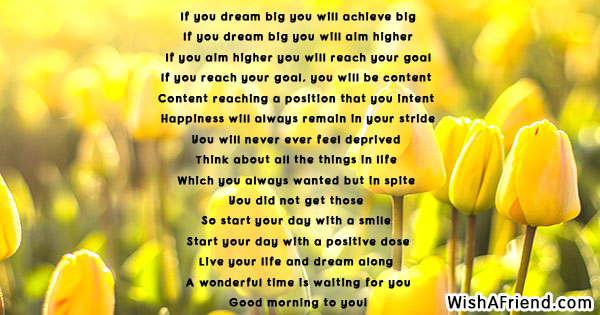 If you dream big you will achieve big
If you dream big you will aim higher
If you aim higher you will reach your goal
If you reach your goal, you will be content
Content reaching a position that you intent
Happiness will always remain in your stride
You will never ever feel deprived
Think about all the things in life
Which you always wanted but in spite
You did not get those
So start your day with a smile
Start your day with a positive dose
Live your life and dream along
A wonderful time is waiting for you
Good morning to you!