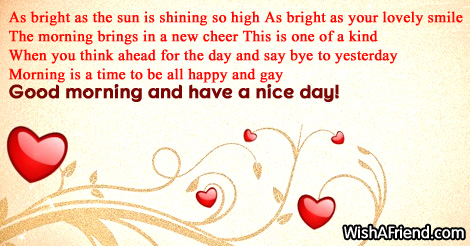 As bright as you can
As bright as the sun is shining so high
As bright as your lovely smile
The morning brings in a new cheer
This is one of a kind
When you think ahead for the day
and say bye to yesterday
Morning is a time to be all happy and gay
Good morning and have a nice day!
Other Popular Good Morning Poems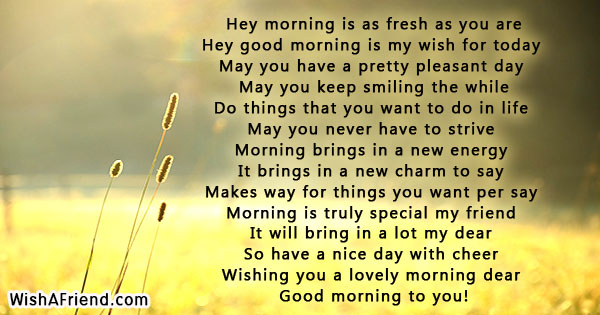 Hey morning is as fresh as you are
Hey good morning is my wish for today
May you have a pretty pleasant day
May you keep smiling the while
Do things that you want to do in life
May you never have to strive
Morning brings in a new energy
It brings in a new charm to say
Makes way for things you want per say
Morning is truly special my friend
It will bring in a lot my dear
So have a nice day with cheer
Wishing you a lovely morning dear
Good morning to you!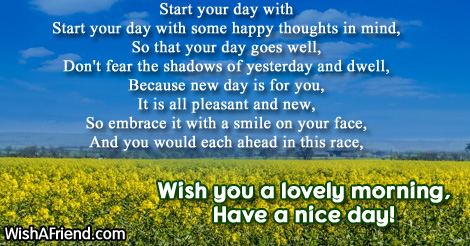 Start your day with
Start your day with some happy thoughts in mind,
So that your day goes well,
Don't fear the shadows of yesterday and dwell,
Because new day is for you,
It is all pleasant and new,
So embrace it with a smile on your face,
And you would each ahead in this race,
Wish you a lovely morning,
Have a nice day!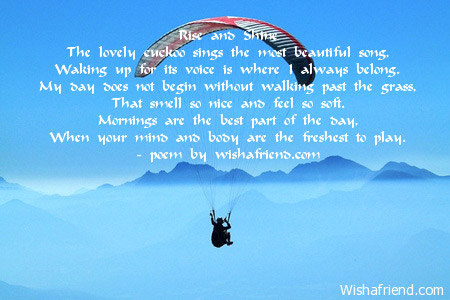 Rise and Shine
The lovely cuckoo sings the most beautiful song,
Waking up for its voice is where I always belong.
My day does not begin without walking past the grass,
That smell so nice and feel so soft.
Mornings are the best part of the day,
When your mind and body are the freshest to play.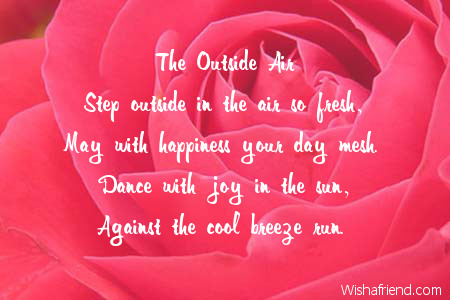 The Outside Air
Step outside in the air so fresh,
May with happiness your day mesh.
Dance with joy in the sun,
Against the cool breeze run.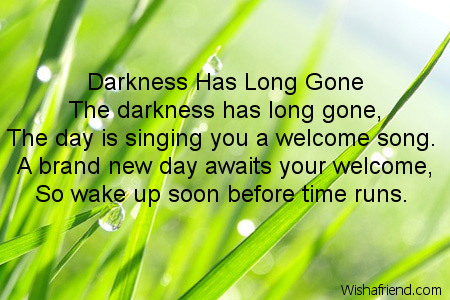 Darkness Has Long Gone
The darkness has long gone,
The day is singing you a welcome song.
A brand new day awaits your welcome,
So wake up soon before time runs.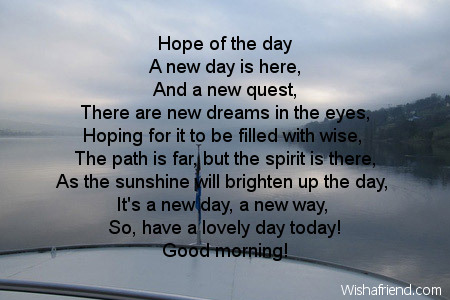 Hope of the day
A new day is here,
And a new quest,
There are new dreams in the eyes,
Hoping for it to be filled with wise,
The path is far, but the spirit is there,
As the sunshine will brighten up the day,
It's a new day, a new way,
So, have a lovely day today!
Good morning!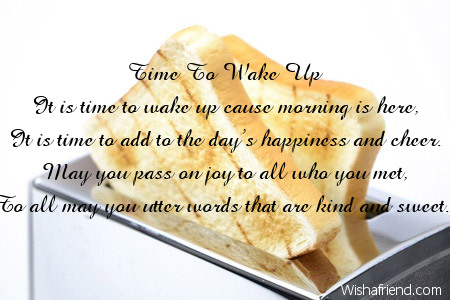 Time To Wake Up
It is time to wake up cause morning is here,
It is time to add to the day's happiness and cheer.
May you pass on joy to all who you met,
To all may you utter words that are kind and sweet.