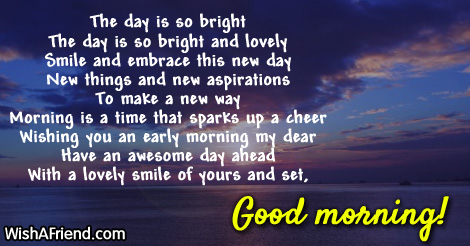 The day is so bright
The day is so bright and lovely
Smile and embrace this new day
New things and new aspirations
To make a new way
Morning is a time that sparks up a cheer
Wishing you an early morning my dear
Have an awesome day ahead
With a lovely smile of yours and set,
Good morning!
Other Popular Good Morning Poems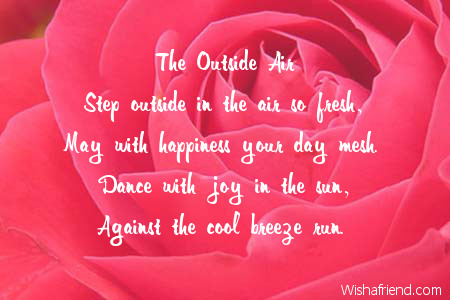 The Outside Air
Step outside in the air so fresh,
May with happiness your day mesh.
Dance with joy in the sun,
Against the cool breeze run.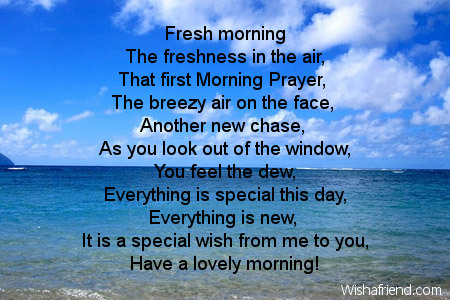 Fresh morning
The freshness in the air,
That first Morning Prayer,
The breezy air on the face,
Another new chase,
As you look out of the window,
You feel the dew,
Everything is special this day,
Everything is new,
It is a special wish from me to you,
Have a lovely morning!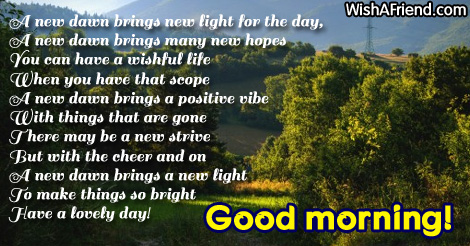 A new dawn
A new dawn brings new light for the day,
A new dawn brings many new hopes
You can have a wishful life
When you have that scope
A new dawn brings a positive vibe
With things that are gone
There may be a new strive
But with the cheer and on
A new dawn brings a new light
To make things so bright
Have a lovely day!
Good morning!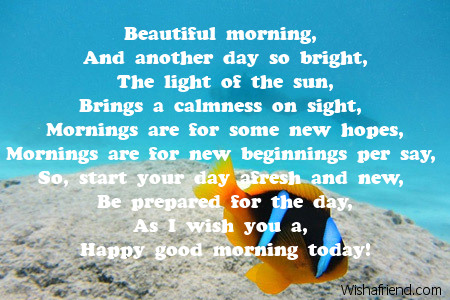 Beautiful morning
Beautiful morning,
And another day so bright,
The light of the sun,
Brings a calmness on sight,
Mornings are for some new hopes,
Mornings are for new beginnings per say,
So, start your day afresh and new,
Be prepared for the day,
As I wish you a,
Happy good morning today!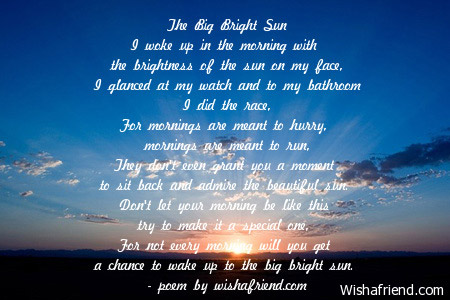 The Big Bright Sun
I woke up in the morning with
the brightness of the sun on my face,
I glanced at my watch and to my bathroom
I did the race,
For mornings are meant to hurry,
mornings are meant to run,
They don't even grant you a moment
to sit back and admire the beautiful sun.
Don't let your morning be like this
try to make it a special one,
For not every morning will you get a chance to wake up to the big bright sun.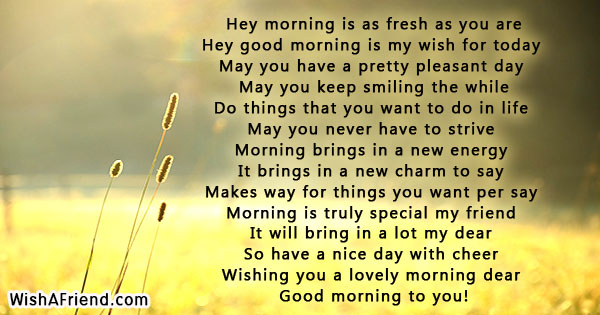 Hey morning is as fresh as you are
Hey good morning is my wish for today
May you have a pretty pleasant day
May you keep smiling the while
Do things that you want to do in life
May you never have to strive
Morning brings in a new energy
It brings in a new charm to say
Makes way for things you want per say
Morning is truly special my friend
It will bring in a lot my dear
So have a nice day with cheer
Wishing you a lovely morning dear
Good morning to you!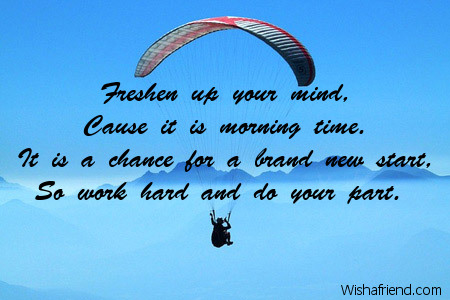 Freshen Up Your Mind
Freshen up your mind,
Cause it is morning time.
It is a chance for a brand new start,
So work hard and do your part.