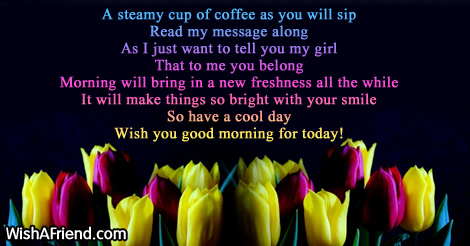 A cup of coffee for you
A steamy cup of coffee as you will sip
Read my message along
As I just want to tell you my girl
That to me you belong
Morning will bring in a new freshness all the while
It will make things so bright with your smile
So have a cool day
Wish you good morning for today!
Other Popular Good Morning Poems for Her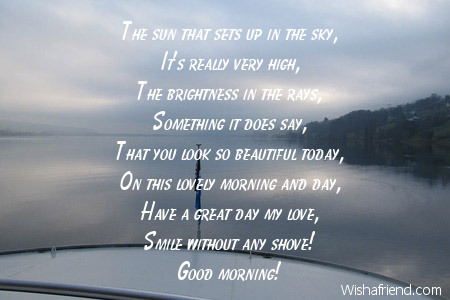 All for you now
The sun that sets up in the sky,
It's really very high,
The brightness in the rays,
Something it does say,
That you look so beautiful today,
On this lovely morning and day,
Have a great day my love,
Smile without any shove! Good morning!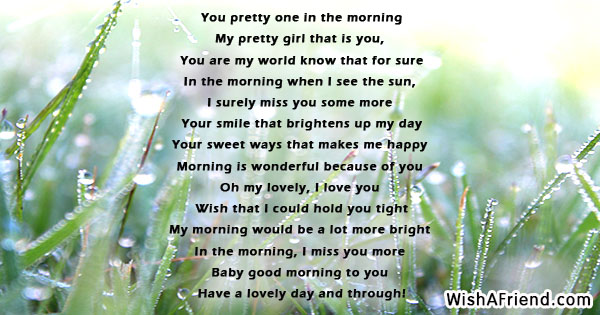 You pretty one in the morning
My pretty girl that is you,
You are my world know that for sure
In the morning when I see the sun,
I surely miss you some more
Your smile that brightens up my day
Your sweet ways that makes me happy
Morning is wonderful because of you
Oh my lovely, I love you
Wish that I could hold you tight
My morning would be a lot more bright
In the morning, I miss you more
Baby good morning to you
Have a lovely day and through!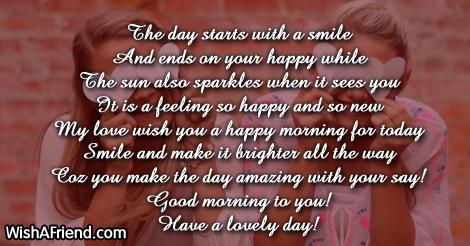 The day starts with
The day starts with a smile
And ends on your happy while
The sun also sparkles when it sees you
It is a feeling so happy and so new
My love wish you a happy morning for today
Smile and make it brighter all the way
Coz you make the day amazing with your say!
Good morning to you!
Have a lovely day!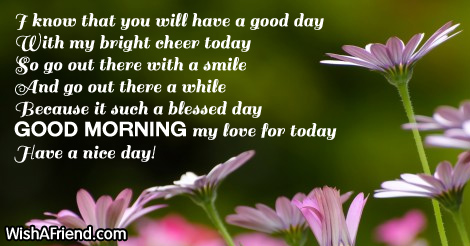 Have a nice day
I know that you will have a good day
With my bright cheer today
So go out there with a smile
And go out there a while
Because it such a blessed day
Good morning my love for today
Have a nice day!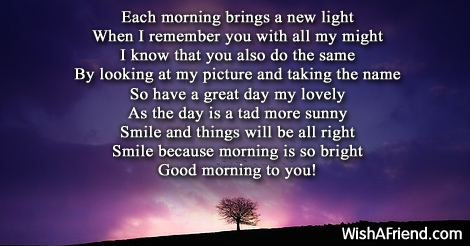 It's a new light to see
Each morning brings a new light
When I remember you with all my might
I know that you also do the same
By looking at my picture and taking the name
So have a great day my lovely
As the day is a tad more sunny
Smile and things will be all right
Smile because morning is so bright
Good morning to you!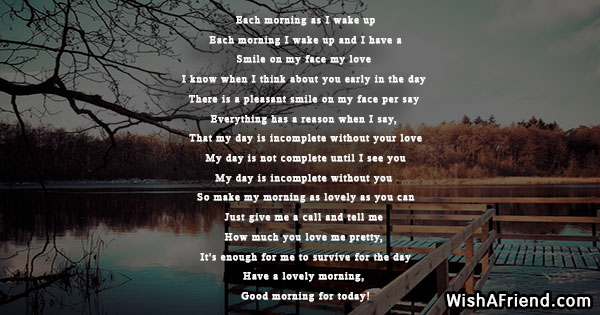 Each morning as I wake up
Each morning I wake up and I have a
Smile on my face my love
I know when I think about you early in the day
There is a pleasant smile on my face per say
Everything has a reason when I say,
That my day is incomplete without your love
My day is not complete until I see you
My day is incomplete without you
So make my morning as lovely as you can
Just give me a call and tell me
How much you love me pretty,
It's enough for me to survive for the day
Have a lovely morning,
Good morning for today!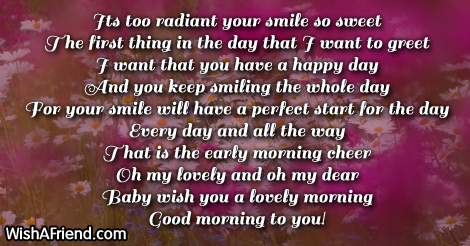 Its so radiant your smile
Its too radiant your smile so sweet
The first thing in the day that I want to greet
I want that you have a happy day
And you keep smiling the whole day
For your smile will have a perfect start for the day
Every day and all the way
That is the early morning cheer
Oh my lovely and oh my dear
Baby wish you a lovely morning
Good morning to you!