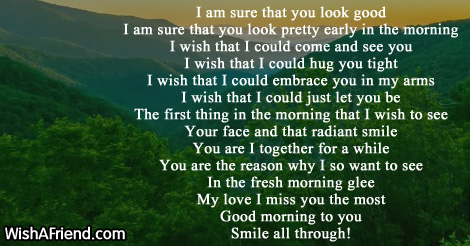 I am sure that you look good
I am sure that you look pretty early in the morning
I wish that I could come and see you
I wish that I could hug you tight
I wish that I could embrace you in my arms
I wish that I could just let you be
The first thing in the morning that I wish to see
Your face and that radiant smile
You are I together for a while
You are the reason why I so want to see
In the fresh morning glee
My love I miss you the most
Good morning to you
Smile all through!
Other Popular Good Morning Poems For Girlfriend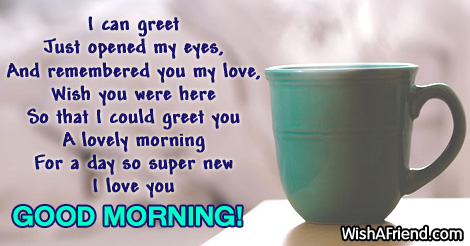 I can greet
Just opened my eyes,
And remembered you my love,
Wish you were here
So that I could greet you
A lovely morning
For a day so super new
I love you
Good morning!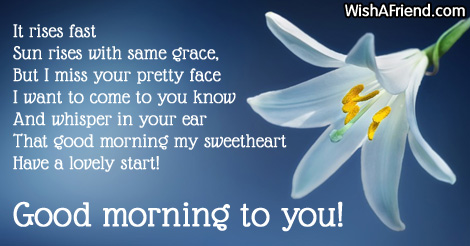 It rises fast
Sun rises with same grace,
But I miss your pretty face
I want to come to you know
And whisper in your ear
That good morning my sweetheart
Have a lovely start!
Good morning to you!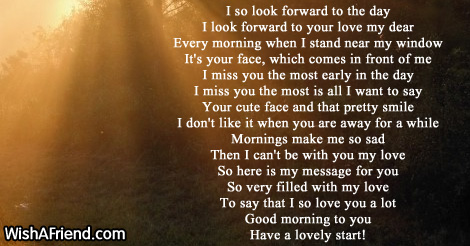 I so look forward to the day
I look forward to your love my dear
Every morning when I stand near my window
It's your face, which comes in front of me
I miss you the most early in the day
I miss you the most is all I want to say
Your cute face and that pretty smile
I don't like it when you are away for a while
Mornings make me so sad
Then I can't be with you my love
So here is my message for you
So very filled with my love
To say that I so love you a lot
Good morning to you
Have a lovely start!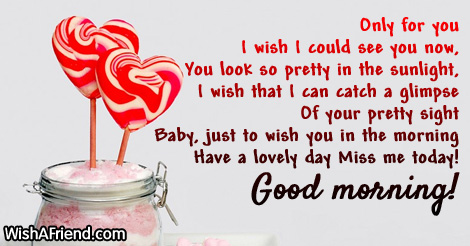 Only for you
I wish I could see you now,
You look so pretty in the sunlight,
I wish that I can catch a glimpse
Of your pretty sight
Baby, just to wish you in the morning
Have a lovely day
Miss me today!
Good morning!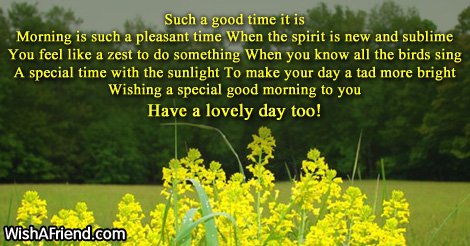 Such a good time it is
Morning is such a pleasant time
When the spirit is new and sublime
You feel like a zest to do something
When you know all the birds sing
A special time with the sunlight
To make your day a tad more bright
Wishing a special good morning to you
Have a lovely day too!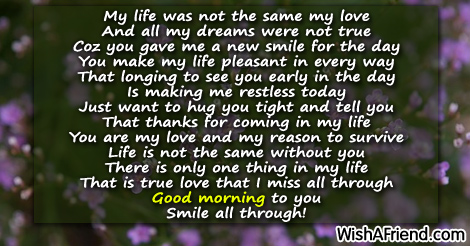 You shine so bright my dear
My dear you shine so bright like the ray of sun
In the morning, your face has a grace
Morning is surely a lovely phase
When your face shines and you look so good
Morning brings in a new light
When I know that things will be all bright
Morning is a special time for you and me
Because I remember you early in the morning
My love for you is truly pure
There is something magical in your allure
My dear my love I miss you much
Early this day and such
Good morning to you
Have a lovely day all new!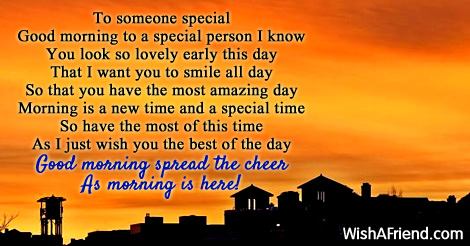 To someone special
Good morning to a special person I know
You look so lovely early this day
That I want you to smile all day
So that you have the most amazing day
Morning is a new time and a special time
So have the most of this time
As I just wish you the best of the day
Good morning spread the cheer
As morning is here!