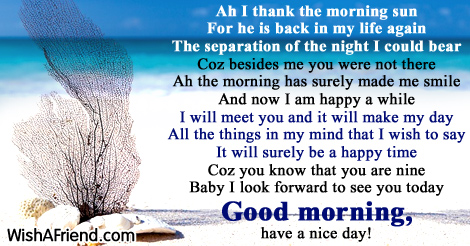 I thank the morning sun
Ah I thank the morning sun
For he is back in my life again
The separation of the night I could bear
Coz besides me you were not there
Ah the morning has surely made me smile
And now I am happy a while
I will meet you and it will make my day
All the things in my mind that I wish to say
It will surely be a happy time
Coz you know that you are nine
Baby I look forward to see you today
Good morning, have a nice day!
Other Popular Good Morning Poems for Him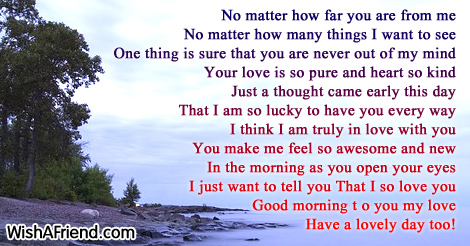 No matter how far you go
No matter how far you are from me
No matter how many things I want to see
One thing is sure that you are never out of my mind
Your love is so pure and heart so kind
Just a thought came early this day
That I am so lucky to have you every way
I think I am truly in love with you
You make me feel so awesome and new
In the morning as you open your eyes
I just want to tell you
That I so love you
Good morning t o you my love
Have a lovely day too!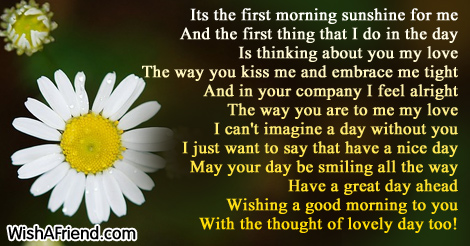 Its the first thing in the morning
Its the first morning sunshine for me
And the first thing that I do in the day
Is thinking about you my love
The way you kiss me and embrace me tight
And in your company I feel alright
The way you are to me my love
I can't imagine a day without you
I just want to say that have a nice day
May your day be smiling all the way
Have a great day ahead
Wishing a good morning to you
With the thought of lovely day too!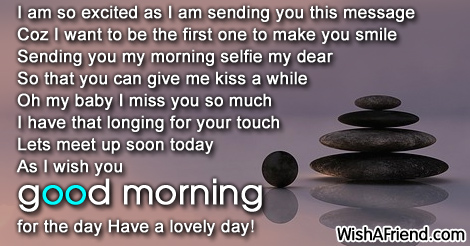 With you I am
I am so excited as I am sending you this message
Coz I want to be the first one to make you smile
Sending you my morning selfie my dear
So that you can give me kiss a while
Oh my baby I miss you so much
I have that longing for your touch
Lets meet up soon today
As I wish you good morning for the day
Have a lovely day!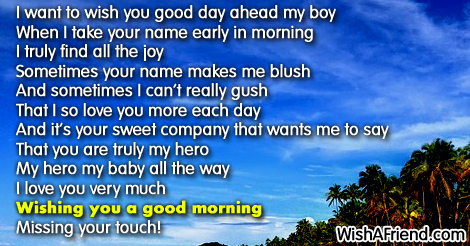 I want to wish you a good day
I want to wish you good day ahead my boy
When I take your name early in morning
I truly find all the joy
Sometimes your name makes me blush
And sometimes I can't really gush
That I so love you more each day
And it's your sweet company that wants me to say
That you are truly my hero
My hero my baby all the way
I love you very much
Wishing you a good morning
Missing your touch!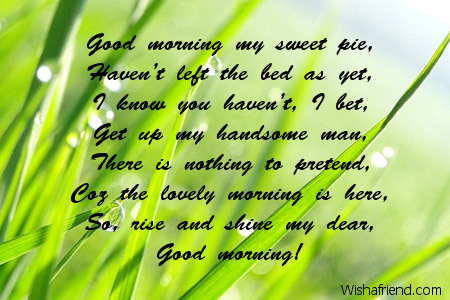 To my love in morning
Good morning my sweet pie,
Haven't left the bed as yet,
I know you haven't, I bet,
Get up my handsome man,
There is nothing to pretend,
Coz the lovely morning is here,
So, rise and shine my dear,
Good morning!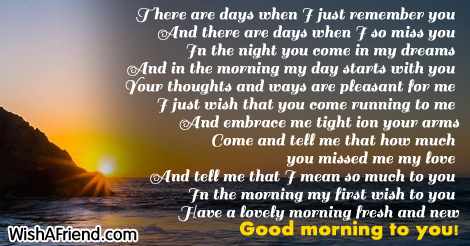 There are so many days when
There are days when I just remember you
And there are days when I so miss you
In the night you come in my dreams
And in the morning my day starts with you
Your thoughts and ways are pleasant for me
I just wish that you come running to me
And embrace me tight ion your arms
Come and tell me that how much you missed me my love
And tell me that I mean so much to you
In the morning my first wish to you
Have a lovely morning fresh and new
Good morning to you!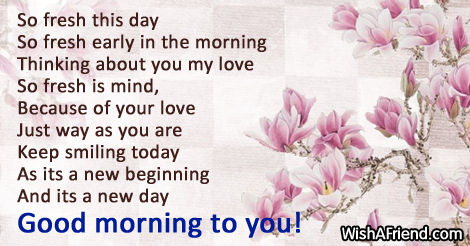 So fresh this day
So fresh early in the morning
Thinking about you my love
So fresh is mind,
Because of your love
Just way as you are
Keep smiling today
As its a new beginning
And its a new day
Good morning to you!