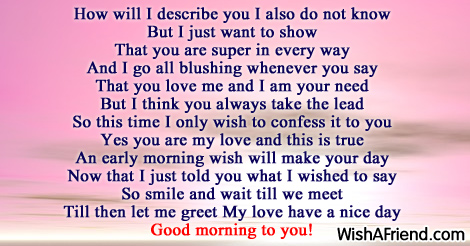 How will I
How will I describe you I also do not know
But I just want to show
That you are super in every way
And I go all blushing whenever you say
That you love me and I am your need
But I think you always take the lead
So this time I only wish to confess it to you
Yes you are my love and this is true
An early morning wish will make your day
Now that I just told you what I wished to say
So smile and wait till we meet
Till then let me greet
My love have a nice day
Good morning to you!
Other Popular Good Morning Poems for Him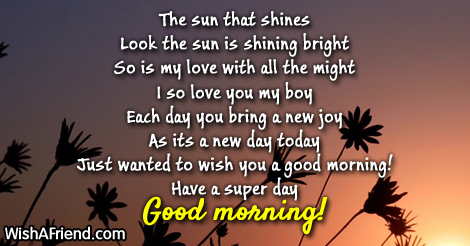 The sun that shines
Look the sun is shining bright
So is my love with all the might
I so love you my boy
Each day you bring a new joy
As its a new day today
Just wanted to wish you a good morning!
Have a super day
Good morning!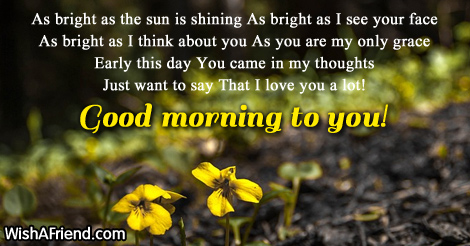 As bright as
As bright as the sun is shining
As bright as I see your face
As bright as I think about you
As you are my only grace
Early this day
You came in my thoughts
Just want to say
That I love you a lot!
Good morning to you!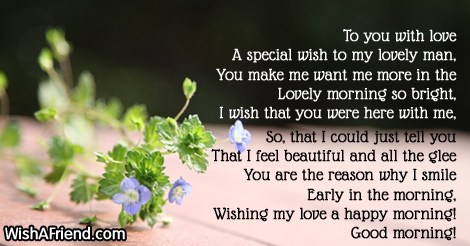 To you with love
A special wish to my lovely man,
You make me want me more in the
Lovely morning so bright,
I wish that you were here with me,
So, that I could just tell you
That I feel beautiful and all the glee
You are the reason why I smile
Early in the morning,
Wishing my love a happy morning!
Good morning!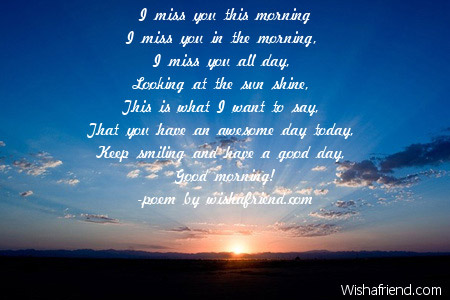 I miss you this morning
I miss you in the morning,
I miss you all day,
Looking at the sun shine,
This is what I want to say,
That you have an awesome day today,
Keep smiling and have a good day,
Good morning!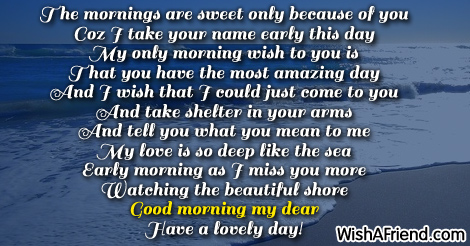 The mornings are so special
The mornings are sweet only because of you
Coz I take your name early this day
My only morning wish to you is
That you have the most amazing day
And I wish that I could just come to you
And take shelter in your arms
And tell you what you mean to me
My love is so deep like the sea
Early morning as I miss you more
Watching the beautiful shore
Good morning my dear
Have a lovely day!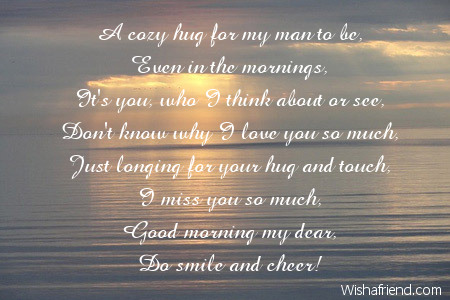 A hug for you my dear
A cozy hug for my man to be,
Even in the mornings,
It's you, who I think about or see,
Don't know why I love you so much,
Just longing for your hug and touch,
I miss you so much,
Good morning my dear,
Do smile and cheer!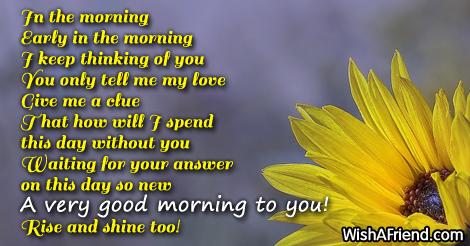 In the morning
Early in the morning
I keep thinking of you
You only tell me my love
Give me a clue
That how will I spend this day without you
Waiting for your answer on this day so new
A very good morning to you!
Rise and shine too!