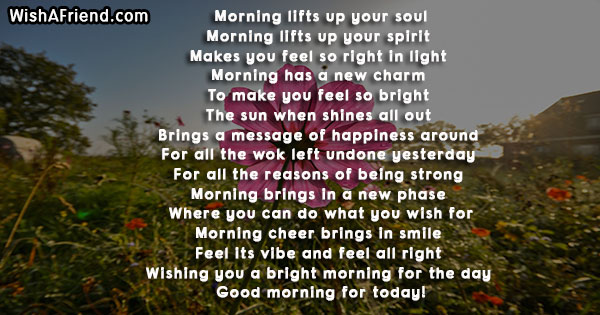 Morning lifts up your soul
Morning lifts up your spirit
Makes you feel so right in light
Morning has a new charm
To make you feel so bright
The sun when shines all out
Brings a message of happiness around
For all the wok left undone yesterday
For all the reasons of being strong
Morning brings in a new phase
Where you can do what you wish for
Morning cheer brings in smile
Feel its vibe and feel all right
Wishing you a bright morning for the day
Good morning for today!
Other Popular Good Morning Poems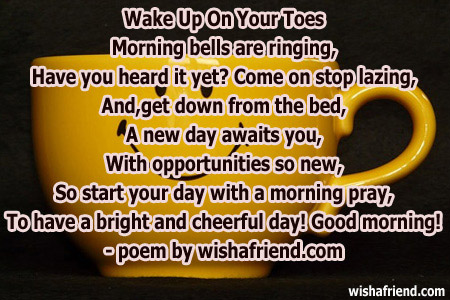 Wake Up On Your Toes
Morning bells are ringing,
Have you heard it yet? Come on stop lazing,
And,get down from the bed,
A new day awaits you,
With opportunities so new,
So start your day with a morning pray,
To have a bright and cheerful day! Good morning!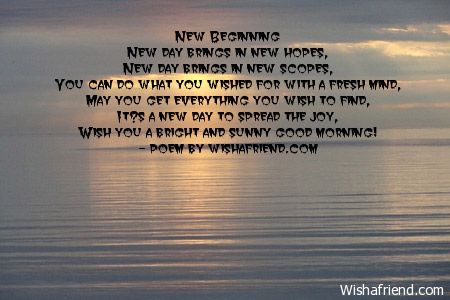 New Beginning
New day brings in new hopes,
New day brings in new scopes,
You can do what you wished for with a fresh mind,
May you get everything you wish to find,
It's a new day to spread the joy,
Wish you a bright and sunny good morning!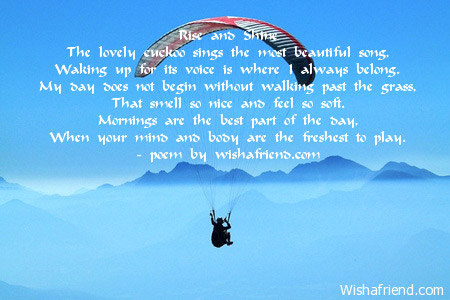 Rise and Shine
The lovely cuckoo sings the most beautiful song,
Waking up for its voice is where I always belong.
My day does not begin without walking past the grass,
That smell so nice and feel so soft.
Mornings are the best part of the day,
When your mind and body are the freshest to play.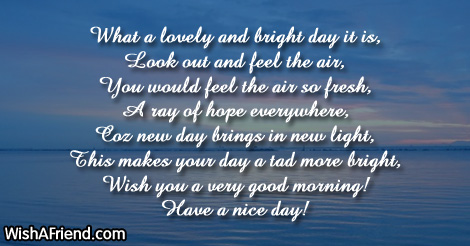 A lovely day
What a lovely and bright day it is,
Look out and feel the air,
You would feel the air so fresh,
A ray of hope everywhere,
Coz new day brings in new light,
This makes your day a tad more bright,
Wish you a very good morning!
Have a nice day!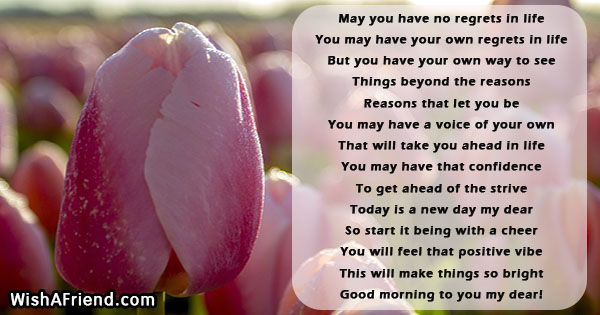 May you have no regrets in life
You may have your own regrets in life
But you have your own way to see
Things beyond the reasons
Reasons that let you be
You may have a voice of your own
That will take you ahead in life
You may have that confidence
To get ahead of the strive
Today is a new day my dear
So start it being with a cheer
You will feel that positive vibe
This will make things so bright
Good morning to you my dear!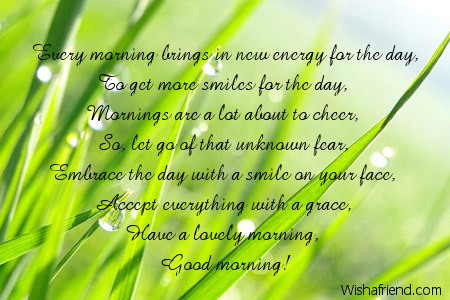 Each morning is new
Every morning brings in new energy for the day,
To get more smiles for the day,
Mornings are a lot about to cheer,
So, let go of that unknown fear,
Embrace the day with a smile on your face,
Accept everything with a grace,
Have a lovely morning,
Good morning!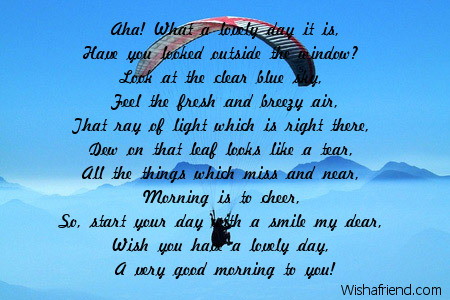 What a lovely day it is
Aha! What a lovely day it is,
Have you looked outside the window?
Look at the clear blue sky,
Feel the fresh and breezy air,
That ray of light which is right there,
Dew on that leaf looks like a tear,
All the things which miss and near,
Morning is to cheer,
So, start your day with a smile my dear,
Wish you have a lovely day,
A very good morning to you!