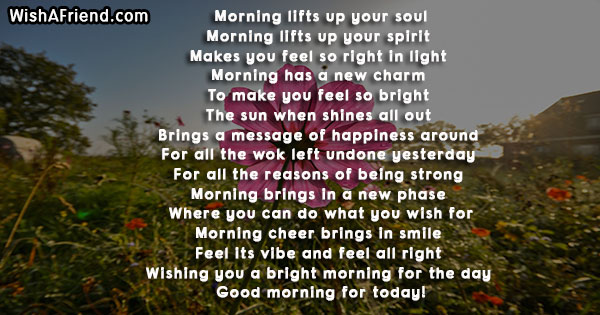 Morning lifts up your soul
Morning lifts up your spirit
Makes you feel so right in light
Morning has a new charm
To make you feel so bright
The sun when shines all out
Brings a message of happiness around
For all the wok left undone yesterday
For all the reasons of being strong
Morning brings in a new phase
Where you can do what you wish for
Morning cheer brings in smile
Feel its vibe and feel all right
Wishing you a bright morning for the day
Good morning for today!
Other Popular Good Morning Poems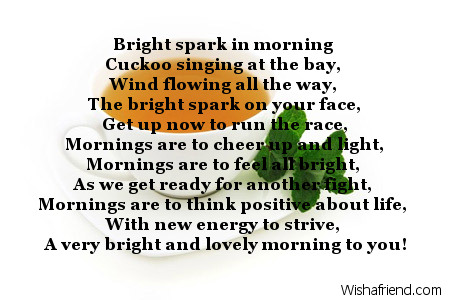 Bright spark in morning
Cuckoo singing at the bay,
Wind flowing all the way,
The bright spark on your face,
Get up now to run the race,
Mornings are to cheer up and light,
Mornings are to feel all bright,
As we get ready for another fight,
Mornings are to think positive about life,
With new energy to strive,
A very bright and lovely morning to you!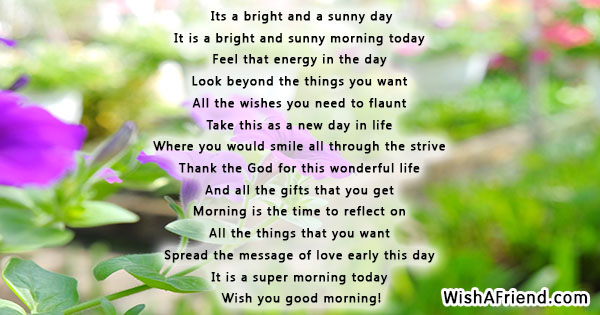 Its a bright and a sunny day
It is a bright and sunny morning today
Feel that energy in the day
Look beyond the things you want
All the wishes you need to flaunt
Take this as a new day in life
Where you would smile all through the strive
Thank the God for this wonderful life
And all the gifts that you get
Morning is the time to reflect on
All the things that you want
Spread the message of love early this day
It is a super morning today
Wish you good morning!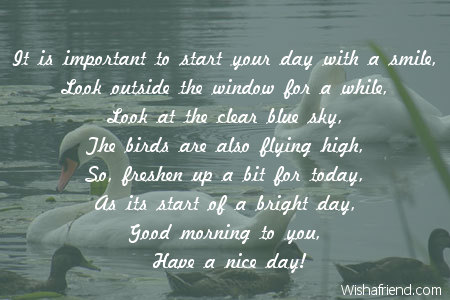 A day for you
It is important to start your day with a smile,
Look outside the window for a while,
Look at the clear blue sky,
The birds are also flying high,
So, freshen up a bit for today,
As its start of a bright day,
Good morning to you,
Have a nice day!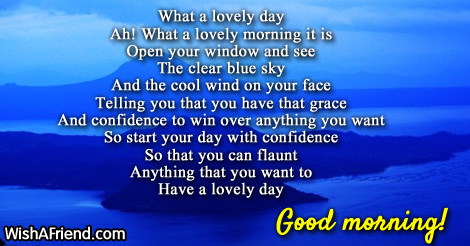 What a lovely day
Ah! What a lovely morning it is
Open your window and see
The clear blue sky
And the cool wind on your face
Telling you that you have that grace
And confidence to win over anything you want
So start your day with confidence
So that you can flaunt
Anything that you want to
Have a lovely day
Good morning!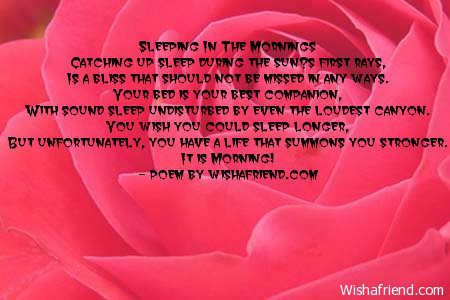 Sleeping In The Mornings
Catching up sleep during the sun's first rays,
Is a bliss that should not be missed in any ways.
Your bed is your best companion,
With sound sleep undisturbed by even the loudest canyon.
You wish you could sleep longer,
But unfortunately, you have a life that summons you stronger.
It is Morning!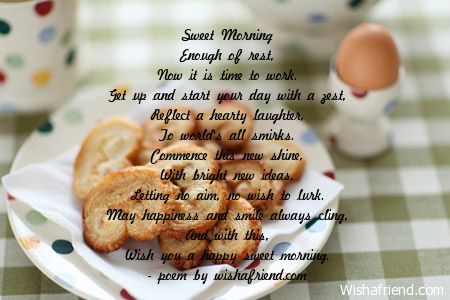 Sweet Morning
Enough of rest,
Now it is time to work.
Get up and start your day with a zest,
Reflect a hearty laughter,
To world's all smirks.
Commence this new shine,
With bright new ideas,
Letting no aim, no wish to lurk.
May happiness and smile always cling,
And with this,
Wish you a happy sweet morning.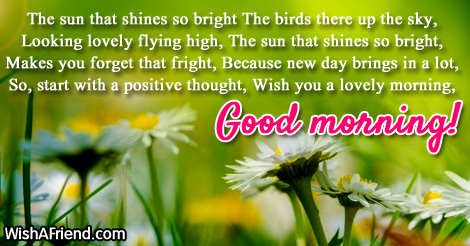 The sun that shines so bright
The birds there up the sky,
Looking lovely flying high,
The sun that shines so bright,
Makes you forget that fright,
Because new day brings in a lot,
So, start with a positive thought,
Wish you a lovely morning,
Good morning!