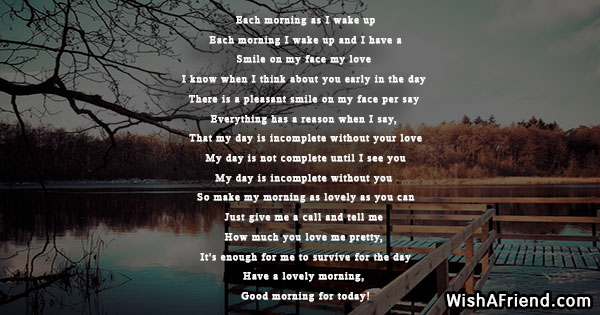 Each morning as I wake up
Each morning I wake up and I have a
Smile on my face my love
I know when I think about you early in the day
There is a pleasant smile on my face per say
Everything has a reason when I say,
That my day is incomplete without your love
My day is not complete until I see you
My day is incomplete without you
So make my morning as lovely as you can
Just give me a call and tell me
How much you love me pretty,
It's enough for me to survive for the day
Have a lovely morning,
Good morning for today!
Other Popular Good Morning Poems for Her
I only wish
Ah! I wish I could see you now,
The morning is here,
But, you are really far,
I wish that your smile brightens up your day,
And, you go out and have your say,
Have a lovely day my sweetheart,
A wish that you never go apart,
Good morning!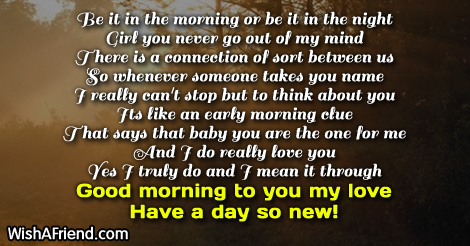 Be in the morning light
Be it in the morning or be it in the night
Girl you never go out of my mind
There is a connection of sort between us
So whenever someone takes you name
I really can't stop but to think about you
Its like an early morning clue
That says that baby you are the one for me
And I do really love you
Yes I truly do and I mean it through
Good morning to you my love
Have a day so new!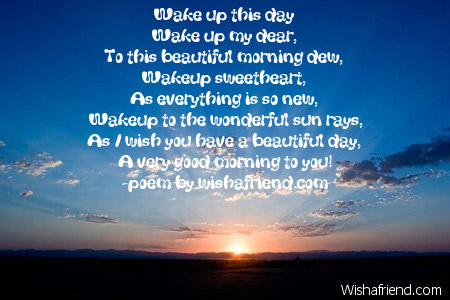 Wake up this day
Wake up my dear,
To this beautiful morning dew,
Wakeup sweetheart,
As everything is so new,
Wakeup to the wonderful sun rays,
As I wish you have a beautiful day,
A very good morning to you!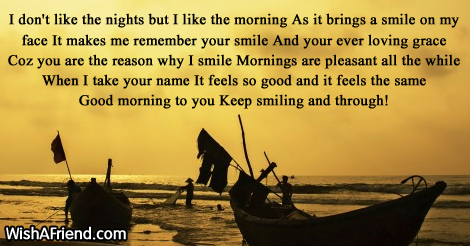 I don't like the nights
I don't like the nights but I like the morning
As it brings a smile on my face
It makes me remember your smile
And your ever loving grace
Coz you are the reason why I smile
Mornings are pleasant all the while
When I take your name
It feels so good and it feels the same
Good morning to you
Keep smiling and through!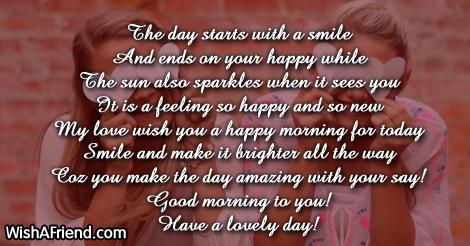 The day starts with
The day starts with a smile
And ends on your happy while
The sun also sparkles when it sees you
It is a feeling so happy and so new
My love wish you a happy morning for today
Smile and make it brighter all the way
Coz you make the day amazing with your say!
Good morning to you!
Have a lovely day!
I have forever loved you
I have never loved the mornings as much
I have never longed more than your touch
Your love is my only medicine in life
You are my reason to survive
Your love gives me a reason to smile
Early in the morning and all the while
Your love keeps me in the good spirit
And that is why I feel so lucky to have you
Baby just want to say I truly love you
Wish a very good morning to you!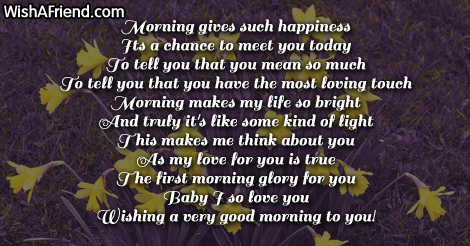 I am so happy in life
Morning gives such happiness
Its a chance to meet you today
To tell you that you mean so much
To tell you that you have the most loving touch
Morning makes my life so bright
And truly it's like some kind of light
This makes me think about you
As my love for you is true
The first morning glory for you
Baby I so love you
Wishing a very good morning to you!