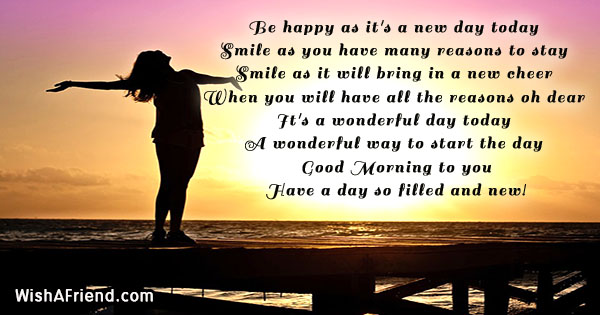 Be happy as it's a new day today
Smile as you have many reasons to stay
Smile as it will bring in a new cheer
When you will have all the reasons oh dear
It's a wonderful day today
A wonderful way to start the day
Good Morning to you
Have a day so filled and new!
Other Popular Good Morning Messages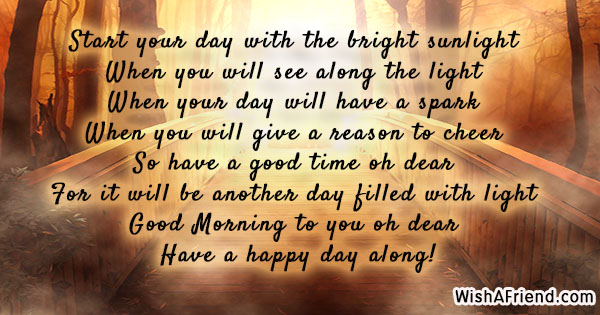 Start your day with the bright sunlight
When you will see along the light
When your day will have a spark
When you will give a reason to cheer
So have a good time oh dear
For it will be another day filled with light
Good Morning to you oh dear
Have a happy day along!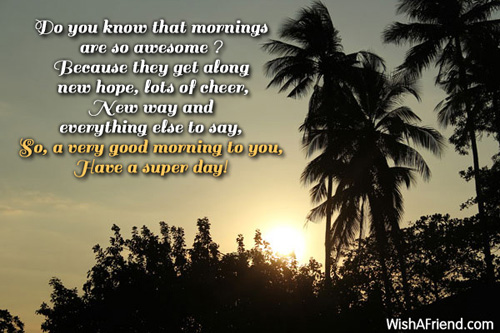 Do you know that mornings are so awesome ?
Because they get along new hope, lots of cheer,
New way and everything else to say,
So, a very good morning to you,
Have a super day!
Things can't be changed in time
But if you make it all prime
Have that determination to excel through
Your day will all be so new
Go beyond things that matter to you
As you start another day with a smile
Good Morning to you
Have a super day ahead!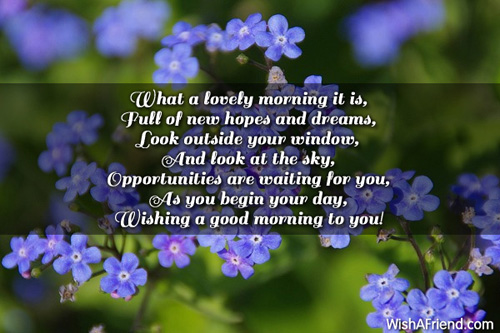 What a lovely morning it is,
Full of new hopes and dreams,
Look outside your window,
And look at the sky,
Opportunities are waiting for you,
As you begin your day,
Wishing a good morning to you!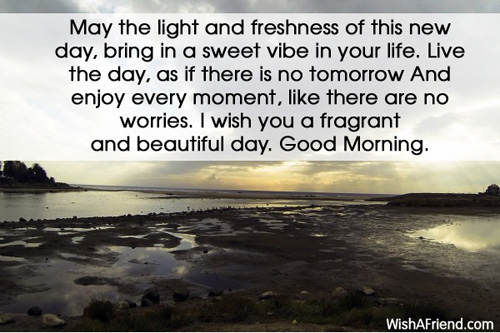 May the light and freshness of this new day, bring in a sweet vibe in your life. Live the day, as if there is no tomorrow And enjoy every moment, like there are no worries. I wish you a fragrant and beautiful day. Good Morning.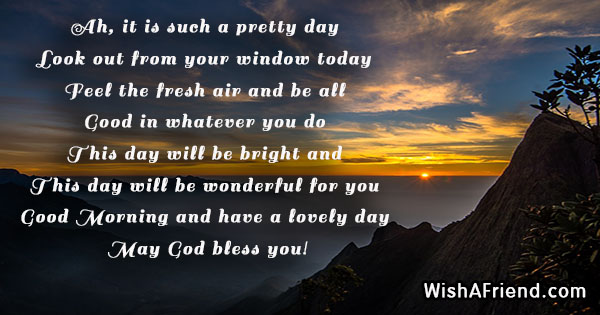 Ah, it is such a pretty day
Look out from your window today
Feel the fresh air and be all
Good in whatever you do
This day will be bright and
This day will be wonderful for you
Good Morning and have a lovely day
May God bless you!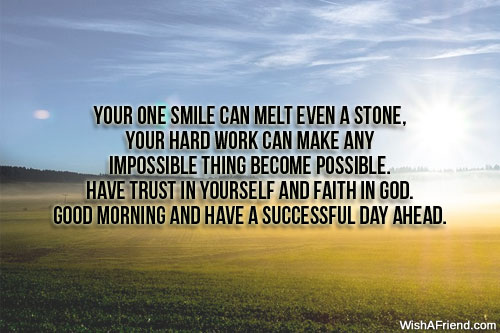 Your one smile can melt even a stone, your hard work can make any impossible thing become possible. Have trust in yourself and faith in God. Good Morning and have a successful day ahead.