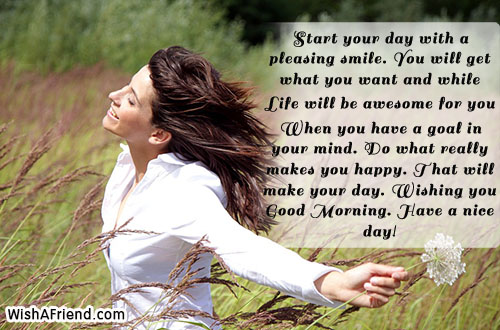 Start your day with a pleasing smile
You will get what you want and while
Life will be awesome for you
When you have a goal in your mind
Do what really makes you happy
That will make your day
Wishing you Good Morning
Have a nice day!
Other Popular Sweet Good Morning Messages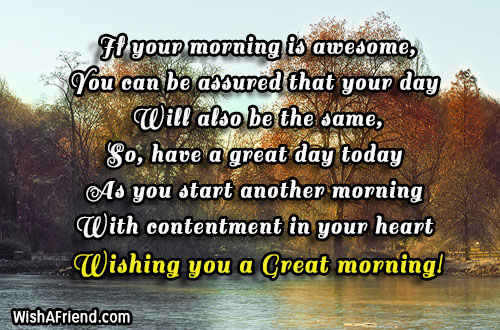 If your morning is awesome,
You can be assured that your day
Will also be the same,
So, have a great day today
As you start another morning
With contentment in your heart
Wishing you a Great morning!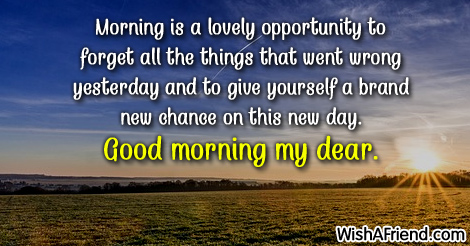 Morning is a lovely opportunity to forget all the things that went wrong yesterday and to give yourself a brand new chance on this new day. Good morning my dear.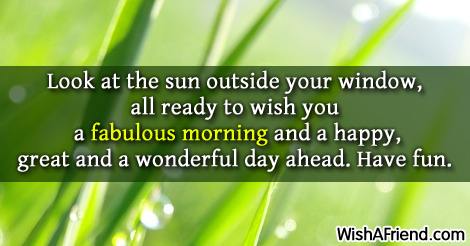 Look at the sun outside your window, all ready to wish you a fabulous morning and a happy, great and a wonderful day ahead. Have fun.
A day begun well always ends well. So kick start your day with a smile. Have a fantastic day.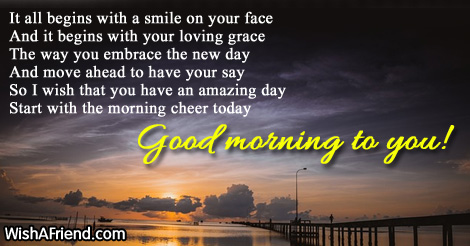 It all begins with a smile on your face
And it begins with your loving grace
The way you embrace the new day
And move ahead to have your say
So I wish that you have an amazing day
Start with the morning cheer today
Good morning to you!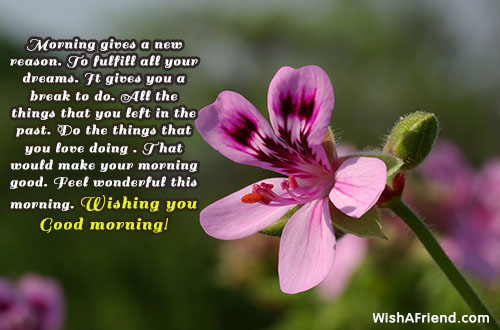 Morning gives a new reason
To fulfill all your dreams
It gives you a break to do
All the things that you left in the past
Do the things that you love doing
That would make your morning good
Feel wonderful this morning
Wishing you good morning!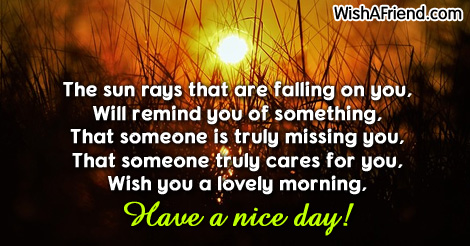 The sun rays that are falling on you,
Will remind you of something,
That someone is truly missing you,
That someone truly cares for you,
Wish you a lovely morning,
Have a nice day!