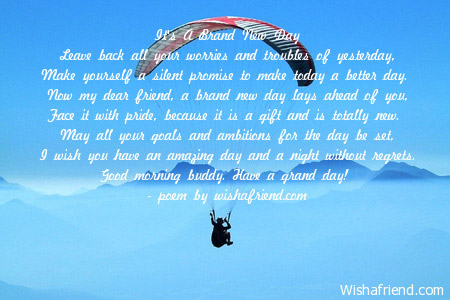 It's A Brand New Day
Leave back all your worries and troubles of yesterday,
Make yourself a silent promise to make today a better day.
Now my dear friend, a brand new day lays ahead of you,
Face it with pride, because it is a gift and is totally new.
May all your goals and ambitions for the day be set,
I wish you have an amazing day and a night without regrets.
Good morning buddy. Have a grand day!
Other Popular Good Morning Poems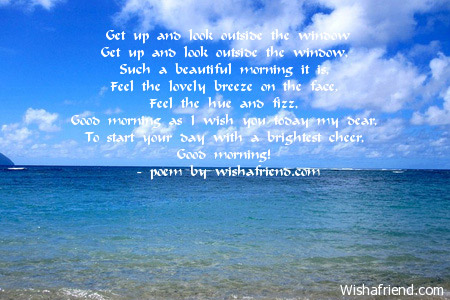 Get up and look outside the window
Get up and look outside the window,
Such a beautiful morning it is,
Feel the lovely breeze on the face,
Feel the hue and fizz,
Good morning as I wish you today my dear,
To start your day with a brightest cheer,
Good morning!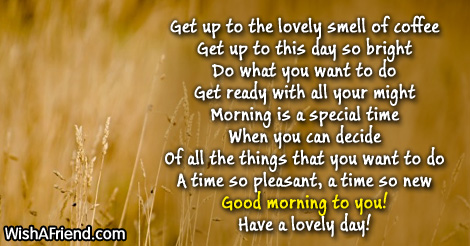 Get up and smell
Get up to the lovely smell of coffee
Get up to this day so bright
Do what you want to do
Get ready with all your might
Morning is a special time
When you can decide
Of all the things that you want to do
A time so pleasant, a time so new
Good morning to you!
Have a lovely day!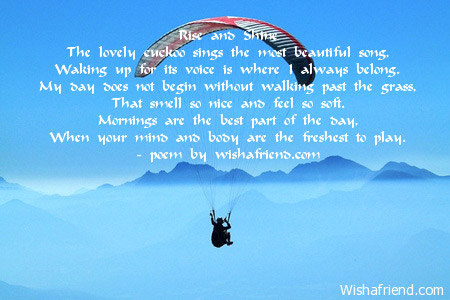 Rise and Shine
The lovely cuckoo sings the most beautiful song,
Waking up for its voice is where I always belong.
My day does not begin without walking past the grass,
That smell so nice and feel so soft.
Mornings are the best part of the day,
When your mind and body are the freshest to play.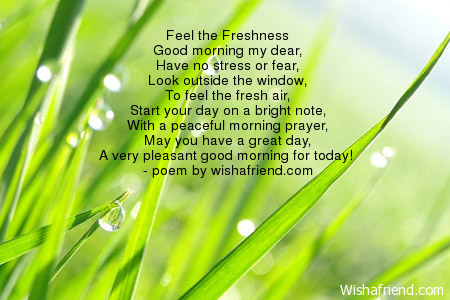 Feel the Freshness
Good morning my dear,
Have no stress or fear,
Look outside the window,
To feel the fresh air,
Start your day on a bright note,
With a peaceful morning prayer,
May you have a great day,
A very pleasant good morning for today!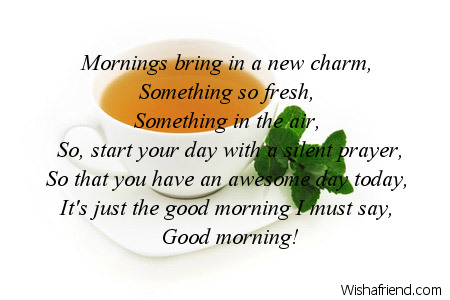 A New charm each day
Mornings bring in a new charm,
Something so fresh,
Something in the air,
So, start your day with a silent prayer,
So that you have an awesome day today,
It's just the good morning I must say,
Good morning!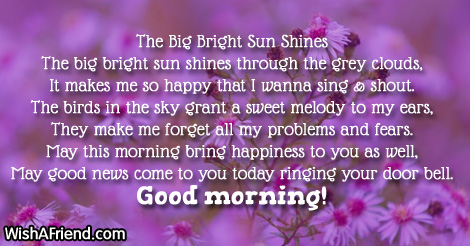 The Big Bright Sun Shines
The big bright sun shines through the grey clouds,
It makes me so happy that I wanna sing & shout.
The birds in the sky grant a sweet melody to my ears,
They make me forget all my problems and fears.
May this morning bring happiness to you as well,
May good news come to you today ringing your door bell.
Good morning!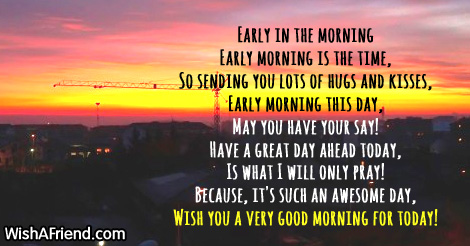 Early in the morning
Early morning is the time,
So sending you lots of hugs and kisses,
Early morning this day,
May you have your say!
Have a great day ahead today,
Is what I will only pray!
Because, it's such an awesome day,
Wish you a very good morning for today!