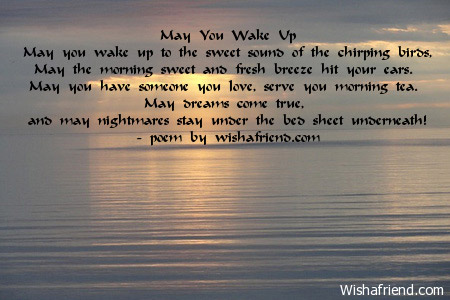 May You Wake Up
May you wake up to the sweet sound of the chirping birds,
May the morning sweet and fresh breeze hit your ears.
May you have someone you love, serve you morning tea.
May dreams come true,
and may nightmares stay under the bed sheet underneath!
Other Popular Good Morning Poems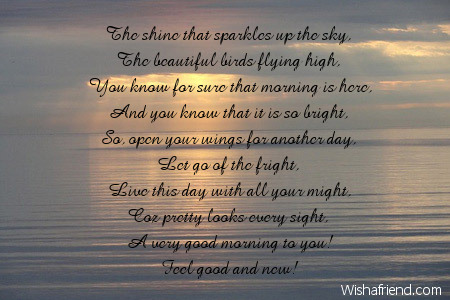 The sun that shines
The shine that sparkles up the sky,
The beautiful birds flying high,
You know for sure that morning is here,
And you know that it is so bright,
So, open your wings for another day,
Let go of the fright,
Live this day with all your might,
Coz pretty looks every sight,
A very good morning to you!
Feel good and new!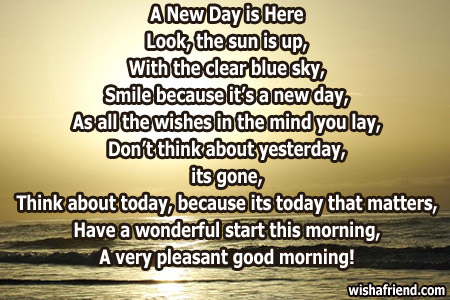 A New Day is Here
Look, the sun is up,
With the clear blue sky,
Smile because it's a new day,
As all the wishes in the mind you lay,
Don't think about yesterday,
its gone,
Think about today, because its today that matters,
Have a wonderful start this morning,
A very pleasant good morning!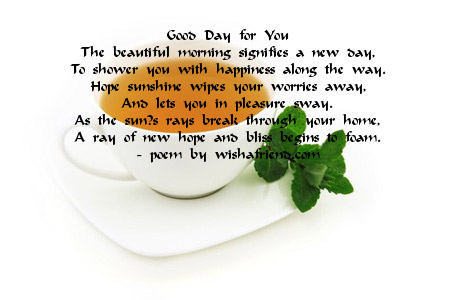 Good Day for You
The beautiful morning signifies a new day,
To shower you with happiness along the way.
Hope sunshine wipes your worries away,
And lets you in pleasure sway.
As the sun's rays break through your home,
A ray of new hope and bliss begins to foam.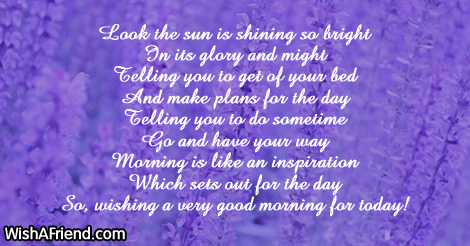 Look at the sun
Look the sun is shining so bright
In its glory and might
Telling you to get of your bed
And make plans for the day
Telling you to do sometime
Go and have your way
Morning is like an inspiration
Which sets out for the day
So, wishing a very good morning for today!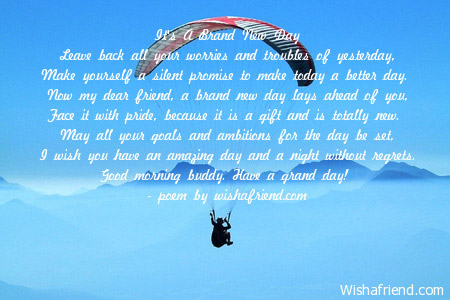 It's A Brand New Day
Leave back all your worries and troubles of yesterday,
Make yourself a silent promise to make today a better day.
Now my dear friend, a brand new day lays ahead of you,
Face it with pride, because it is a gift and is totally new.
May all your goals and ambitions for the day be set,
I wish you have an amazing day and a night without regrets.
Good morning buddy. Have a grand day!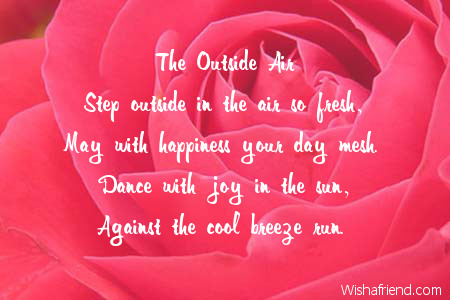 The Outside Air
Step outside in the air so fresh,
May with happiness your day mesh.
Dance with joy in the sun,
Against the cool breeze run.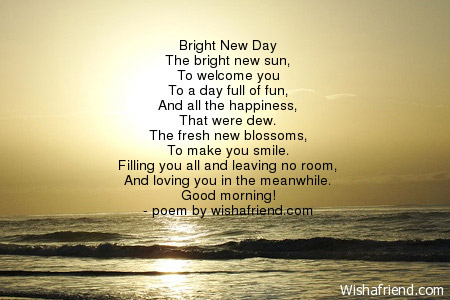 Bright New Day
The bright new sun,
To welcome you
To a day full of fun,
And all the happiness,
That were dew.
The fresh new blossoms,
To make you smile.
Filling you all and leaving no room,
And loving you in the meanwhile.
Good morning!