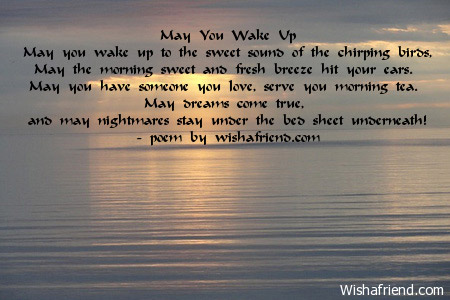 May You Wake Up
May you wake up to the sweet sound of the chirping birds,
May the morning sweet and fresh breeze hit your ears.
May you have someone you love, serve you morning tea.
May dreams come true,
and may nightmares stay under the bed sheet underneath!
Other Popular Good Morning Poems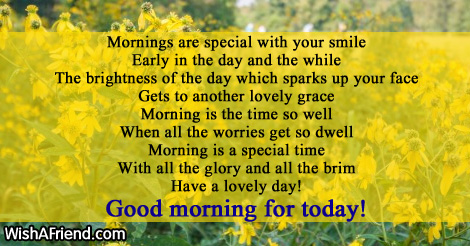 It is so special
Mornings are special with your smile
Early in the day and the while
The brightness of the day which sparks up your face
Gets to another lovely grace
Morning is the time so well
When all the worries get so dwell
Morning is a special time
With all the glory and all the brim
Have a lovely day!
Good morning for today!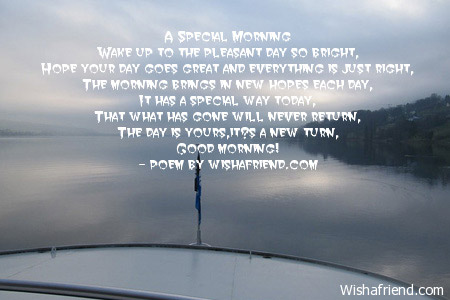 A Special Morning
Wake up to the pleasant day so bright,
Hope your day goes great and everything is just right,
The morning brings in new hopes each day,
It has a special way today,
That what has gone will never return,
The day is yours,it's a new turn,
Good morning!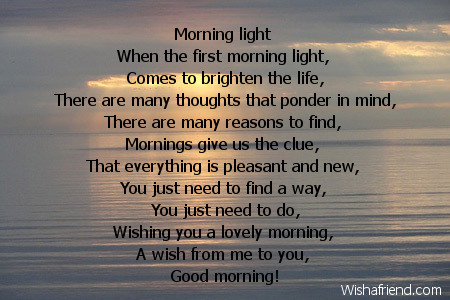 Morning light
When the first morning light, Comes to brighten the life,
There are many thoughts that ponder in mind,
There are many reasons to find,
Mornings give us the clue,
That everything is pleasant and new,
You just need to find a way,
You just need to do,
Wishing you a lovely morning,
A wish from me to you,
Good morning!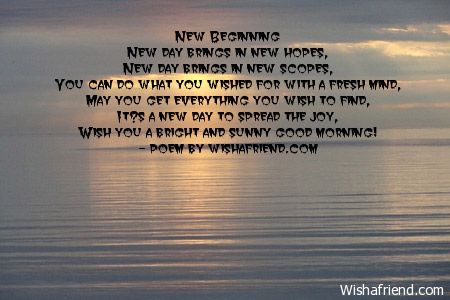 New Beginning
New day brings in new hopes,
New day brings in new scopes,
You can do what you wished for with a fresh mind,
May you get everything you wish to find,
It's a new day to spread the joy,
Wish you a bright and sunny good morning!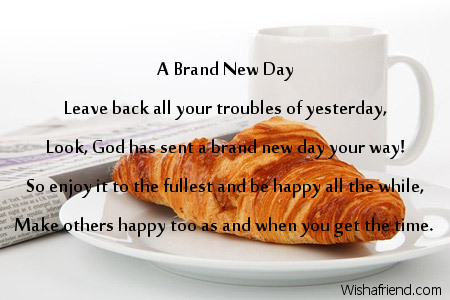 A Brand New Day
Leave back all your troubles of yesterday,
Look, God has sent a brand new day your way!
So enjoy it to the fullest and be happy all the while,
Make others happy too as and when you get the time.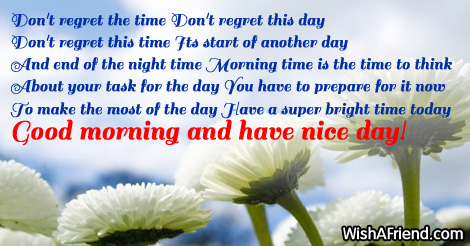 Don't regret the time
Don't regret this day
Don't regret this time
Its start of another day
And end of the night time
Morning time is the time to think
About your task for the day
You have to prepare for it now
To make the most of the day
Have a super bright time today
Good morning and have nice day!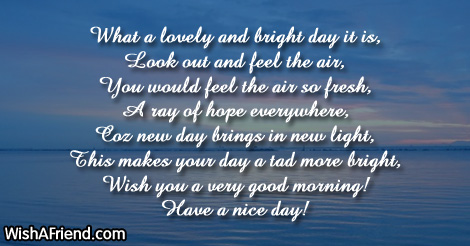 A lovely day
What a lovely and bright day it is,
Look out and feel the air,
You would feel the air so fresh,
A ray of hope everywhere,
Coz new day brings in new light,
This makes your day a tad more bright,
Wish you a very good morning!
Have a nice day!