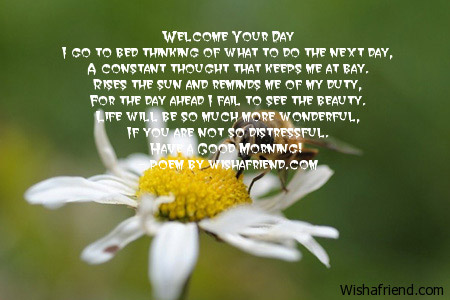 Welcome Your Day
I go to bed thinking of what to do the next day,
A constant thought that keeps me at bay.
Rises the sun and reminds me of my duty,
For the day ahead I fail to see the beauty.
Life will be so much more wonderful,
If you are not so distressful.
Have a Good Morning!
Other Popular Good Morning Poems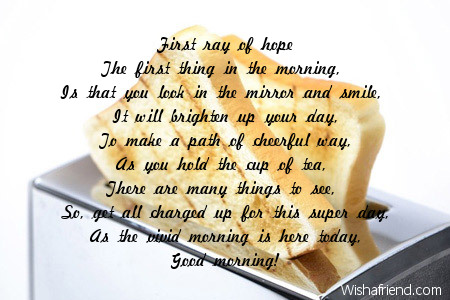 First ray of hope
The first thing in the morning,
Is that you look in the mirror and smile,
It will brighten up your day,
To make a path of cheerful way,
As you hold the cup of tea,
There are many things to see,
So, get all charged up for this super day,
As the vivid morning is here today,
Good morning!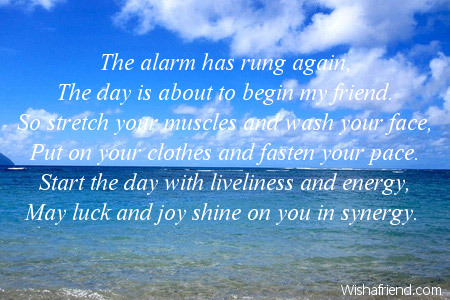 The Alarm Has Rung Again
The alarm has rung again,
The day is about to begin my friend.
So stretch your muscles and wash your face,
Put on your clothes and fasten your pace.
Start the day with liveliness and energy,
May luck and joy shine on you in synergy.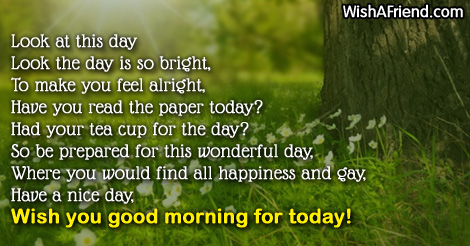 Look at this day
Look the day is so bright,
To make you feel alright,
Have you read the paper today?
Had your tea cup for the day?
So be prepared for this wonderful day,
Where you would find all happiness and gay,
Have a nice day,
Wish you good morning for today!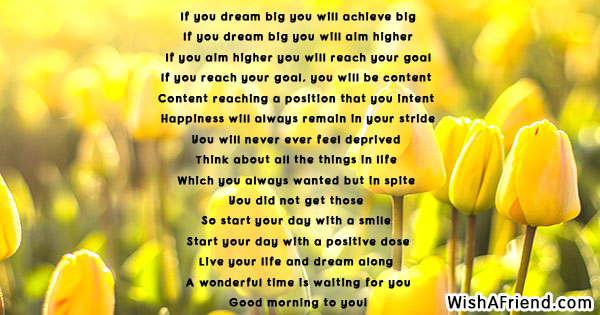 If you dream big you will achieve big
If you dream big you will aim higher
If you aim higher you will reach your goal
If you reach your goal, you will be content
Content reaching a position that you intent
Happiness will always remain in your stride
You will never ever feel deprived
Think about all the things in life
Which you always wanted but in spite
You did not get those
So start your day with a smile
Start your day with a positive dose
Live your life and dream along
A wonderful time is waiting for you
Good morning to you!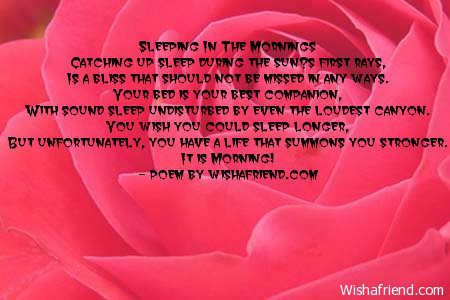 Sleeping In The Mornings
Catching up sleep during the sun's first rays,
Is a bliss that should not be missed in any ways.
Your bed is your best companion,
With sound sleep undisturbed by even the loudest canyon.
You wish you could sleep longer,
But unfortunately, you have a life that summons you stronger.
It is Morning!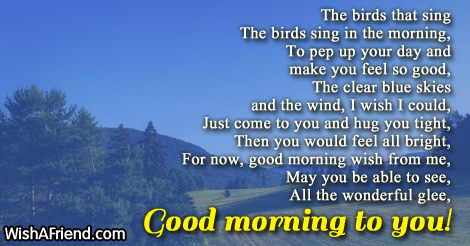 The birds that sing
The birds sing in the morning,
To pep up your day and make you feel so good,
The clear blue skies and the wind,
I wish I could,
Just come to you and hug you tight,
Then you would feel all bright,
For now, good morning wish from me,
May you be able to see,
All the wonderful glee,
Good morning to you!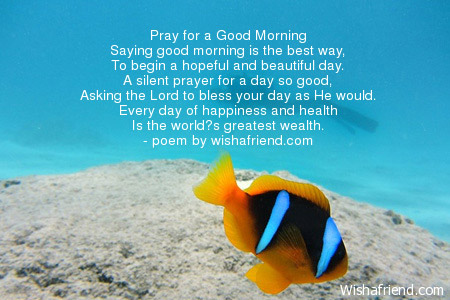 Pray for a Good Morning
Saying good morning is the best way,
To begin a hopeful and beautiful day.
A silent prayer for a day so good,
Asking the Lord to bless your day as He would.
Every day of happiness and health
Is the world's greatest wealth.