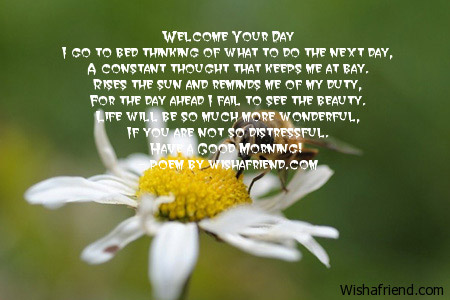 Welcome Your Day
I go to bed thinking of what to do the next day,
A constant thought that keeps me at bay.
Rises the sun and reminds me of my duty,
For the day ahead I fail to see the beauty.
Life will be so much more wonderful,
If you are not so distressful.
Have a Good Morning!
Other Popular Good Morning Poems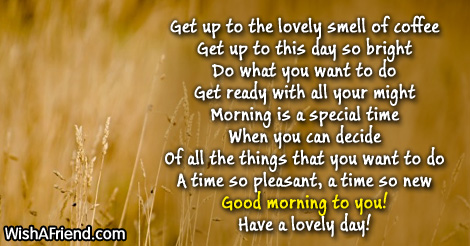 Get up and smell
Get up to the lovely smell of coffee
Get up to this day so bright
Do what you want to do
Get ready with all your might
Morning is a special time
When you can decide
Of all the things that you want to do
A time so pleasant, a time so new
Good morning to you!
Have a lovely day!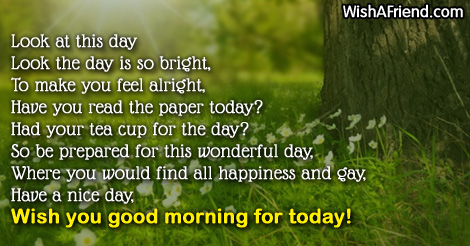 Look at this day
Look the day is so bright,
To make you feel alright,
Have you read the paper today?
Had your tea cup for the day?
So be prepared for this wonderful day,
Where you would find all happiness and gay,
Have a nice day,
Wish you good morning for today!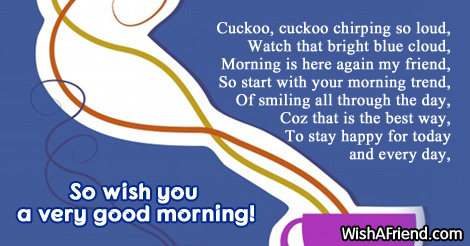 Chirping of birds
Cuckoo, cuckoo chirping so loud,
Watch that bright blue cloud,
Morning is here again my friend,
So start with your morning trend,
Of smiling all through the day,
Coz that is the best way,
To stay happy for today and every day,
So wish you a very good morning!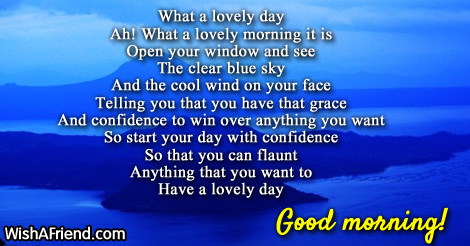 What a lovely day
Ah! What a lovely morning it is
Open your window and see
The clear blue sky
And the cool wind on your face
Telling you that you have that grace
And confidence to win over anything you want
So start your day with confidence
So that you can flaunt
Anything that you want to
Have a lovely day
Good morning!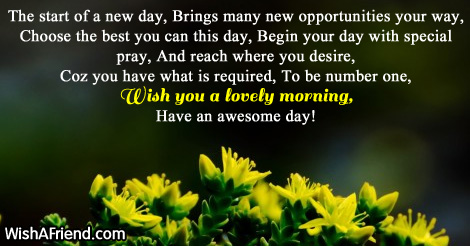 New start for the day
The start of a new day,
Brings many new opportunities your way,
Choose the best you can this day,
Begin your day with special pray,
And reach where you desire,
Coz you have what is required,
To be number one,
Wish you a lovely morning,
Have an awesome day!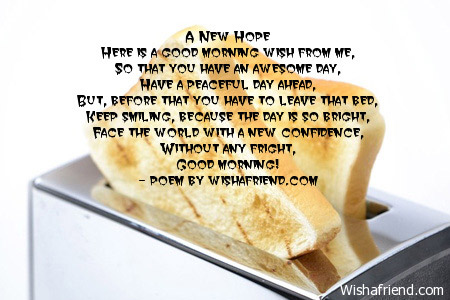 A New Hope
Here is a good morning wish from me,
So that you have an awesome day,
Have a peaceful day ahead,
But, before that you have to leave that bed,
Keep smiling, because the day is so bright,
Face the world with a new confidence,
Without any fright,
Good morning!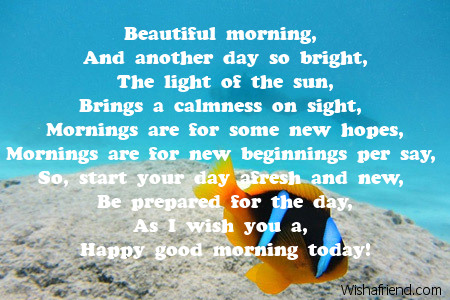 Beautiful morning
Beautiful morning,
And another day so bright,
The light of the sun,
Brings a calmness on sight,
Mornings are for some new hopes,
Mornings are for new beginnings per say,
So, start your day afresh and new,
Be prepared for the day,
As I wish you a,
Happy good morning today!