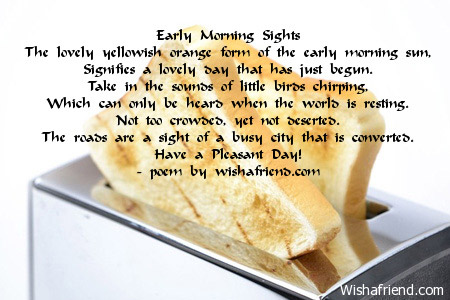 Early Morning Sights
The lovely yellowish orange form of the early morning sun,
Signifies a lovely day that has just begun.
Take in the sounds of little birds chirping,
Which can only be heard when the world is resting.
Not too crowded, yet not deserted.
The roads are a sight of a busy city that is converted.
Have a Pleasant Day!
Other Popular Good Morning Poems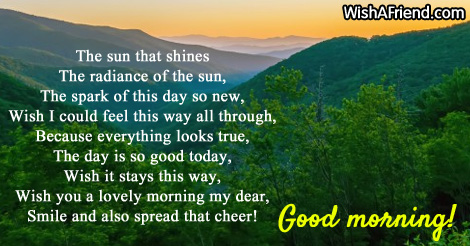 The sun that shines
The radiance of the sun,
The spark of this day so new,
Wish I could feel this way all through,
Because everything looks true,
The day is so good today,
Wish it stays this way,
Wish you a lovely morning my dear,
Smile and also spread that cheer!
Good morning!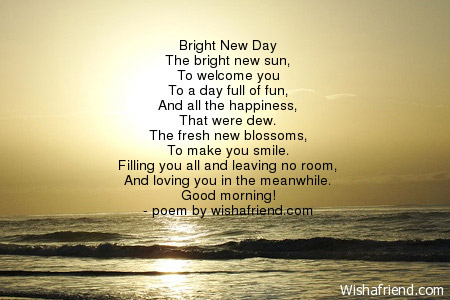 Bright New Day
The bright new sun,
To welcome you
To a day full of fun,
And all the happiness,
That were dew.
The fresh new blossoms,
To make you smile.
Filling you all and leaving no room,
And loving you in the meanwhile.
Good morning!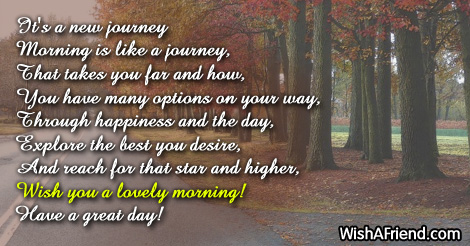 It's a new journey
Morning is like a journey,
That takes you far and how,
You have many options on your way,
Through happiness and the day,
Explore the best you desire,
And reach for that star and higher,
Wish you a lovely morning!
Have a great day!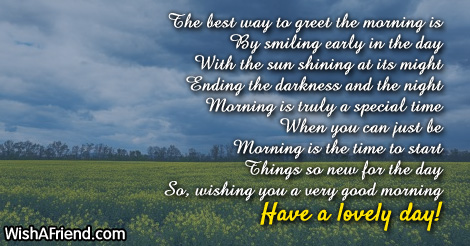 The best way to greet
The best way to greet the morning is
By smiling early in the day
With the sun shining at its might
Ending the darkness and the night
Morning is truly a special time
When you can just be
Morning is the time to start
Things so new for the day
So, wishing you a very good morning
Have a lovely day!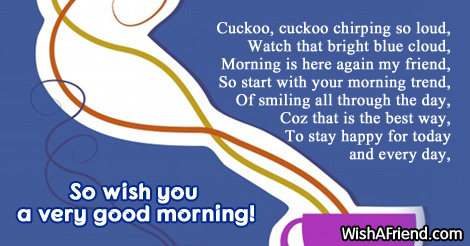 Chirping of birds
Cuckoo, cuckoo chirping so loud,
Watch that bright blue cloud,
Morning is here again my friend,
So start with your morning trend,
Of smiling all through the day,
Coz that is the best way,
To stay happy for today and every day,
So wish you a very good morning!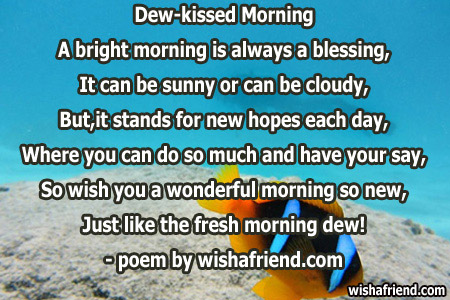 Dew-kissed Morning
A bright morning is always a blessing,
It can be sunny or can be cloudy,
But,it stands for new hopes each day,
Where you can do so much and have your say,
So wish you a wonderful morning so new,
Just like the fresh morning dew!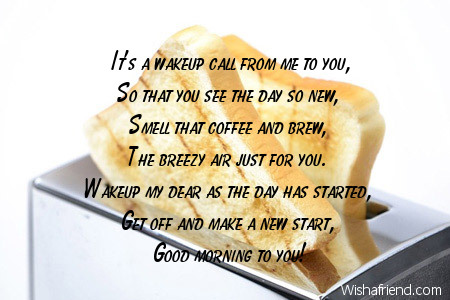 A Wake-up call
It's a wakeup call from me to you,
So that you see the day so new,
Smell that coffee and brew,
The breezy air just for you.
Wakeup my dear as the day has started,
Get off and make a new start,
Good morning to you!