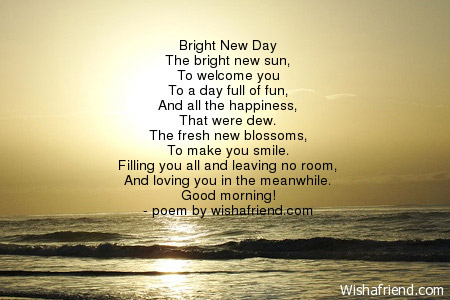 Bright New Day
The bright new sun,
To welcome you
To a day full of fun,
And all the happiness,
That were dew.
The fresh new blossoms,
To make you smile.
Filling you all and leaving no room,
And loving you in the meanwhile.
Good morning!
Other Popular Good Morning Poems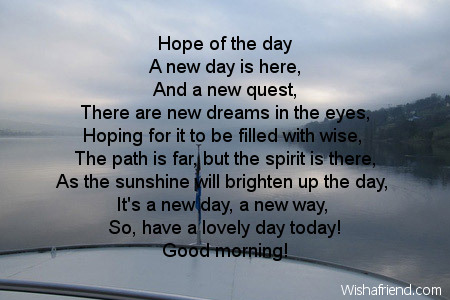 Hope of the day
A new day is here,
And a new quest,
There are new dreams in the eyes,
Hoping for it to be filled with wise,
The path is far, but the spirit is there,
As the sunshine will brighten up the day,
It's a new day, a new way,
So, have a lovely day today!
Good morning!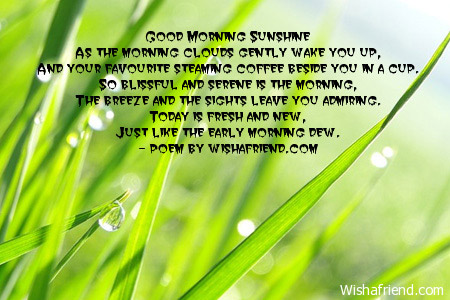 Good Morning Sunshine
As the morning clouds gently wake you up,
And your favourite steaming coffee beside you in a cup.
So blissful and serene is the morning,
The breeze and the sights leave you admiring.
Today is fresh and new,
Just like the early morning dew.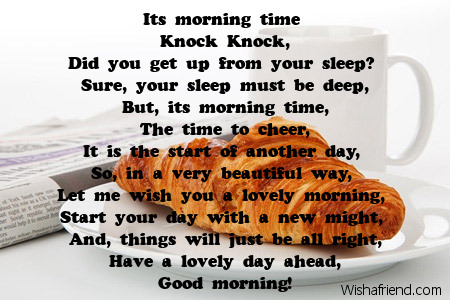 Its morning time
Knock Knock,
Did you get up from your sleep?
Sure, your sleep must be deep,
But, its morning time,
The time to cheer,
It is the start of another day,
So, in a very beautiful way,
Let me wish you a lovely morning,
Start your day with a new might,
And, things will just be all right,
Have a lovely day ahead,
Good morning!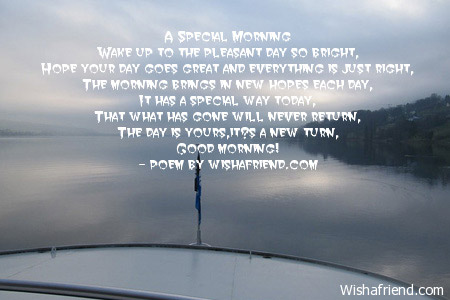 A Special Morning
Wake up to the pleasant day so bright,
Hope your day goes great and everything is just right,
The morning brings in new hopes each day,
It has a special way today,
That what has gone will never return,
The day is yours,it's a new turn,
Good morning!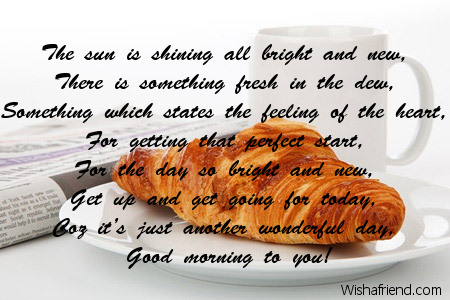 The sun that is bright
The sun is shining all bright and new,
There is something fresh in the dew,
Something which states the feeling of the heart,
For getting that perfect start,
For the day so bright and new,
Get up and get going for today,
Coz it's just another wonderful day,
Good morning to you!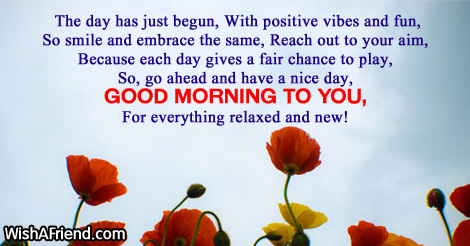 The day has just started
The day has just begun,
With positive vibes and fun,
So smile and embrace the same,
Reach out to your aim,
Because each day gives a fair chance to play,
So, go ahead and have a nice day,
Good morning to you,
For everything relaxed and new!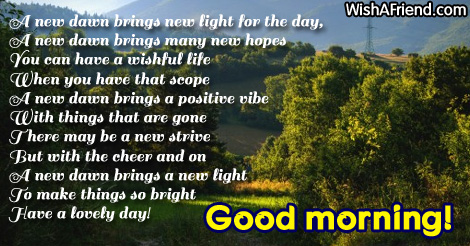 A new dawn
A new dawn brings new light for the day,
A new dawn brings many new hopes
You can have a wishful life
When you have that scope
A new dawn brings a positive vibe
With things that are gone
There may be a new strive
But with the cheer and on
A new dawn brings a new light
To make things so bright
Have a lovely day!
Good morning!