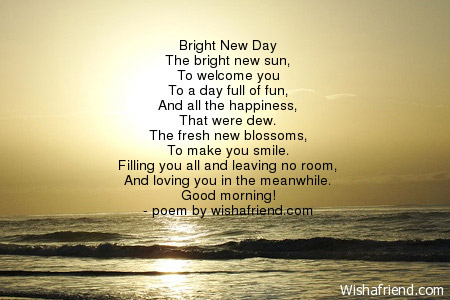 Bright New Day
The bright new sun,
To welcome you
To a day full of fun,
And all the happiness,
That were dew.
The fresh new blossoms,
To make you smile.
Filling you all and leaving no room,
And loving you in the meanwhile.
Good morning!
Other Popular Good Morning Poems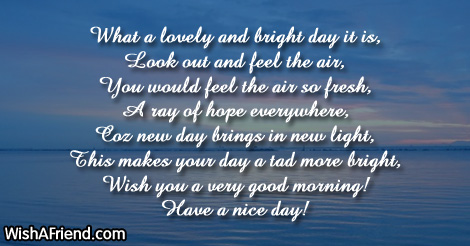 A lovely day
What a lovely and bright day it is,
Look out and feel the air,
You would feel the air so fresh,
A ray of hope everywhere,
Coz new day brings in new light,
This makes your day a tad more bright,
Wish you a very good morning!
Have a nice day!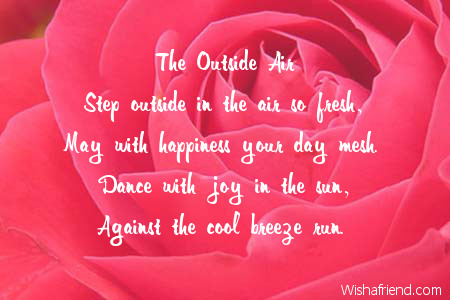 The Outside Air
Step outside in the air so fresh,
May with happiness your day mesh.
Dance with joy in the sun,
Against the cool breeze run.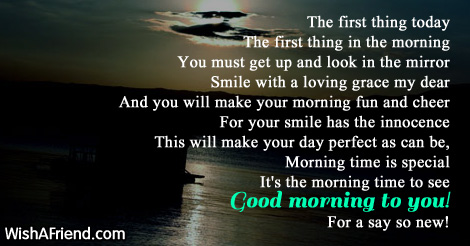 The first thing today
The first thing in the morning
You must get up and look in the mirror
Smile with a loving grace my dear
And you will make your morning fun and cheer
For your smile has the innocence
This will make your day perfect as can be,
Morning time is special
It's the morning time to see
Good morning to you!
For a say so new!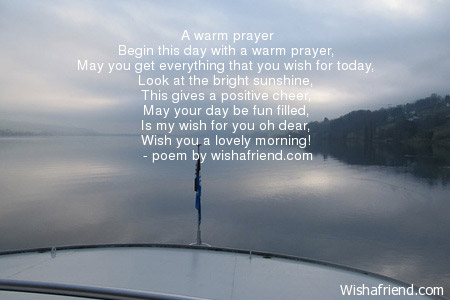 A warm prayer
Begin this day with a warm prayer,
May you get everything that you wish for today,
Look at the bright sunshine,
This gives a positive cheer,
May your day be fun filled,
Is my wish for you oh dear,
Wish you a lovely morning!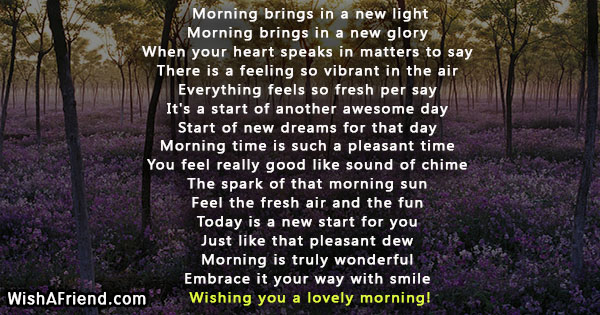 Morning brings in a new light
Morning brings in a new glory
When your heart speaks in matters to say
There is a feeling so vibrant in the air
Everything feels so fresh per say
It's a start of another awesome day
Start of new dreams for that day
Morning time is such a pleasant time
You feel really good like sound of chime
The spark of that morning sun
Feel the fresh air and the fun
Today is a new start for you
Just like that pleasant dew
Morning is truly wonderful
Embrace it your way with smile
Wishing you a lovely morning!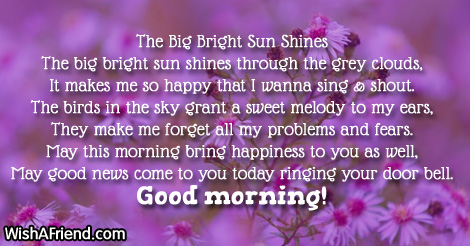 The Big Bright Sun Shines
The big bright sun shines through the grey clouds,
It makes me so happy that I wanna sing & shout.
The birds in the sky grant a sweet melody to my ears,
They make me forget all my problems and fears.
May this morning bring happiness to you as well,
May good news come to you today ringing your door bell.
Good morning!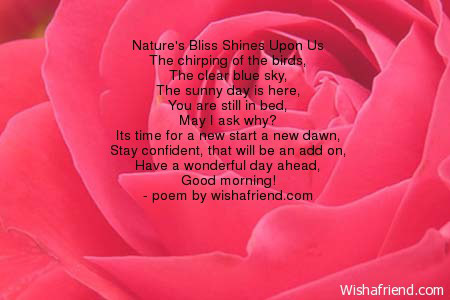 Nature's Bliss Shines Upon Us
The chirping of the birds,
The clear blue sky,
The sunny day is here,
You are still in bed,
May I ask why?
Its time for a new start a new dawn,
Stay confident, that will be an add on,
Have a wonderful day ahead,
Good morning!