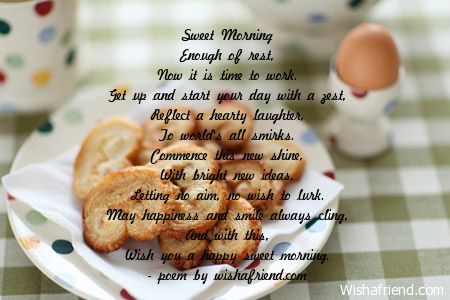 Sweet Morning
Enough of rest,
Now it is time to work.
Get up and start your day with a zest,
Reflect a hearty laughter,
To world's all smirks.
Commence this new shine,
With bright new ideas,
Letting no aim, no wish to lurk.
May happiness and smile always cling,
And with this,
Wish you a happy sweet morning.
Other Popular Good Morning Poems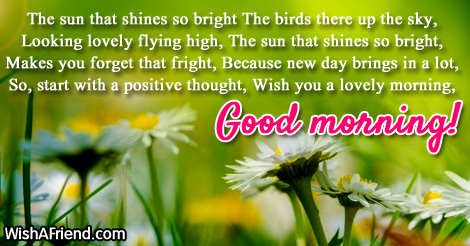 The sun that shines so bright
The birds there up the sky,
Looking lovely flying high,
The sun that shines so bright,
Makes you forget that fright,
Because new day brings in a lot,
So, start with a positive thought,
Wish you a lovely morning,
Good morning!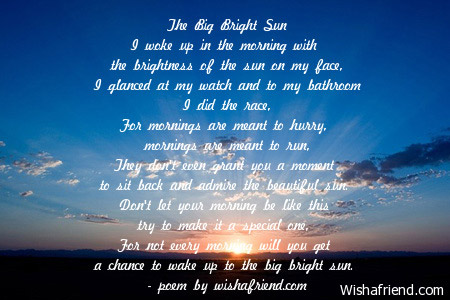 The Big Bright Sun
I woke up in the morning with
the brightness of the sun on my face,
I glanced at my watch and to my bathroom
I did the race,
For mornings are meant to hurry,
mornings are meant to run,
They don't even grant you a moment
to sit back and admire the beautiful sun.
Don't let your morning be like this
try to make it a special one,
For not every morning will you get a chance to wake up to the big bright sun.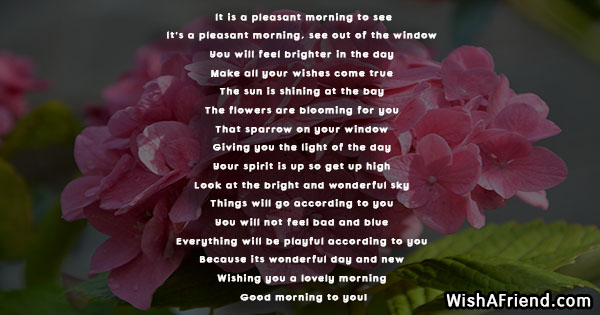 It is a pleasant morning to see
It's a pleasant morning, see out of the window
You will feel brighter in the day
Make all your wishes come true
The sun is shining at the bay
The flowers are blooming for you
That sparrow on your window
Giving you the light of the day
Your spirit is up so get up high
Look at the bright and wonderful sky
Things will go according to you
You will not feel bad and blue
Everything will be playful according to you
Because its wonderful day and new
Wishing you a lovely morning
Good morning to you!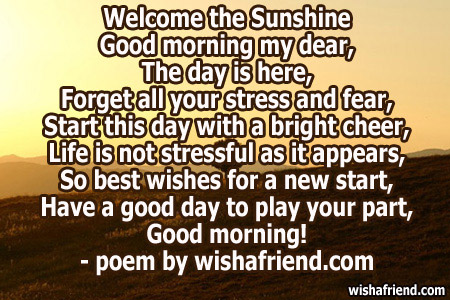 Welcome the Sunshine
Good morning my dear,
The day is here,
Forget all your stress and fear,
Start this day with a bright cheer,
Life is not stressful as it appears,
So best wishes for a new start,
Have a good day to play your part,
Good morning!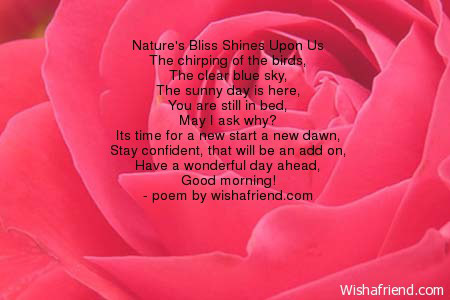 Nature's Bliss Shines Upon Us
The chirping of the birds,
The clear blue sky,
The sunny day is here,
You are still in bed,
May I ask why?
Its time for a new start a new dawn,
Stay confident, that will be an add on,
Have a wonderful day ahead,
Good morning!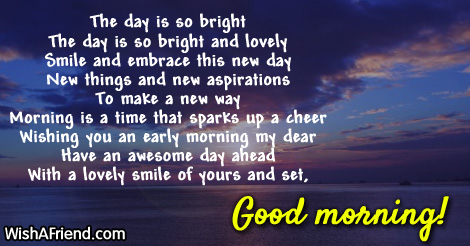 The day is so bright
The day is so bright and lovely
Smile and embrace this new day
New things and new aspirations
To make a new way
Morning is a time that sparks up a cheer
Wishing you an early morning my dear
Have an awesome day ahead
With a lovely smile of yours and set,
Good morning!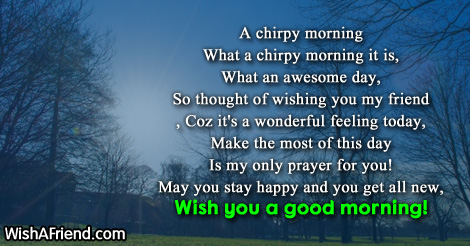 A chirpy morning
What a chirpy morning it is,
What an awesome day,
So thought of wishing you my friend
, Coz it's a wonderful feeling today,
Make the most of this day
Is my only prayer for you!
May you stay happy and you get all new,
Wish you a good morning!