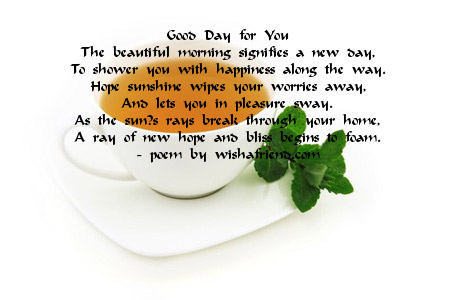 Good Day for You
The beautiful morning signifies a new day,
To shower you with happiness along the way.
Hope sunshine wipes your worries away,
And lets you in pleasure sway.
As the sun's rays break through your home,
A ray of new hope and bliss begins to foam.
Other Popular Good Morning Poems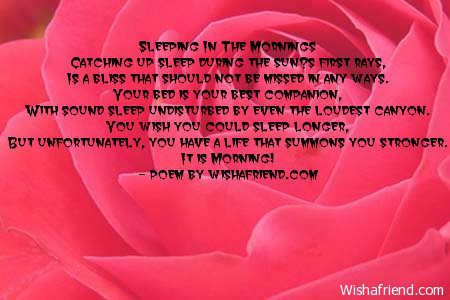 Sleeping In The Mornings
Catching up sleep during the sun's first rays,
Is a bliss that should not be missed in any ways.
Your bed is your best companion,
With sound sleep undisturbed by even the loudest canyon.
You wish you could sleep longer,
But unfortunately, you have a life that summons you stronger.
It is Morning!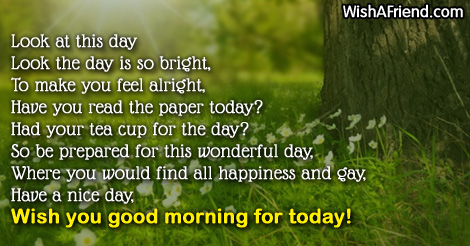 Look at this day
Look the day is so bright,
To make you feel alright,
Have you read the paper today?
Had your tea cup for the day?
So be prepared for this wonderful day,
Where you would find all happiness and gay,
Have a nice day,
Wish you good morning for today!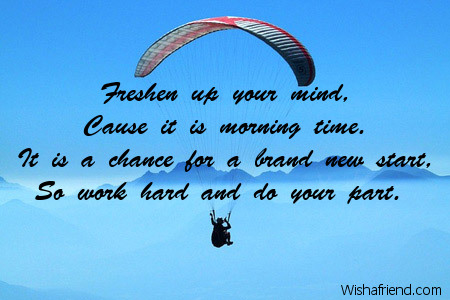 Freshen Up Your Mind
Freshen up your mind,
Cause it is morning time.
It is a chance for a brand new start,
So work hard and do your part.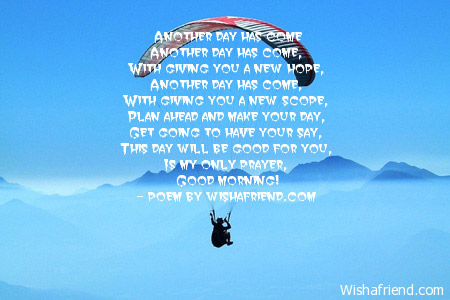 Another day has come
Another day has come,
With giving you a new hope,
Another day has come,
With giving you a new scope,
Plan ahead and make your day,
Get going to have your say,
This day will be good for you,
Is my only prayer,
Good morning!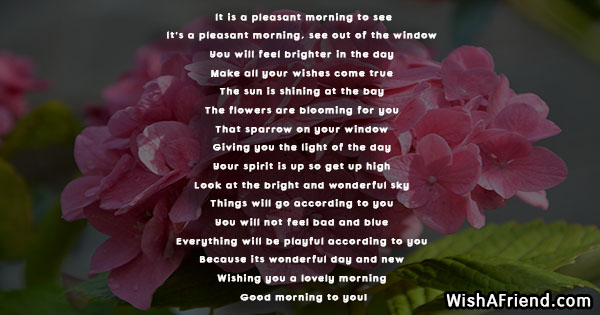 It is a pleasant morning to see
It's a pleasant morning, see out of the window
You will feel brighter in the day
Make all your wishes come true
The sun is shining at the bay
The flowers are blooming for you
That sparrow on your window
Giving you the light of the day
Your spirit is up so get up high
Look at the bright and wonderful sky
Things will go according to you
You will not feel bad and blue
Everything will be playful according to you
Because its wonderful day and new
Wishing you a lovely morning
Good morning to you!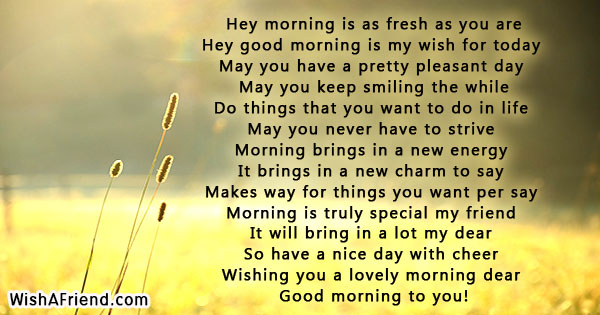 Hey morning is as fresh as you are
Hey good morning is my wish for today
May you have a pretty pleasant day
May you keep smiling the while
Do things that you want to do in life
May you never have to strive
Morning brings in a new energy
It brings in a new charm to say
Makes way for things you want per say
Morning is truly special my friend
It will bring in a lot my dear
So have a nice day with cheer
Wishing you a lovely morning dear
Good morning to you!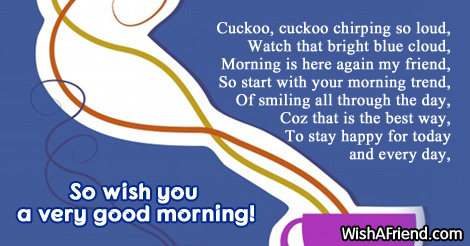 Chirping of birds
Cuckoo, cuckoo chirping so loud,
Watch that bright blue cloud,
Morning is here again my friend,
So start with your morning trend,
Of smiling all through the day,
Coz that is the best way,
To stay happy for today and every day,
So wish you a very good morning!