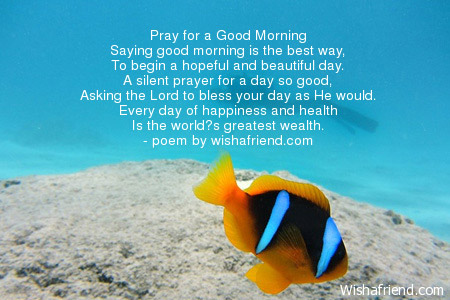 Pray for a Good Morning
Saying good morning is the best way,
To begin a hopeful and beautiful day.
A silent prayer for a day so good,
Asking the Lord to bless your day as He would.
Every day of happiness and health
Is the world's greatest wealth.
Other Popular Good Morning Poems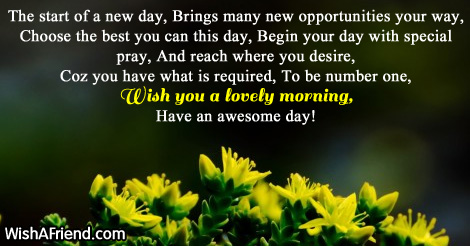 New start for the day
The start of a new day,
Brings many new opportunities your way,
Choose the best you can this day,
Begin your day with special pray,
And reach where you desire,
Coz you have what is required,
To be number one,
Wish you a lovely morning,
Have an awesome day!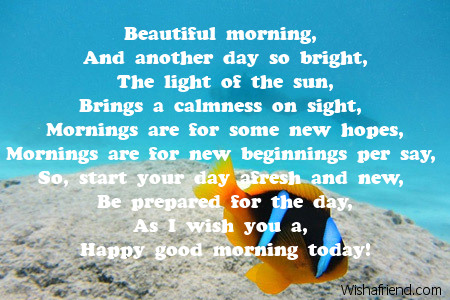 Beautiful morning
Beautiful morning,
And another day so bright,
The light of the sun,
Brings a calmness on sight,
Mornings are for some new hopes,
Mornings are for new beginnings per say,
So, start your day afresh and new,
Be prepared for the day,
As I wish you a,
Happy good morning today!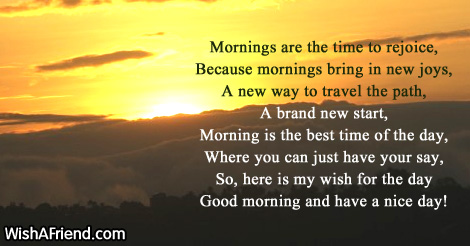 Best time of the day
Mornings are the time to rejoice,
Because mornings bring in new joys,
A new way to travel the path,
A brand new start,
Morning is the best time of the day,
Where you can just have your say,
So, here is my wish for the day
Good morning and have a nice day!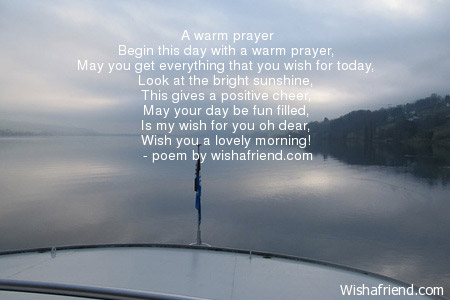 A warm prayer
Begin this day with a warm prayer,
May you get everything that you wish for today,
Look at the bright sunshine,
This gives a positive cheer,
May your day be fun filled,
Is my wish for you oh dear,
Wish you a lovely morning!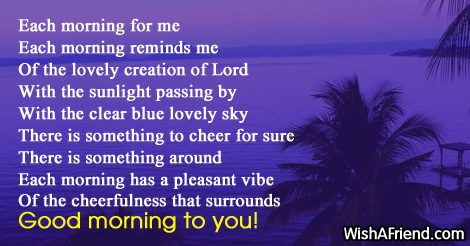 Each morning for me
Each morning reminds me
Of the lovely creation of Lord
With the sunlight passing by
With the clear blue lovely sky
There is something to cheer for sure
There is something around
Each morning has a pleasant vibe
Of the cheerfulness that surrounds
Good morning to you!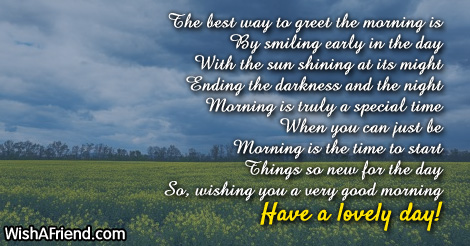 The best way to greet
The best way to greet the morning is
By smiling early in the day
With the sun shining at its might
Ending the darkness and the night
Morning is truly a special time
When you can just be
Morning is the time to start
Things so new for the day
So, wishing you a very good morning
Have a lovely day!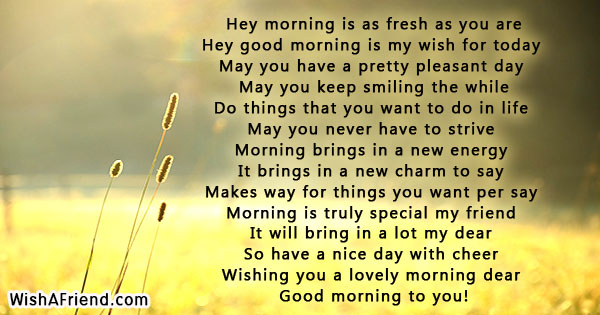 Hey morning is as fresh as you are
Hey good morning is my wish for today
May you have a pretty pleasant day
May you keep smiling the while
Do things that you want to do in life
May you never have to strive
Morning brings in a new energy
It brings in a new charm to say
Makes way for things you want per say
Morning is truly special my friend
It will bring in a lot my dear
So have a nice day with cheer
Wishing you a lovely morning dear
Good morning to you!