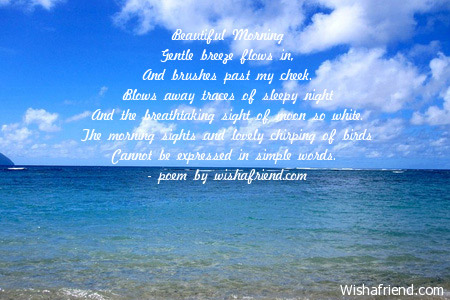 Beautiful Morning
Gentle breeze flows in,
And brushes past my cheek.
Blows away traces of sleepy night
And the breathtaking sight of moon so white.
The morning sights and lovely chirping of birds
Cannot be expressed in simple words.
Other Popular Good Morning Poems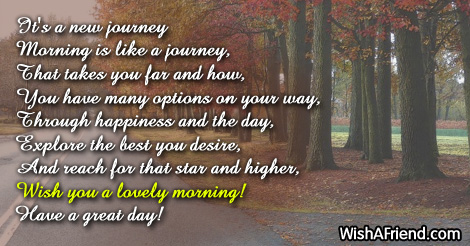 It's a new journey
Morning is like a journey,
That takes you far and how,
You have many options on your way,
Through happiness and the day,
Explore the best you desire,
And reach for that star and higher,
Wish you a lovely morning!
Have a great day!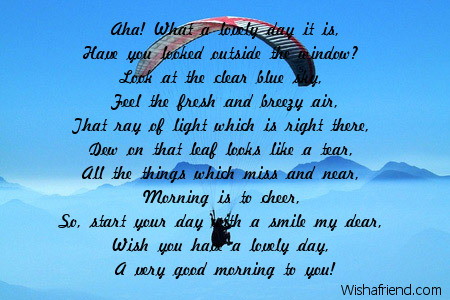 What a lovely day it is
Aha! What a lovely day it is,
Have you looked outside the window?
Look at the clear blue sky,
Feel the fresh and breezy air,
That ray of light which is right there,
Dew on that leaf looks like a tear,
All the things which miss and near,
Morning is to cheer,
So, start your day with a smile my dear,
Wish you have a lovely day,
A very good morning to you!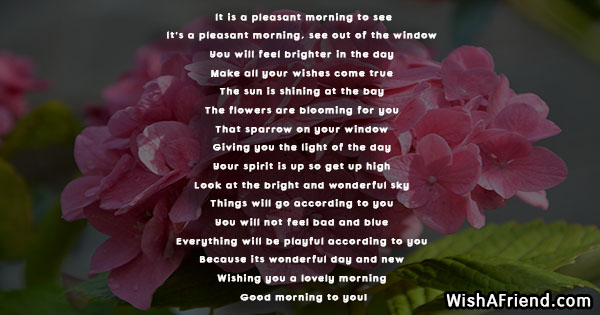 It is a pleasant morning to see
It's a pleasant morning, see out of the window
You will feel brighter in the day
Make all your wishes come true
The sun is shining at the bay
The flowers are blooming for you
That sparrow on your window
Giving you the light of the day
Your spirit is up so get up high
Look at the bright and wonderful sky
Things will go according to you
You will not feel bad and blue
Everything will be playful according to you
Because its wonderful day and new
Wishing you a lovely morning
Good morning to you!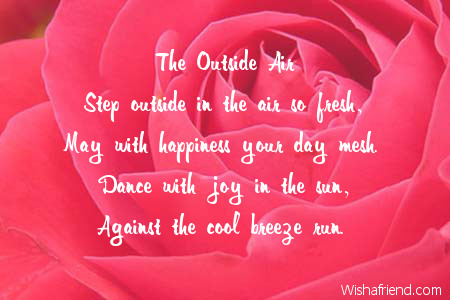 The Outside Air
Step outside in the air so fresh,
May with happiness your day mesh.
Dance with joy in the sun,
Against the cool breeze run.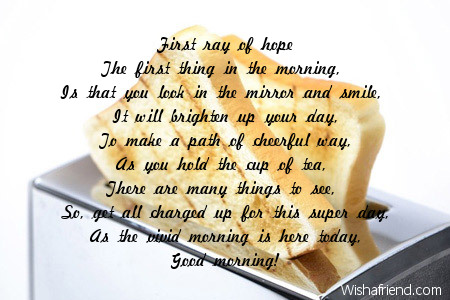 First ray of hope
The first thing in the morning,
Is that you look in the mirror and smile,
It will brighten up your day,
To make a path of cheerful way,
As you hold the cup of tea,
There are many things to see,
So, get all charged up for this super day,
As the vivid morning is here today,
Good morning!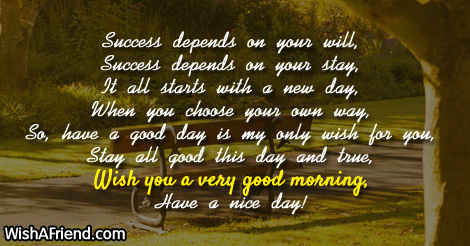 On your will
Success depends on your will,
Success depends on your stay,
It all starts with a new day,
When you choose your own way,
So, have a good day is my only wish for you,
Stay all good this day and true,
Wish you a very good morning,
Have a nice day!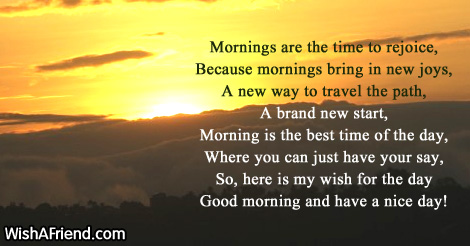 Best time of the day
Mornings are the time to rejoice,
Because mornings bring in new joys,
A new way to travel the path,
A brand new start,
Morning is the best time of the day,
Where you can just have your say,
So, here is my wish for the day
Good morning and have a nice day!