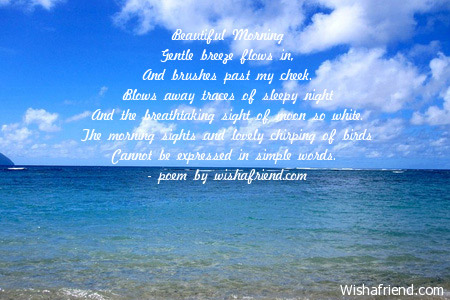 Beautiful Morning
Gentle breeze flows in,
And brushes past my cheek.
Blows away traces of sleepy night
And the breathtaking sight of moon so white.
The morning sights and lovely chirping of birds
Cannot be expressed in simple words.
Other Popular Good Morning Poems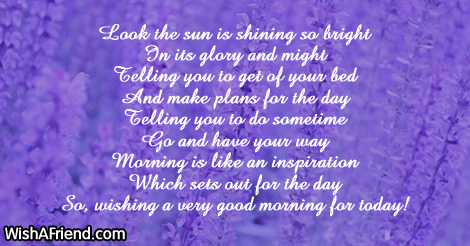 Look at the sun
Look the sun is shining so bright
In its glory and might
Telling you to get of your bed
And make plans for the day
Telling you to do sometime
Go and have your way
Morning is like an inspiration
Which sets out for the day
So, wishing a very good morning for today!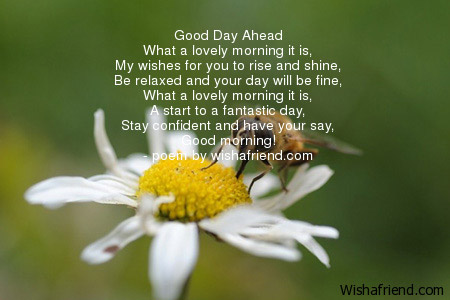 Good Day Ahead
What a lovely morning it is,
My wishes for you to rise and shine,
Be relaxed and your day will be fine,
What a lovely morning it is,
A start to a fantastic day,
Stay confident and have your say,
Good morning!
Enjoy The Sunshine
Morning brings a new freshness,
In thoughts,
In actions,
In things to do,
It feels like everything is so pleasant and new,
My good morning wishes for you,
Even if you have no clue,
May you have the brightest day,
Good morning and have a nice day!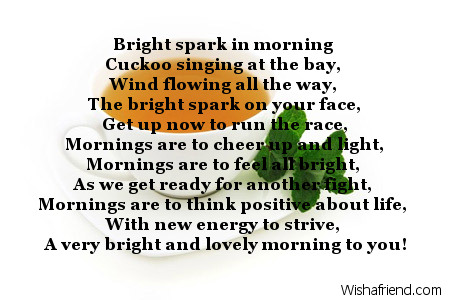 Bright spark in morning
Cuckoo singing at the bay,
Wind flowing all the way,
The bright spark on your face,
Get up now to run the race,
Mornings are to cheer up and light,
Mornings are to feel all bright,
As we get ready for another fight,
Mornings are to think positive about life,
With new energy to strive,
A very bright and lovely morning to you!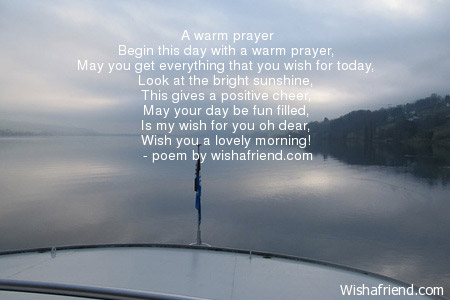 A warm prayer
Begin this day with a warm prayer,
May you get everything that you wish for today,
Look at the bright sunshine,
This gives a positive cheer,
May your day be fun filled,
Is my wish for you oh dear,
Wish you a lovely morning!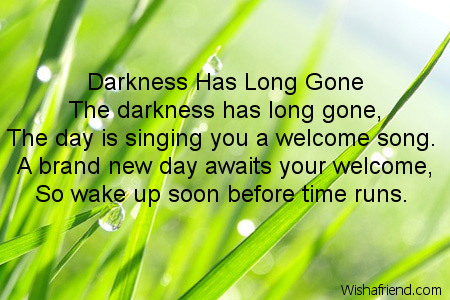 Darkness Has Long Gone
The darkness has long gone,
The day is singing you a welcome song.
A brand new day awaits your welcome,
So wake up soon before time runs.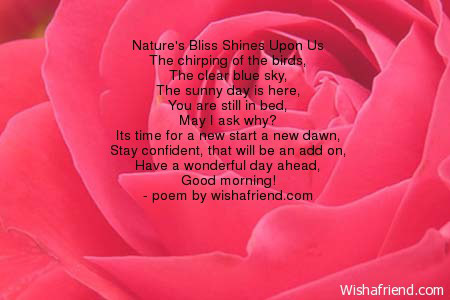 Nature's Bliss Shines Upon Us
The chirping of the birds,
The clear blue sky,
The sunny day is here,
You are still in bed,
May I ask why?
Its time for a new start a new dawn,
Stay confident, that will be an add on,
Have a wonderful day ahead,
Good morning!