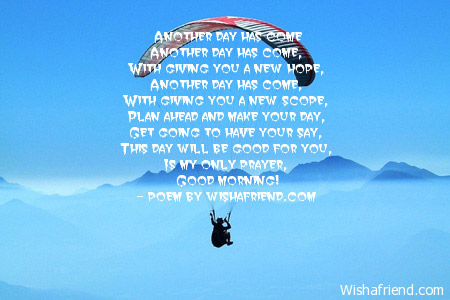 Another day has come
Another day has come,
With giving you a new hope,
Another day has come,
With giving you a new scope,
Plan ahead and make your day,
Get going to have your say,
This day will be good for you,
Is my only prayer,
Good morning!
Other Popular Good Morning Poems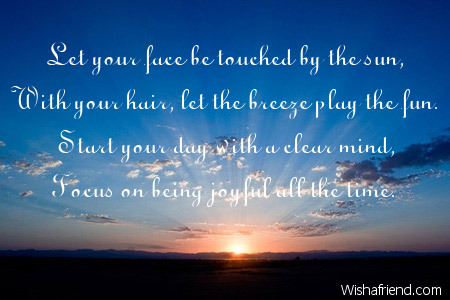 The Morning Nature
Let your face be touched by the sun,
With your hair, let the breeze play the fun.
Start your day with a clear mind,
Focus on being joyful all the time.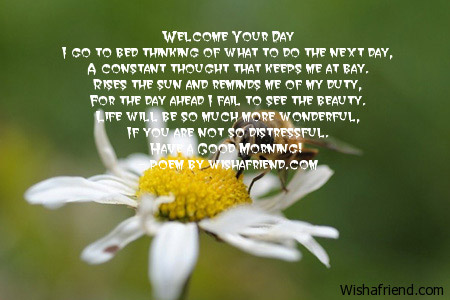 Welcome Your Day
I go to bed thinking of what to do the next day,
A constant thought that keeps me at bay.
Rises the sun and reminds me of my duty,
For the day ahead I fail to see the beauty.
Life will be so much more wonderful,
If you are not so distressful.
Have a Good Morning!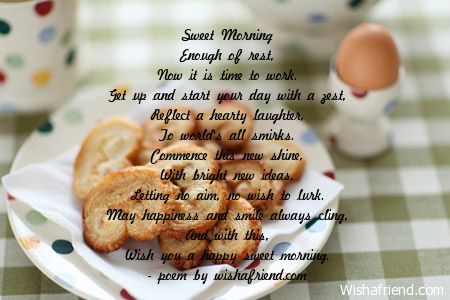 Sweet Morning
Enough of rest,
Now it is time to work.
Get up and start your day with a zest,
Reflect a hearty laughter,
To world's all smirks.
Commence this new shine,
With bright new ideas,
Letting no aim, no wish to lurk.
May happiness and smile always cling,
And with this,
Wish you a happy sweet morning.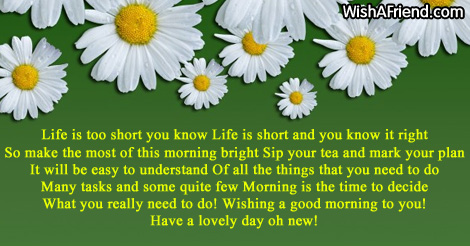 Life is too short you know
Life is short and you know it right
So make the most of this morning bright
Sip your tea and mark your plan
It will be easy to understand
Of all the things that you need to do
Many tasks and some quite few
Morning is the time to decide
What you really need to do!
Wishing a good morning to you!
Have a lovely day oh new!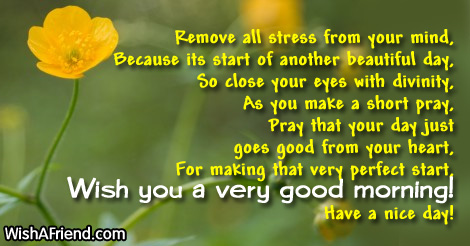 Have a good morning
Remove all stress from your mind,
Because its start of another beautiful day,
So close your eyes with divinity,
As you make a short pray,
Pray that your day just goes good from your heart,
For making that very perfect start,
Wish you a very good morning!
Have a nice day!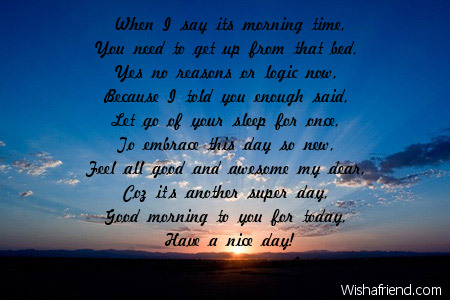 When I wish you
When I say its morning time,
You need to get up from that bed,
Yes no reasons or logic now,
Because I told you enough said,
Let go of your sleep for once,
To embrace this day so new,
Feel all good and awesome my dear,
Coz it's another super day,
Good morning to you for today,
Have a nice day!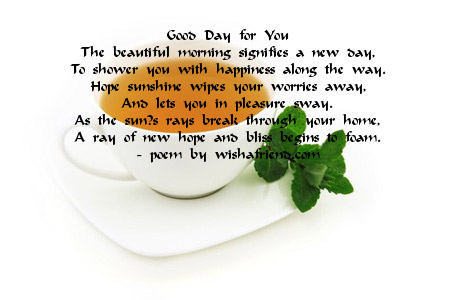 Good Day for You
The beautiful morning signifies a new day,
To shower you with happiness along the way.
Hope sunshine wipes your worries away,
And lets you in pleasure sway.
As the sun's rays break through your home,
A ray of new hope and bliss begins to foam.