The light which puts out our eyes is darkness to us. Only that day dawns to which we are awake. There is more day to dawn. The sun is but a morning star.
-Henry David Thoreau
Other Popular Good Morning Quotes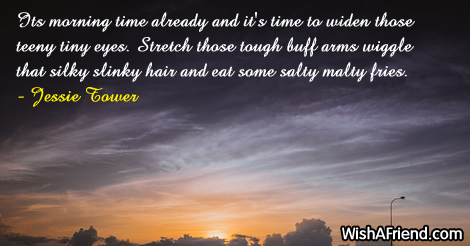 Its morning time already and it's time to widen those teeny tiny eyes. Stretch those tough buff arms wiggle that silky slinky hair and eat some salty malty fries.
- Jessie Tower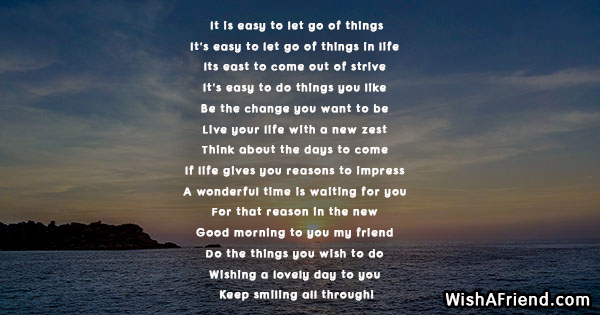 It is easy to let go of things
It's easy to let go of things in life
Its east to come out of strive
It's easy to do things you like
Be the change you want to be
Live your life with a new zest
Think about the days to come
If life gives you reasons to impress
A wonderful time is waiting for you
For that reason in the new
Good morning to you my friend
Do the things you wish to do
Wishing a lovely day to you
Keep smiling all through!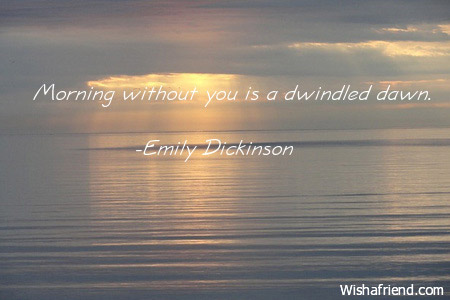 Morning without you is a dwindled dawn.
-Emily Dickinson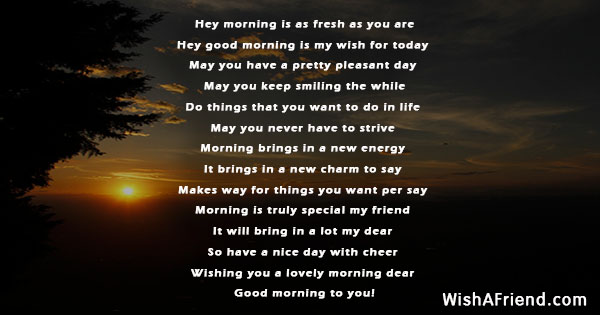 Hey morning is as fresh as you are
Hey good morning is my wish for today
May you have a pretty pleasant day
May you keep smiling the while
Do things that you want to do in life
May you never have to strive
Morning brings in a new energy
It brings in a new charm to say
Makes way for things you want per say
Morning is truly special my friend
It will bring in a lot my dear
So have a nice day with cheer
Wishing you a lovely morning dear
Good morning to you!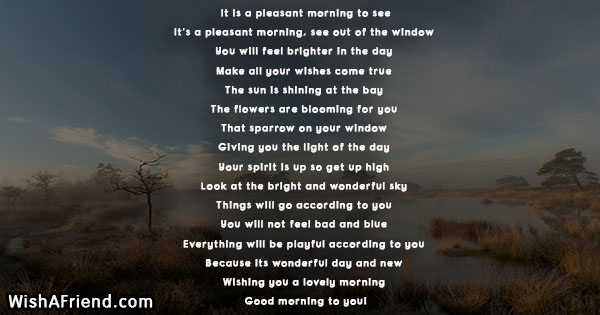 It is a pleasant morning to see
It's a pleasant morning, see out of the window
You will feel brighter in the day
Make all your wishes come true
The sun is shining at the bay
The flowers are blooming for you
That sparrow on your window
Giving you the light of the day
Your spirit is up so get up high
Look at the bright and wonderful sky
Things will go according to you
You will not feel bad and blue
Everything will be playful according to you
Because its wonderful day and new
Wishing you a lovely morning
Good morning to you!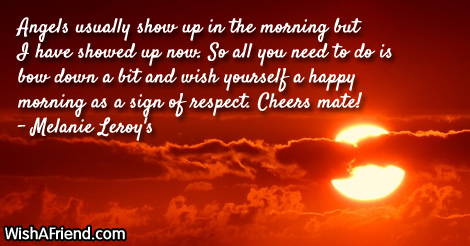 Angels usually show up in the morning but I have showed up now. So all you need to do is bow down a bit and wish yourself a happy morning as a sign of respect. Cheers mate!
- Melanie Leroy's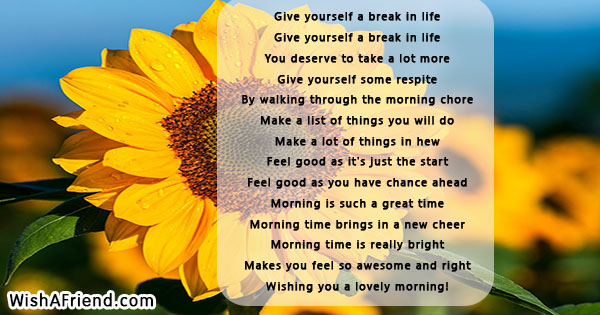 Give yourself a break in life
Give yourself a break in life
You deserve to take a lot more
Give yourself some respite
By walking through the morning chore
Make a list of things you will do
Make a lot of things in hew
Feel good as it's just the start
Feel good as you have chance ahead
Morning is such a great time
Morning time brings in a new cheer
Morning time is really bright
Makes you feel so awesome and right
Wishing you a lovely morning!