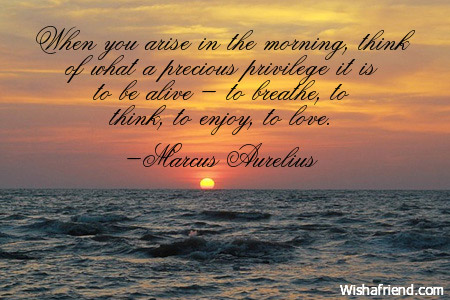 When you arise in the morning, think of what a precious privilege it is to be alive - to breathe, to think, to enjoy, to love.
-Marcus Aurelius
Other Popular Good Morning Quotes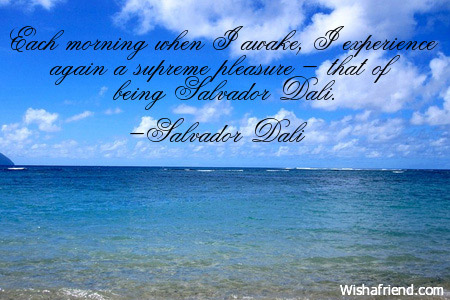 Each morning when I awake, I experience again a supreme pleasure - that of being Salvador Dali.
-Salvador Dali
Thank God every morning when you get up that you have something to do that day, which must be done, whether you like it or not.
-James Russell Lowell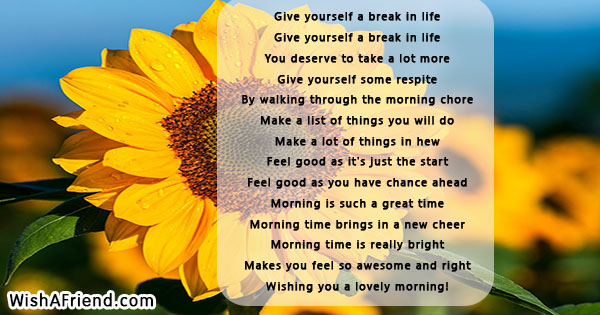 Give yourself a break in life
Give yourself a break in life
You deserve to take a lot more
Give yourself some respite
By walking through the morning chore
Make a list of things you will do
Make a lot of things in hew
Feel good as it's just the start
Feel good as you have chance ahead
Morning is such a great time
Morning time brings in a new cheer
Morning time is really bright
Makes you feel so awesome and right
Wishing you a lovely morning!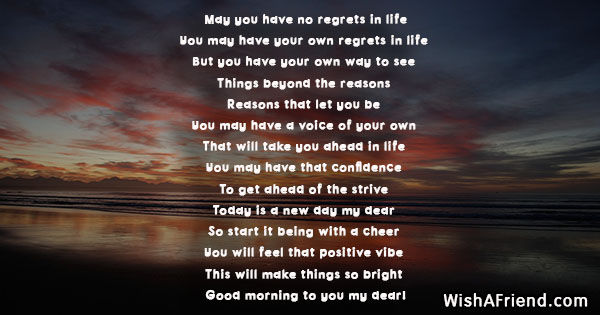 May you have no regrets in life
You may have your own regrets in life
But you have your own way to see
Things beyond the reasons
Reasons that let you be
You may have a voice of your own
That will take you ahead in life
You may have that confidence
To get ahead of the strive
Today is a new day my dear
So start it being with a cheer
You will feel that positive vibe
This will make things so bright
Good morning to you my dear!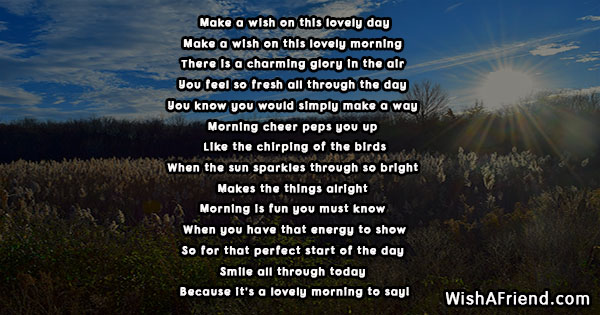 Make a wish on this lovely day
Make a wish on this lovely morning
There is a charming glory in the air
You feel so fresh all through the day
You know you would simply make a way
Morning cheer peps you up
Like the chirping of the birds
When the sun sparkles through so bright
Makes the things alright
Morning is fun you must know
When you have that energy to show
So for that perfect start of the day
Smile all through today
Because it's a lovely morning to say!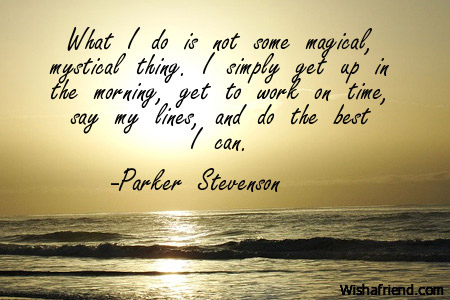 What I do is not some magical, mystical thing. I simply get up in the morning, get to work on time, say my lines, and do the best I can.
-Parker Stevenson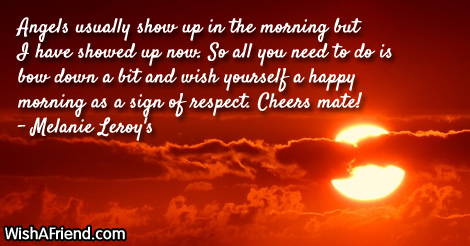 Angels usually show up in the morning but I have showed up now. So all you need to do is bow down a bit and wish yourself a happy morning as a sign of respect. Cheers mate!
- Melanie Leroy's