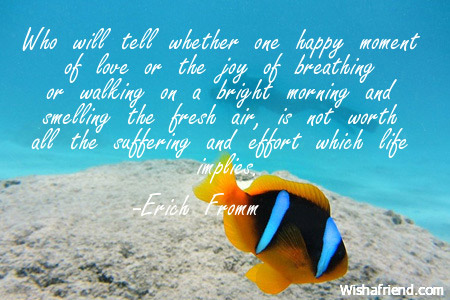 Who will tell whether one happy moment of love or the joy of breathing or walking on a bright morning and smelling the fresh air, is not worth all the suffering and effort which life implies.
-Erich Fromm
Other Popular Good Morning Quotes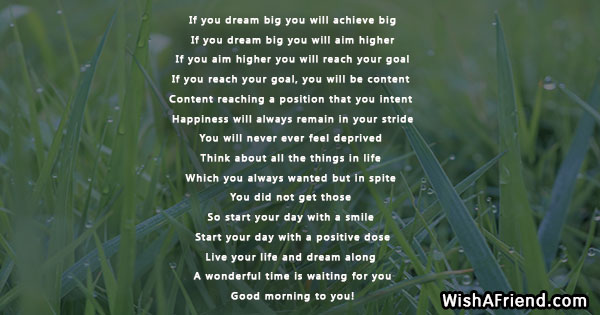 If you dream big you will achieve big
If you dream big you will aim higher
If you aim higher you will reach your goal
If you reach your goal, you will be content
Content reaching a position that you intent
Happiness will always remain in your stride
You will never ever feel deprived
Think about all the things in life
Which you always wanted but in spite
You did not get those
So start your day with a smile
Start your day with a positive dose
Live your life and dream along
A wonderful time is waiting for you
Good morning to you!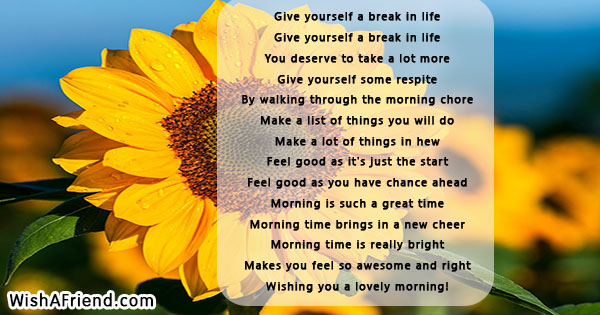 Give yourself a break in life
Give yourself a break in life
You deserve to take a lot more
Give yourself some respite
By walking through the morning chore
Make a list of things you will do
Make a lot of things in hew
Feel good as it's just the start
Feel good as you have chance ahead
Morning is such a great time
Morning time brings in a new cheer
Morning time is really bright
Makes you feel so awesome and right
Wishing you a lovely morning!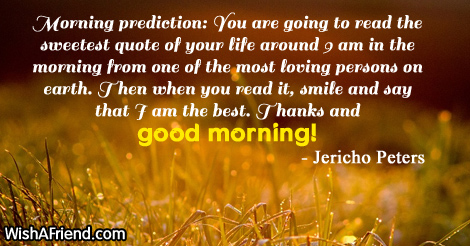 Morning prediction: You are going to read the sweetest quote of your life around 9 am in the morning from one of the most loving persons on earth. Then when you read it, smile and say that I am the best. Thanks and good morning!
- Jericho Peters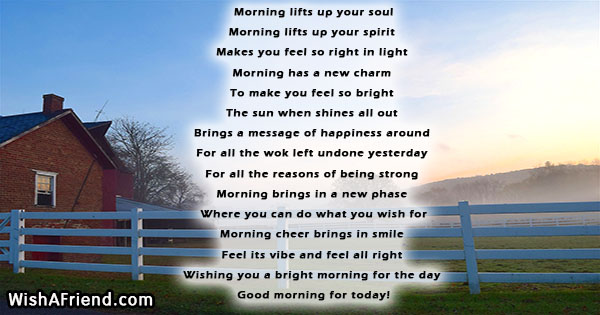 Morning lifts up your soul
Morning lifts up your spirit
Makes you feel so right in light
Morning has a new charm
To make you feel so bright
The sun when shines all out
Brings a message of happiness around
For all the wok left undone yesterday
For all the reasons of being strong
Morning brings in a new phase
Where you can do what you wish for
Morning cheer brings in smile
Feel its vibe and feel all right
Wishing you a bright morning for the day
Good morning for today!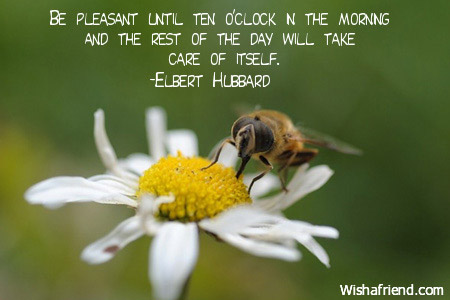 Be pleasant until ten o'clock in the morning and the rest of the day will take care of itself.
-Elbert Hubbard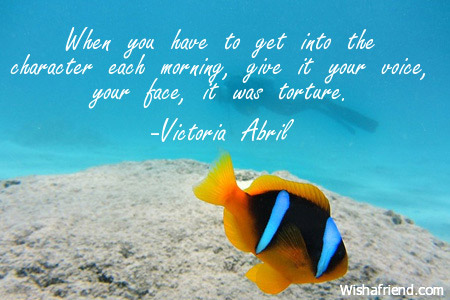 When you have to get into the character each morning, give it your voice, your face, it was torture.
-Victoria Abril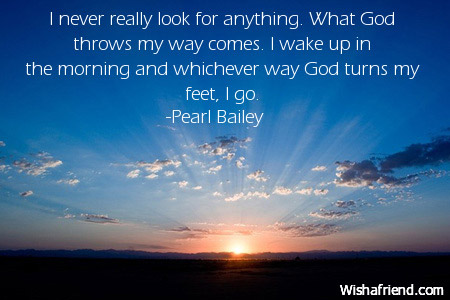 I never really look for anything. What God throws my way comes. I wake up in the morning and whichever way God turns my feet, I go.
-Pearl Bailey