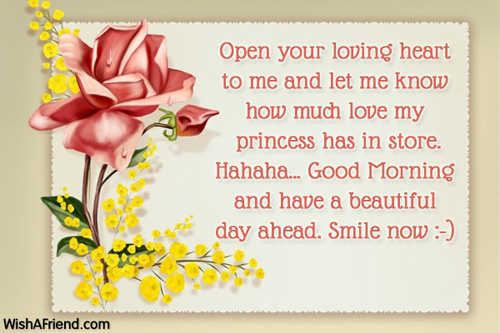 Open your loving heart to me and let me know how much love my princess has in store. Hahaha... Good Morning and have a beautiful day ahead. Smile now :-)
Other Popular Good Morning Messages For Girlfriend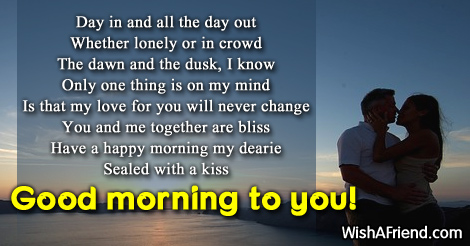 Day in and all the day out
Whether lonely or in crowd
The dawn and the dusk, I know
Only one thing is on my mind
Is that my love for you will never change
You and me together are bliss
Have a happy morning my dearie
Sealed with a kiss
Good morning to you!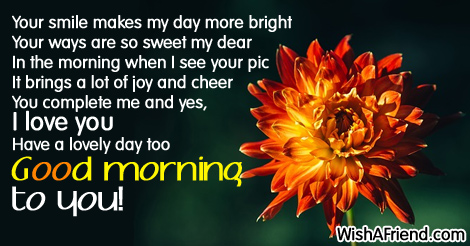 Your smile makes my day more bright
Your ways are so sweet my dear
In the morning when I see your pic
It brings a lot of joy and cheer
You complete me and yes, I love you
Have a lovely day too
Good morning to you!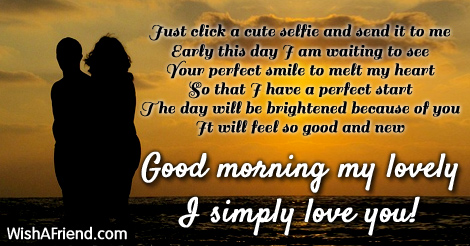 Just click a cute selfie and send it to me
Early this day I am waiting to see
Your perfect smile to melt my heart
So that I have a perfect start
The day will be brightened because of you
It will feel so good and new
Good morning my lovely
I simply love you!
Each day is new and each day is special,
It feels wonderful only because of you,
In the morning I miss you more,
Because my pretty girl,
I love you to the core,
Have a lovely morning,
Keep smiling!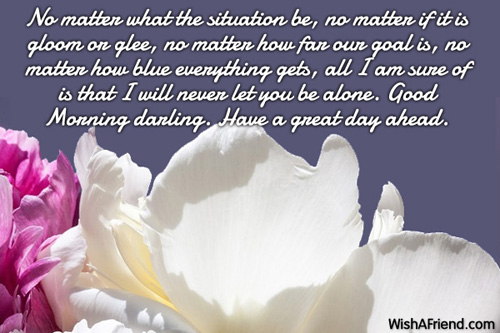 No matter what the situation be, no matter if it is gloom or glee, no matter how far our goal is, no matter how blue everything gets, all I am sure of is that I will never let you be alone. Good Morning darling. Have a great day ahead.
When you wake up to this message, I want you to know that you are the best in the world! :) Good Morning!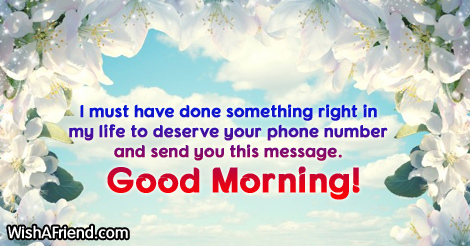 I must have done something right in my life to deserve your phone number and send you this message. Good Morning!