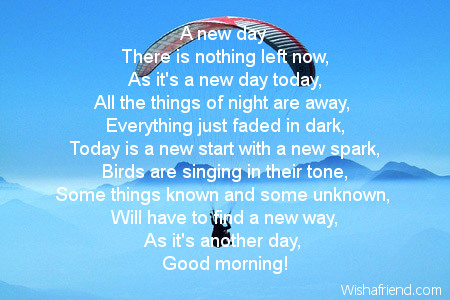 A new day
There is nothing left now,
As it's a new day today,
All the things of night are away,
Everything just faded in dark,
Today is a new start with a new spark,
Birds are singing in their tone,
Some things known and some unknown,
Will have to find a new way,
As it's another day,
Good morning!
Other Popular Good Morning Poems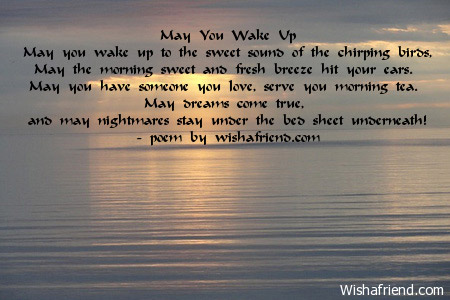 May You Wake Up
May you wake up to the sweet sound of the chirping birds,
May the morning sweet and fresh breeze hit your ears.
May you have someone you love, serve you morning tea.
May dreams come true,
and may nightmares stay under the bed sheet underneath!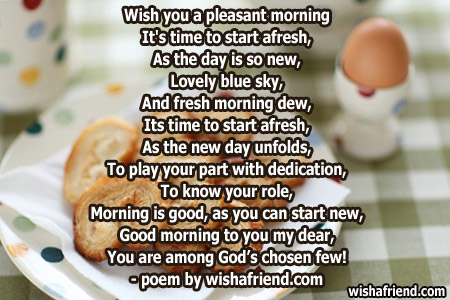 Wish you a pleasant morning
It's time to start afresh,
As the day is so new,
Lovely blue sky,
And fresh morning dew,
Its time to start afresh,
As the new day unfolds,
To play your part with dedication,
To know your role,
Morning is good, as you can start new,
Good morning to you my dear,
You are among God's chosen few!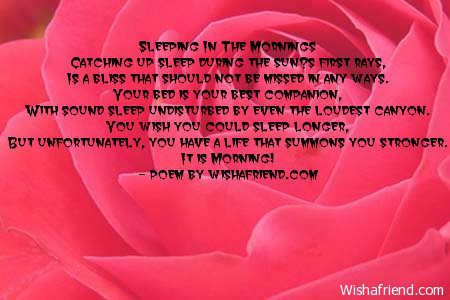 Sleeping In The Mornings
Catching up sleep during the sun's first rays,
Is a bliss that should not be missed in any ways.
Your bed is your best companion,
With sound sleep undisturbed by even the loudest canyon.
You wish you could sleep longer,
But unfortunately, you have a life that summons you stronger.
It is Morning!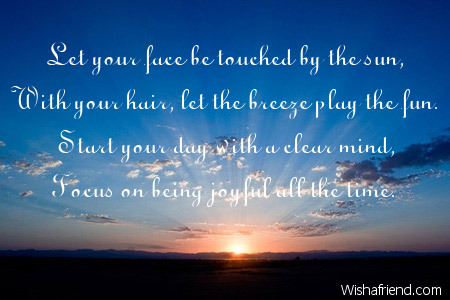 The Morning Nature
Let your face be touched by the sun,
With your hair, let the breeze play the fun.
Start your day with a clear mind,
Focus on being joyful all the time.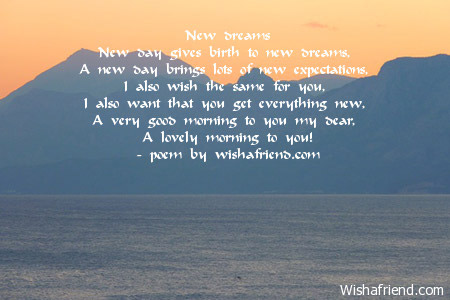 New dreams
New day gives birth to new dreams,
A new day brings lots of new expectations,
I also wish the same for you,
I also want that you get everything new,
A very good morning to you my dear,
A lovely morning to you!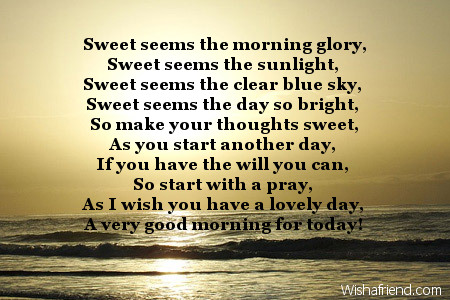 Morning cheer
Sweet seems the morning glory,
Sweet seems the sunlight,
Sweet seems the clear blue sky,
Sweet seems the day so bright,
So make your thoughts sweet,
As you start another day,
If you have the will you can,
So start with a pray,
As I wish you have a lovely day,
A very good morning for today!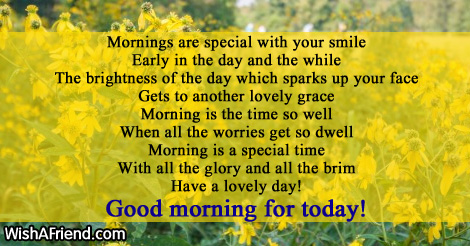 It is so special
Mornings are special with your smile
Early in the day and the while
The brightness of the day which sparks up your face
Gets to another lovely grace
Morning is the time so well
When all the worries get so dwell
Morning is a special time
With all the glory and all the brim
Have a lovely day!
Good morning for today!