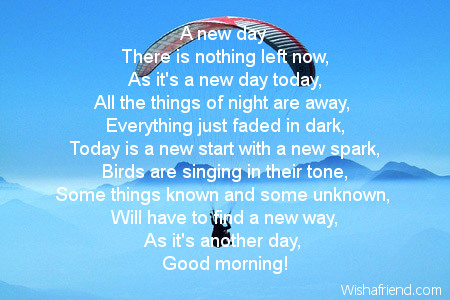 A new day
There is nothing left now,
As it's a new day today,
All the things of night are away,
Everything just faded in dark,
Today is a new start with a new spark,
Birds are singing in their tone,
Some things known and some unknown,
Will have to find a new way,
As it's another day,
Good morning!
Other Popular Good Morning Poems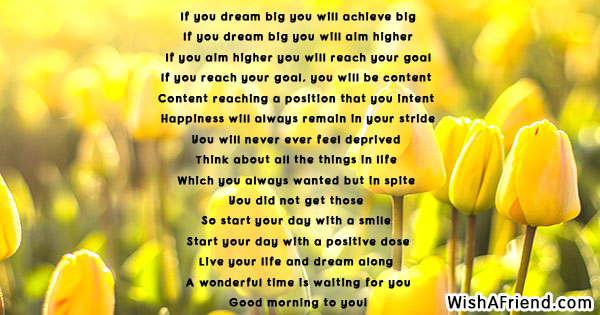 If you dream big you will achieve big
If you dream big you will aim higher
If you aim higher you will reach your goal
If you reach your goal, you will be content
Content reaching a position that you intent
Happiness will always remain in your stride
You will never ever feel deprived
Think about all the things in life
Which you always wanted but in spite
You did not get those
So start your day with a smile
Start your day with a positive dose
Live your life and dream along
A wonderful time is waiting for you
Good morning to you!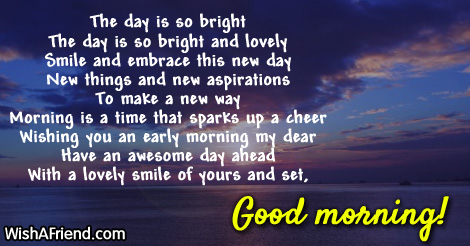 The day is so bright
The day is so bright and lovely
Smile and embrace this new day
New things and new aspirations
To make a new way
Morning is a time that sparks up a cheer
Wishing you an early morning my dear
Have an awesome day ahead
With a lovely smile of yours and set,
Good morning!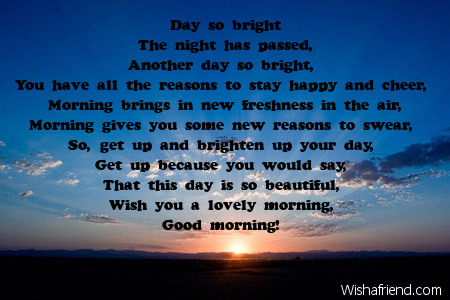 Day so bright
The night has passed,
Another day so bright,
You have all the reasons to stay happy and cheer,
Morning brings in new freshness in the air,
Morning gives you some new reasons to swear,
So, get up and brighten up your day,
Get up because you would say,
That this day is so beautiful,
Wish you a lovely morning,
Good morning!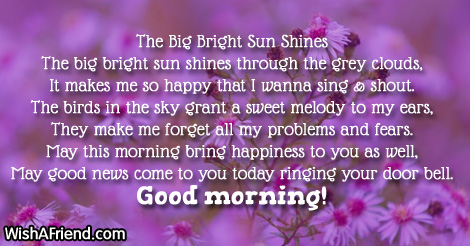 The Big Bright Sun Shines
The big bright sun shines through the grey clouds,
It makes me so happy that I wanna sing & shout.
The birds in the sky grant a sweet melody to my ears,
They make me forget all my problems and fears.
May this morning bring happiness to you as well,
May good news come to you today ringing your door bell.
Good morning!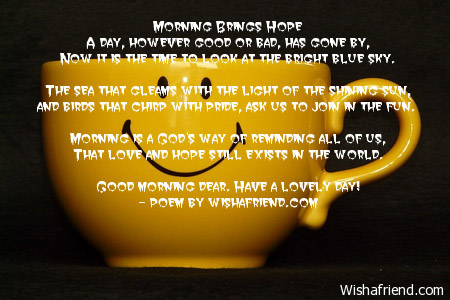 Morning Brings Hope
A day, however good or bad, has gone by,
Now it is the time to look at the bright blue sky.
The sea that gleams with the light of the shining sun,
and birds that chirp with pride, ask us to join in the fun.
Morning is a God's way of reminding all of us,
That love and hope still exists in the world.
Good morning dear. Have a lovely day!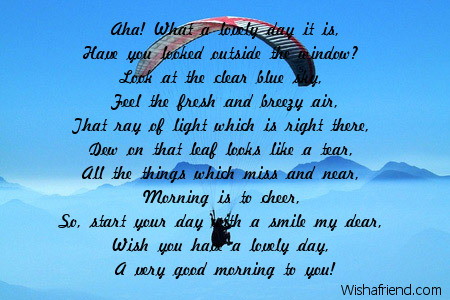 What a lovely day it is
Aha! What a lovely day it is,
Have you looked outside the window?
Look at the clear blue sky,
Feel the fresh and breezy air,
That ray of light which is right there,
Dew on that leaf looks like a tear,
All the things which miss and near,
Morning is to cheer,
So, start your day with a smile my dear,
Wish you have a lovely day,
A very good morning to you!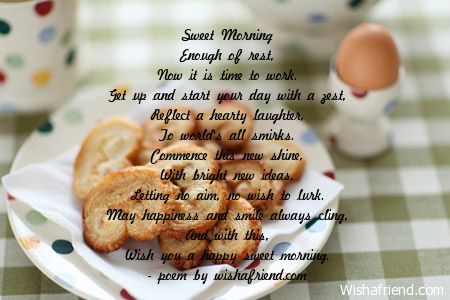 Sweet Morning
Enough of rest,
Now it is time to work.
Get up and start your day with a zest,
Reflect a hearty laughter,
To world's all smirks.
Commence this new shine,
With bright new ideas,
Letting no aim, no wish to lurk.
May happiness and smile always cling,
And with this,
Wish you a happy sweet morning.