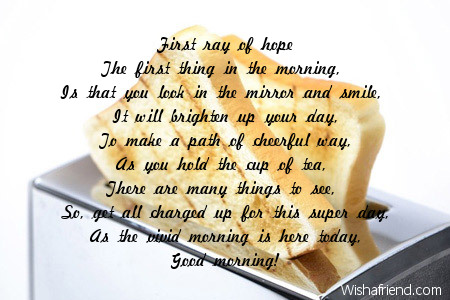 First ray of hope
The first thing in the morning,
Is that you look in the mirror and smile,
It will brighten up your day,
To make a path of cheerful way,
As you hold the cup of tea,
There are many things to see,
So, get all charged up for this super day,
As the vivid morning is here today,
Good morning!
Other Popular Good Morning Poems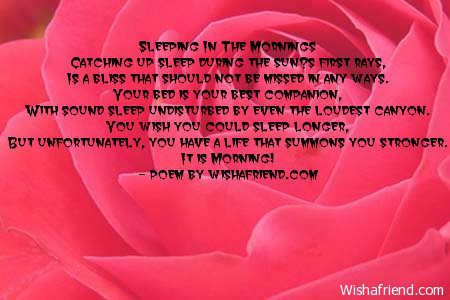 Sleeping In The Mornings
Catching up sleep during the sun's first rays,
Is a bliss that should not be missed in any ways.
Your bed is your best companion,
With sound sleep undisturbed by even the loudest canyon.
You wish you could sleep longer,
But unfortunately, you have a life that summons you stronger.
It is Morning!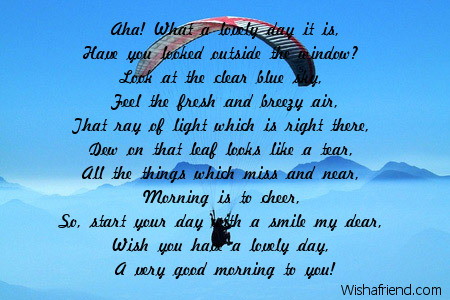 What a lovely day it is
Aha! What a lovely day it is,
Have you looked outside the window?
Look at the clear blue sky,
Feel the fresh and breezy air,
That ray of light which is right there,
Dew on that leaf looks like a tear,
All the things which miss and near,
Morning is to cheer,
So, start your day with a smile my dear,
Wish you have a lovely day,
A very good morning to you!
It's time for cheer
Morning is the time to cheer,
Oh my lovely, oh my dear,
So I want you to smile a lot,
With cheering with positive thought,
Coz your day will be awesome,
So, be ready for some fun,
Have a nice day,
Wish you a lovely morning for today!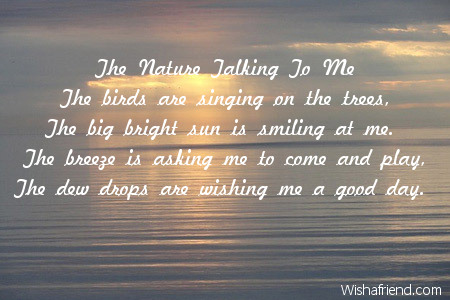 The Nature Talking To Me
The birds are singing on the trees,
The big bright sun is smiling at me.
The breeze is asking me to come and play,
The dew drops are wishing me a good day.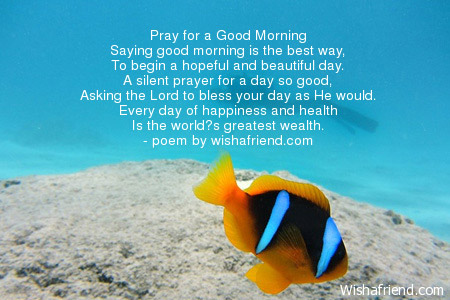 Pray for a Good Morning
Saying good morning is the best way,
To begin a hopeful and beautiful day.
A silent prayer for a day so good,
Asking the Lord to bless your day as He would.
Every day of happiness and health
Is the world's greatest wealth.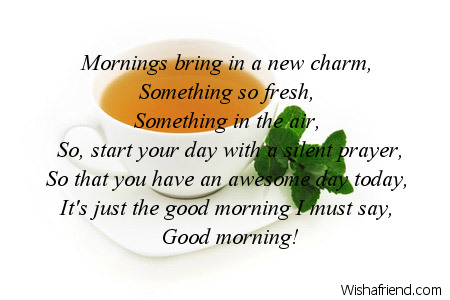 A New charm each day
Mornings bring in a new charm,
Something so fresh,
Something in the air,
So, start your day with a silent prayer,
So that you have an awesome day today,
It's just the good morning I must say,
Good morning!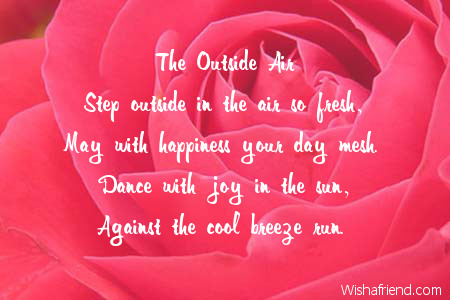 The Outside Air
Step outside in the air so fresh,
May with happiness your day mesh.
Dance with joy in the sun,
Against the cool breeze run.