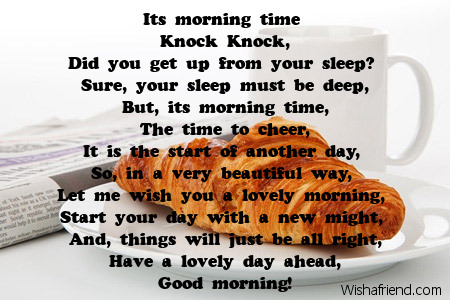 Its morning time
Knock Knock,
Did you get up from your sleep?
Sure, your sleep must be deep,
But, its morning time,
The time to cheer,
It is the start of another day,
So, in a very beautiful way,
Let me wish you a lovely morning,
Start your day with a new might,
And, things will just be all right,
Have a lovely day ahead,
Good morning!
Other Popular Good Morning Poems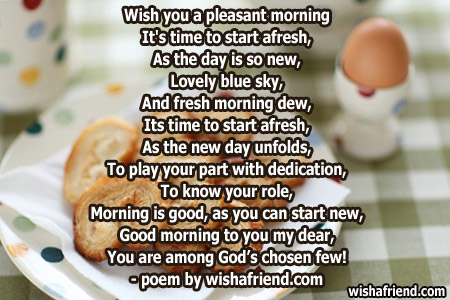 Wish you a pleasant morning
It's time to start afresh,
As the day is so new,
Lovely blue sky,
And fresh morning dew,
Its time to start afresh,
As the new day unfolds,
To play your part with dedication,
To know your role,
Morning is good, as you can start new,
Good morning to you my dear,
You are among God's chosen few!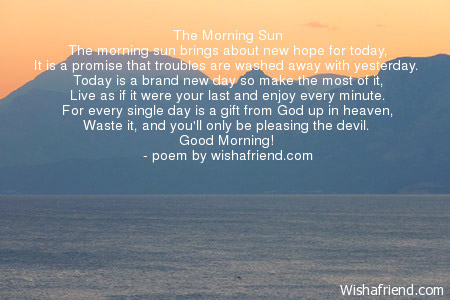 The Morning Sun
The morning sun brings about new hope for today,
It is a promise that troubles are washed away with yesterday.
Today is a brand new day so make the most of it,
Live as if it were your last and enjoy every minute.
For every single day is a gift from God up in heaven,
Waste it, and you'll only be pleasing the devil.
Good Morning!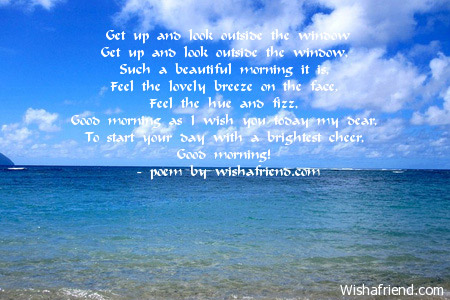 Get up and look outside the window
Get up and look outside the window,
Such a beautiful morning it is,
Feel the lovely breeze on the face,
Feel the hue and fizz,
Good morning as I wish you today my dear,
To start your day with a brightest cheer,
Good morning!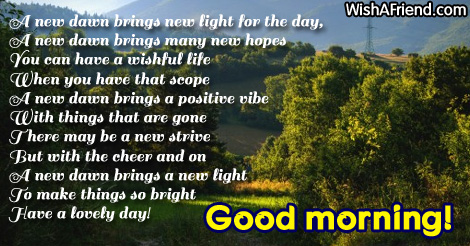 A new dawn
A new dawn brings new light for the day,
A new dawn brings many new hopes
You can have a wishful life
When you have that scope
A new dawn brings a positive vibe
With things that are gone
There may be a new strive
But with the cheer and on
A new dawn brings a new light
To make things so bright
Have a lovely day!
Good morning!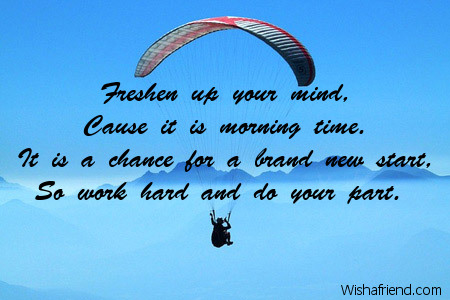 Freshen Up Your Mind
Freshen up your mind,
Cause it is morning time.
It is a chance for a brand new start,
So work hard and do your part.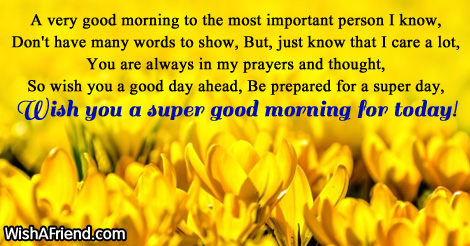 Happy morning
A very good morning to the most important person I know,
Don't have many words to show,
But, just know that I care a lot,
You are always in my prayers and thought,
So wish you a good day ahead,
Be prepared for a super day,
Wish you a super good morning for today!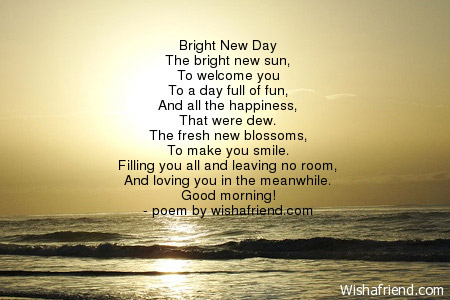 Bright New Day
The bright new sun,
To welcome you
To a day full of fun,
And all the happiness,
That were dew.
The fresh new blossoms,
To make you smile.
Filling you all and leaving no room,
And loving you in the meanwhile.
Good morning!