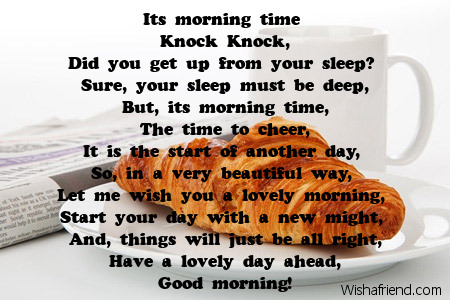 Its morning time
Knock Knock,
Did you get up from your sleep?
Sure, your sleep must be deep,
But, its morning time,
The time to cheer,
It is the start of another day,
So, in a very beautiful way,
Let me wish you a lovely morning,
Start your day with a new might,
And, things will just be all right,
Have a lovely day ahead,
Good morning!
Other Popular Good Morning Poems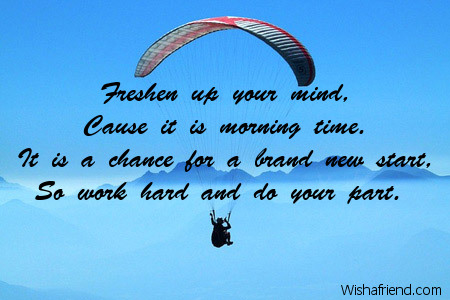 Freshen Up Your Mind
Freshen up your mind,
Cause it is morning time.
It is a chance for a brand new start,
So work hard and do your part.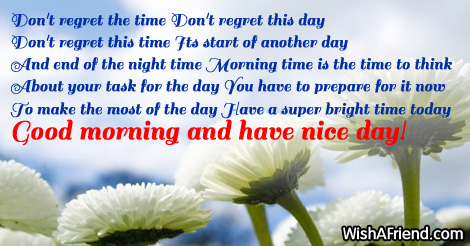 Don't regret the time
Don't regret this day
Don't regret this time
Its start of another day
And end of the night time
Morning time is the time to think
About your task for the day
You have to prepare for it now
To make the most of the day
Have a super bright time today
Good morning and have nice day!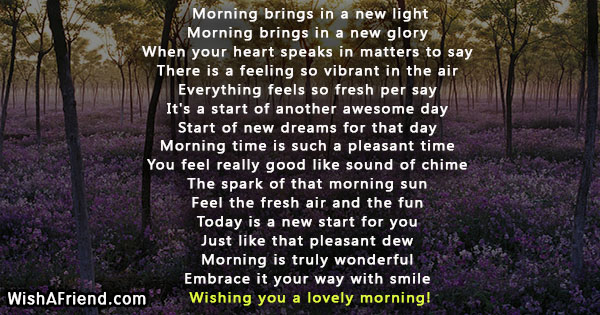 Morning brings in a new light
Morning brings in a new glory
When your heart speaks in matters to say
There is a feeling so vibrant in the air
Everything feels so fresh per say
It's a start of another awesome day
Start of new dreams for that day
Morning time is such a pleasant time
You feel really good like sound of chime
The spark of that morning sun
Feel the fresh air and the fun
Today is a new start for you
Just like that pleasant dew
Morning is truly wonderful
Embrace it your way with smile
Wishing you a lovely morning!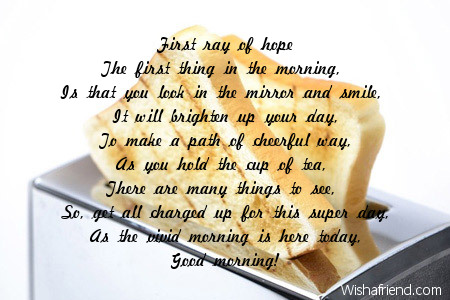 First ray of hope
The first thing in the morning,
Is that you look in the mirror and smile,
It will brighten up your day,
To make a path of cheerful way,
As you hold the cup of tea,
There are many things to see,
So, get all charged up for this super day,
As the vivid morning is here today,
Good morning!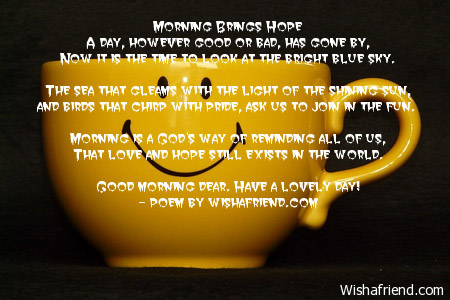 Morning Brings Hope
A day, however good or bad, has gone by,
Now it is the time to look at the bright blue sky.
The sea that gleams with the light of the shining sun,
and birds that chirp with pride, ask us to join in the fun.
Morning is a God's way of reminding all of us,
That love and hope still exists in the world.
Good morning dear. Have a lovely day!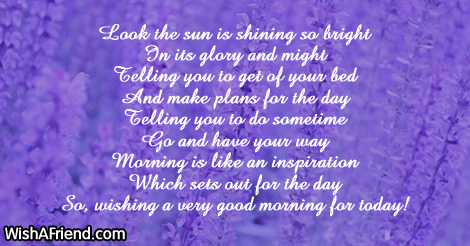 Look at the sun
Look the sun is shining so bright
In its glory and might
Telling you to get of your bed
And make plans for the day
Telling you to do sometime
Go and have your way
Morning is like an inspiration
Which sets out for the day
So, wishing a very good morning for today!
Give yourself a break in life
Give yourself a break in life
You deserve to take a lot more
Give yourself some respite
By walking through the morning chore
Make a list of things you will do
Make a lot of things in hew
Feel good as it's just the start
Feel good as you have chance ahead
Morning is such a great time
Morning time brings in a new cheer
Morning time is really bright
Makes you feel so awesome and right
Wishing you a lovely morning!