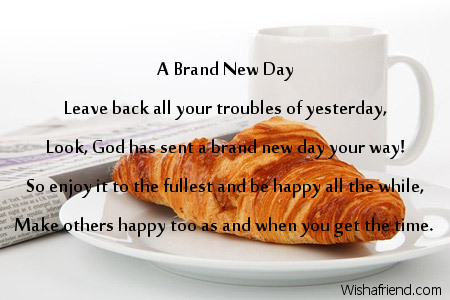 A Brand New Day
Leave back all your troubles of yesterday,
Look, God has sent a brand new day your way!
So enjoy it to the fullest and be happy all the while,
Make others happy too as and when you get the time.
Other Popular Good Morning Poems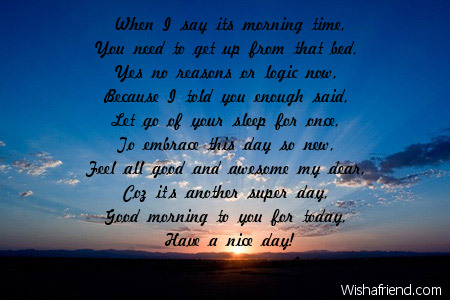 When I wish you
When I say its morning time,
You need to get up from that bed,
Yes no reasons or logic now,
Because I told you enough said,
Let go of your sleep for once,
To embrace this day so new,
Feel all good and awesome my dear,
Coz it's another super day,
Good morning to you for today,
Have a nice day!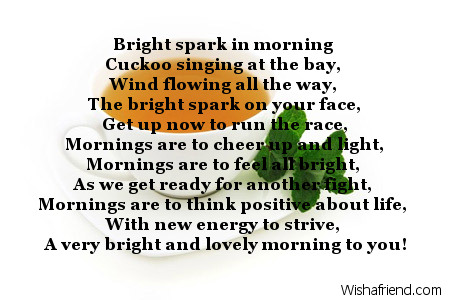 Bright spark in morning
Cuckoo singing at the bay,
Wind flowing all the way,
The bright spark on your face,
Get up now to run the race,
Mornings are to cheer up and light,
Mornings are to feel all bright,
As we get ready for another fight,
Mornings are to think positive about life,
With new energy to strive,
A very bright and lovely morning to you!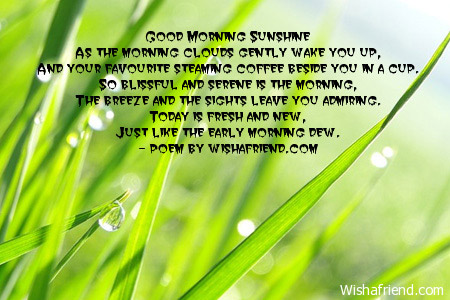 Good Morning Sunshine
As the morning clouds gently wake you up,
And your favourite steaming coffee beside you in a cup.
So blissful and serene is the morning,
The breeze and the sights leave you admiring.
Today is fresh and new,
Just like the early morning dew.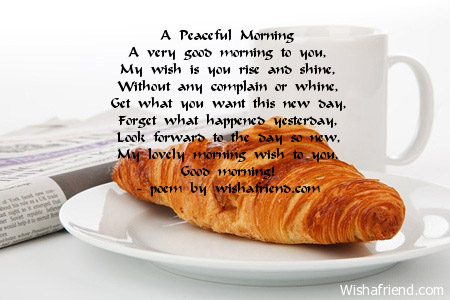 A Peaceful Morning
A very good morning to you,
My wish is you rise and shine,
Without any complain or whine,
Get what you want this new day,
Forget what happened yesterday,
Look forward to the day so new,
My lovely morning wish to you,
Good morning!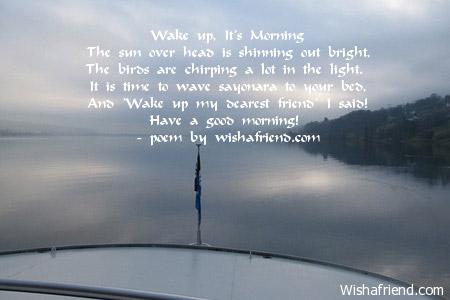 Wake up, It's Morning
The sun over head is shinning out bright,
The birds are chirping a lot in the light.
It is time to wave sayonara to your bed,
And 'Wake up my dearest friend' I said!
Have a good morning!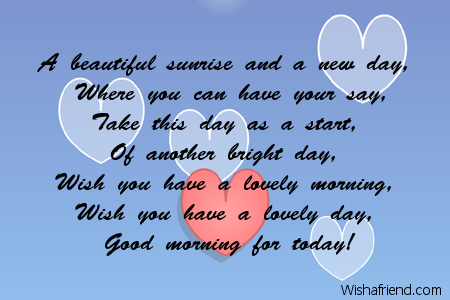 A beautiful day
A beautiful sunrise and a new day,
Where you can have your say,
Take this day as a start,
Of another bright day,
Wish you have a lovely morning,
Wish you have a lovely day,
Good morning for today!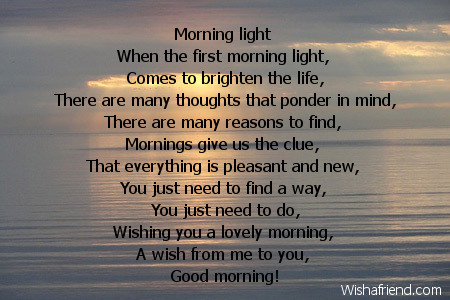 Morning light
When the first morning light, Comes to brighten the life,
There are many thoughts that ponder in mind,
There are many reasons to find,
Mornings give us the clue,
That everything is pleasant and new,
You just need to find a way,
You just need to do,
Wishing you a lovely morning,
A wish from me to you,
Good morning!