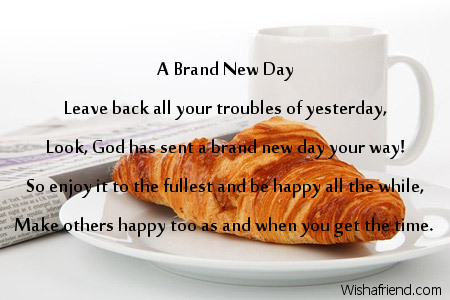 A Brand New Day
Leave back all your troubles of yesterday,
Look, God has sent a brand new day your way!
So enjoy it to the fullest and be happy all the while,
Make others happy too as and when you get the time.
Other Popular Good Morning Poems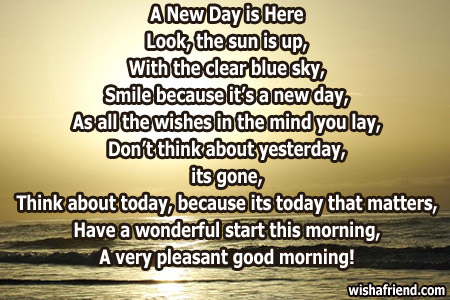 A New Day is Here
Look, the sun is up,
With the clear blue sky,
Smile because it's a new day,
As all the wishes in the mind you lay,
Don't think about yesterday,
its gone,
Think about today, because its today that matters,
Have a wonderful start this morning,
A very pleasant good morning!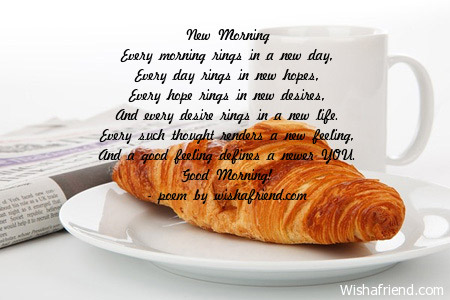 New Morning
Every morning rings in a new day,
Every day rings in new hopes,
Every hope rings in new desires,
And every desire rings in a new life.
Every such thought renders a new feeling,
And a good feeling defines a newer YOU.
Good Morning!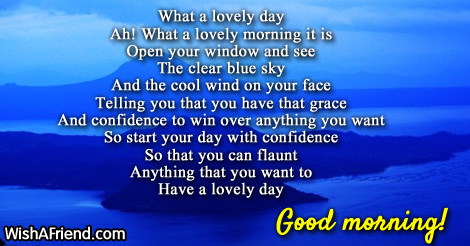 What a lovely day
Ah! What a lovely morning it is
Open your window and see
The clear blue sky
And the cool wind on your face
Telling you that you have that grace
And confidence to win over anything you want
So start your day with confidence
So that you can flaunt
Anything that you want to
Have a lovely day
Good morning!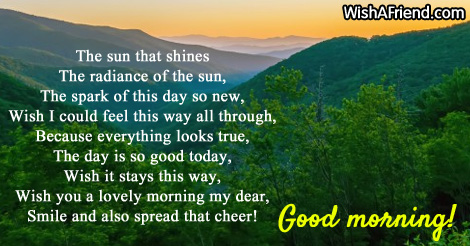 The sun that shines
The radiance of the sun,
The spark of this day so new,
Wish I could feel this way all through,
Because everything looks true,
The day is so good today,
Wish it stays this way,
Wish you a lovely morning my dear,
Smile and also spread that cheer!
Good morning!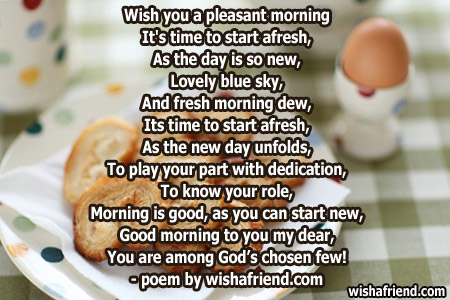 Wish you a pleasant morning
It's time to start afresh,
As the day is so new,
Lovely blue sky,
And fresh morning dew,
Its time to start afresh,
As the new day unfolds,
To play your part with dedication,
To know your role,
Morning is good, as you can start new,
Good morning to you my dear,
You are among God's chosen few!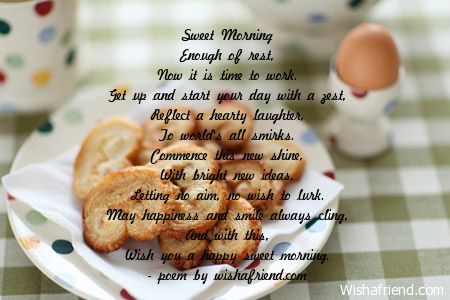 Sweet Morning
Enough of rest,
Now it is time to work.
Get up and start your day with a zest,
Reflect a hearty laughter,
To world's all smirks.
Commence this new shine,
With bright new ideas,
Letting no aim, no wish to lurk.
May happiness and smile always cling,
And with this,
Wish you a happy sweet morning.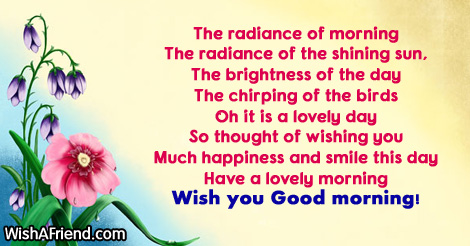 The radiance of morning
The radiance of the shining sun,
The brightness of the day
The chirping of the birds
Oh it is a lovely day
So thought of wishing you
Much happiness and smile this day
Have a lovely morning
Wish you Good morning!