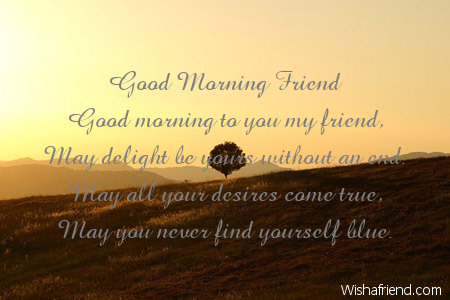 Good Morning Friend
Good morning to you my friend,
May delight be yours without an end.
May all your desires come true,
May you never find yourself blue.
Other Popular Good Morning Poems
Give yourself a break in life
Give yourself a break in life
You deserve to take a lot more
Give yourself some respite
By walking through the morning chore
Make a list of things you will do
Make a lot of things in hew
Feel good as it's just the start
Feel good as you have chance ahead
Morning is such a great time
Morning time brings in a new cheer
Morning time is really bright
Makes you feel so awesome and right
Wishing you a lovely morning!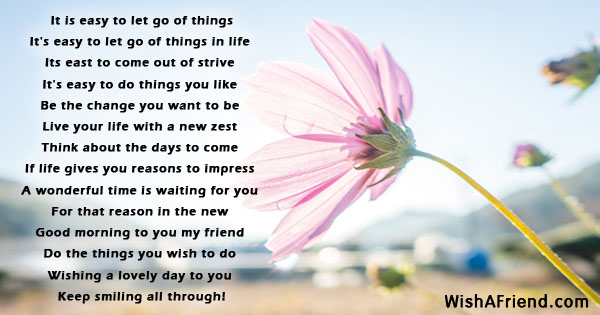 It is easy to let go of things
It's easy to let go of things in life
Its east to come out of strive
It's easy to do things you like
Be the change you want to be
Live your life with a new zest
Think about the days to come
If life gives you reasons to impress
A wonderful time is waiting for you
For that reason in the new
Good morning to you my friend
Do the things you wish to do
Wishing a lovely day to you
Keep smiling all through!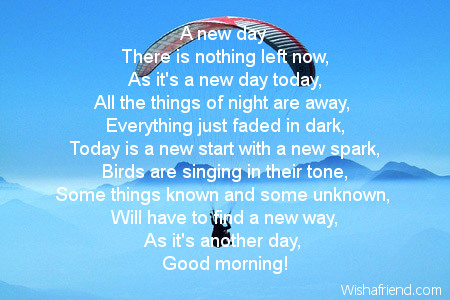 A new day
There is nothing left now,
As it's a new day today,
All the things of night are away,
Everything just faded in dark,
Today is a new start with a new spark,
Birds are singing in their tone,
Some things known and some unknown,
Will have to find a new way,
As it's another day,
Good morning!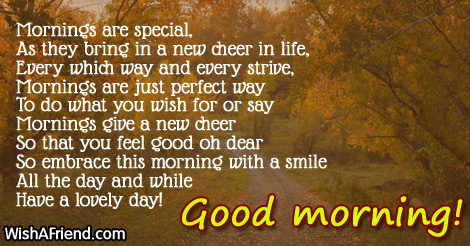 It is truly special
Mornings are special,
As they bring in a new cheer in life,
Every which way and every strive,
Mornings are just perfect way
To do what you wish for or say
Mornings give a new cheer
So that you feel good oh dear
So embrace this morning with a smile
All the day and while
Have a lovely day!
Good morning!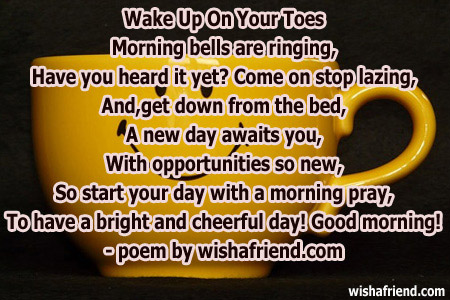 Wake Up On Your Toes
Morning bells are ringing,
Have you heard it yet? Come on stop lazing,
And,get down from the bed,
A new day awaits you,
With opportunities so new,
So start your day with a morning pray,
To have a bright and cheerful day! Good morning!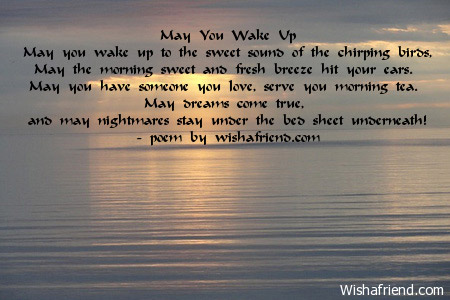 May You Wake Up
May you wake up to the sweet sound of the chirping birds,
May the morning sweet and fresh breeze hit your ears.
May you have someone you love, serve you morning tea.
May dreams come true,
and may nightmares stay under the bed sheet underneath!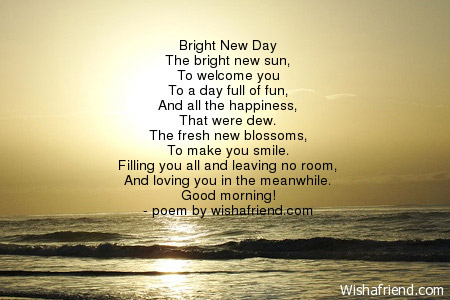 Bright New Day
The bright new sun,
To welcome you
To a day full of fun,
And all the happiness,
That were dew.
The fresh new blossoms,
To make you smile.
Filling you all and leaving no room,
And loving you in the meanwhile.
Good morning!