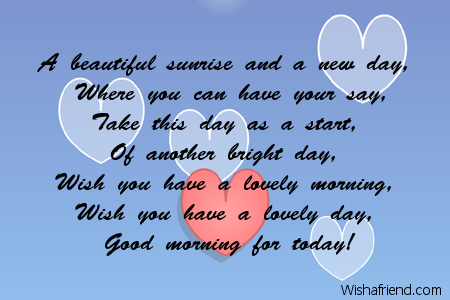 A beautiful day
A beautiful sunrise and a new day,
Where you can have your say,
Take this day as a start,
Of another bright day,
Wish you have a lovely morning,
Wish you have a lovely day,
Good morning for today!
Other Popular Good Morning Poems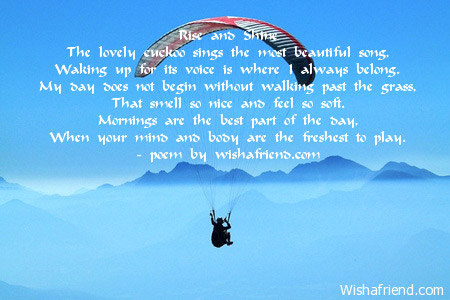 Rise and Shine
The lovely cuckoo sings the most beautiful song,
Waking up for its voice is where I always belong.
My day does not begin without walking past the grass,
That smell so nice and feel so soft.
Mornings are the best part of the day,
When your mind and body are the freshest to play.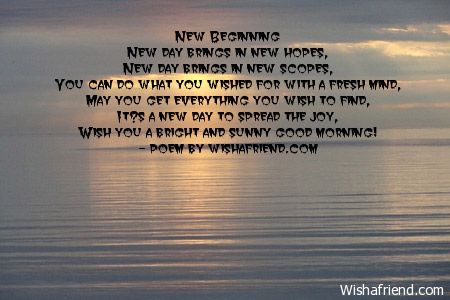 New Beginning
New day brings in new hopes,
New day brings in new scopes,
You can do what you wished for with a fresh mind,
May you get everything you wish to find,
It's a new day to spread the joy,
Wish you a bright and sunny good morning!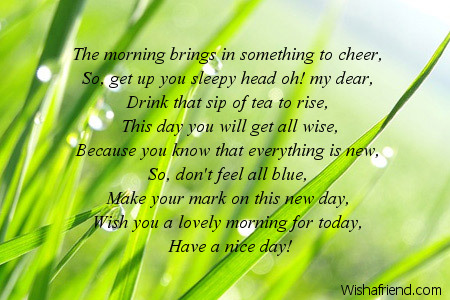 Something to cheer
The morning brings in something to cheer,
So, get up you sleepy head oh! my dear,
Drink that sip of tea to rise,
This day you will get all wise,
Because you know that everything is new,
So, don't feel all blue,
Make your mark on this new day,
Wish you a lovely morning for today,
Have a nice day!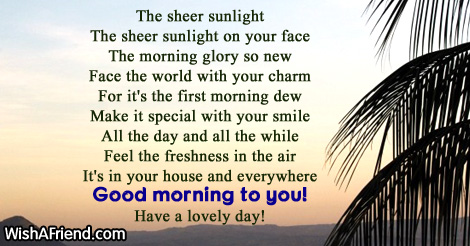 The sheer sunlight
The sheer sunlight on your face
The morning glory so new
Face the world with your charm
For it's the first morning dew
Make it special with your smile
All the day and all the while
Feel the freshness in the air
It's in your house and everywhere
Good morning to you!
Have a lovely day!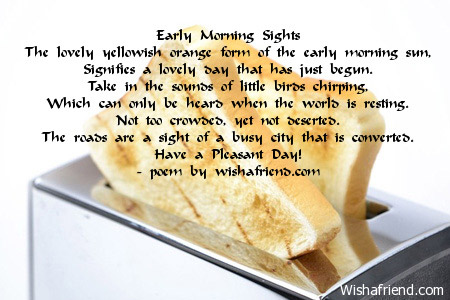 Early Morning Sights
The lovely yellowish orange form of the early morning sun,
Signifies a lovely day that has just begun.
Take in the sounds of little birds chirping,
Which can only be heard when the world is resting.
Not too crowded, yet not deserted.
The roads are a sight of a busy city that is converted.
Have a Pleasant Day!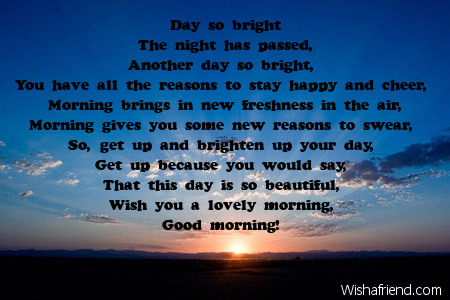 Day so bright
The night has passed,
Another day so bright,
You have all the reasons to stay happy and cheer,
Morning brings in new freshness in the air,
Morning gives you some new reasons to swear,
So, get up and brighten up your day,
Get up because you would say,
That this day is so beautiful,
Wish you a lovely morning,
Good morning!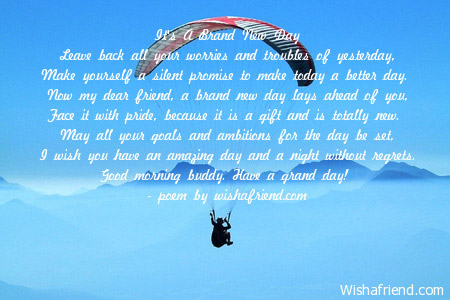 It's A Brand New Day
Leave back all your worries and troubles of yesterday,
Make yourself a silent promise to make today a better day.
Now my dear friend, a brand new day lays ahead of you,
Face it with pride, because it is a gift and is totally new.
May all your goals and ambitions for the day be set,
I wish you have an amazing day and a night without regrets.
Good morning buddy. Have a grand day!