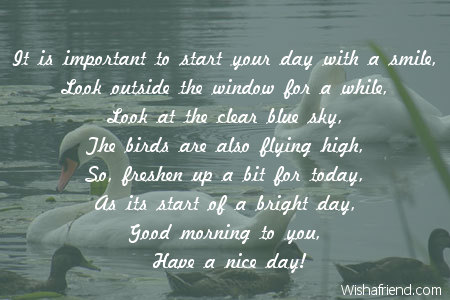 A day for you
It is important to start your day with a smile,
Look outside the window for a while,
Look at the clear blue sky,
The birds are also flying high,
So, freshen up a bit for today,
As its start of a bright day,
Good morning to you,
Have a nice day!
Other Popular Good Morning Poems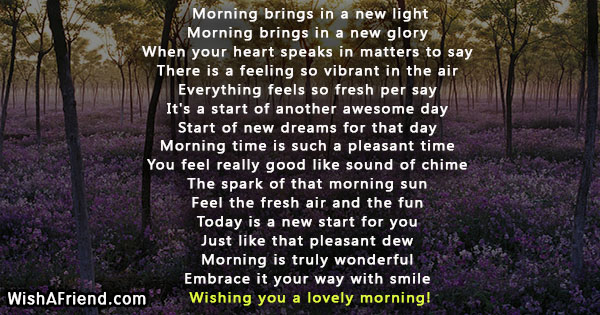 Morning brings in a new light
Morning brings in a new glory
When your heart speaks in matters to say
There is a feeling so vibrant in the air
Everything feels so fresh per say
It's a start of another awesome day
Start of new dreams for that day
Morning time is such a pleasant time
You feel really good like sound of chime
The spark of that morning sun
Feel the fresh air and the fun
Today is a new start for you
Just like that pleasant dew
Morning is truly wonderful
Embrace it your way with smile
Wishing you a lovely morning!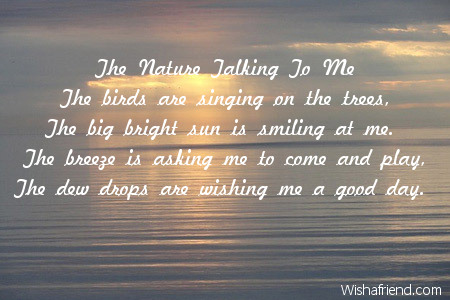 The Nature Talking To Me
The birds are singing on the trees,
The big bright sun is smiling at me.
The breeze is asking me to come and play,
The dew drops are wishing me a good day.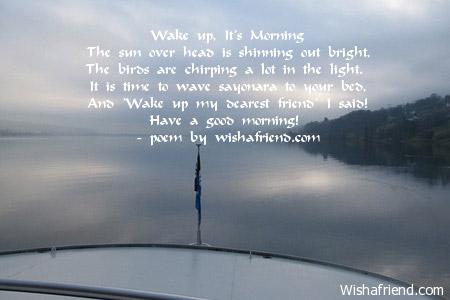 Wake up, It's Morning
The sun over head is shinning out bright,
The birds are chirping a lot in the light.
It is time to wave sayonara to your bed,
And 'Wake up my dearest friend' I said!
Have a good morning!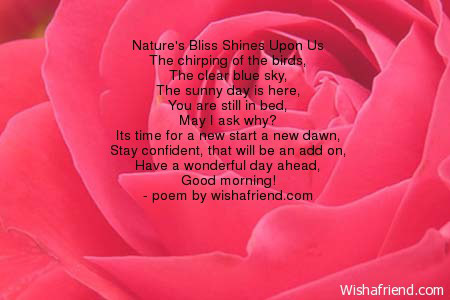 Nature's Bliss Shines Upon Us
The chirping of the birds,
The clear blue sky,
The sunny day is here,
You are still in bed,
May I ask why?
Its time for a new start a new dawn,
Stay confident, that will be an add on,
Have a wonderful day ahead,
Good morning!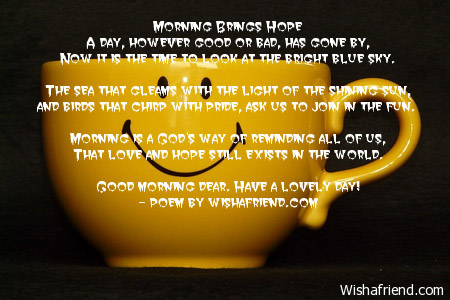 Morning Brings Hope
A day, however good or bad, has gone by,
Now it is the time to look at the bright blue sky.
The sea that gleams with the light of the shining sun,
and birds that chirp with pride, ask us to join in the fun.
Morning is a God's way of reminding all of us,
That love and hope still exists in the world.
Good morning dear. Have a lovely day!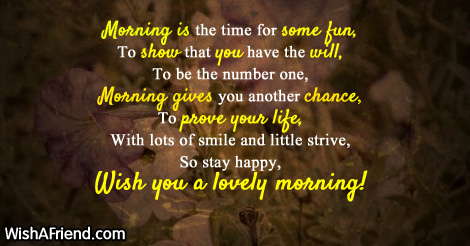 Time for some fun
Morning is the time for some fun,
To show that you have the will,
To be the number one,
Morning gives you another chance,
To prove your life,
With lots of smile and little strive,
So stay happy,
Wish you a lovely morning!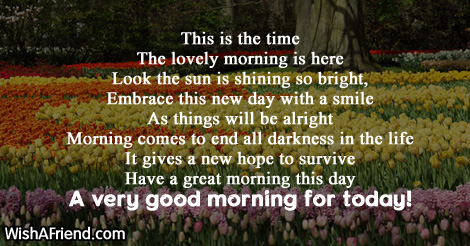 This is the time
The lovely morning is here
Look the sun is shining so bright,
Embrace this new day with a smile
As things will be alright
Morning comes to end all darkness in the life
It gives a new hope to survive
Have a great morning this day
A very good morning for today!