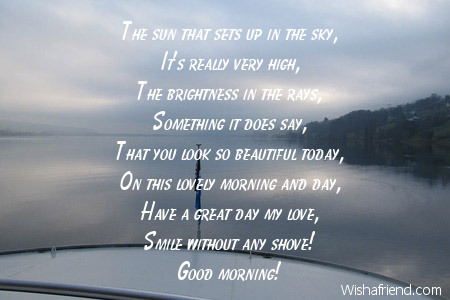 All for you now
The sun that sets up in the sky,
It's really very high,
The brightness in the rays,
Something it does say,
That you look so beautiful today,
On this lovely morning and day,
Have a great day my love,
Smile without any shove! Good morning!
Other Popular Good Morning Poems for Her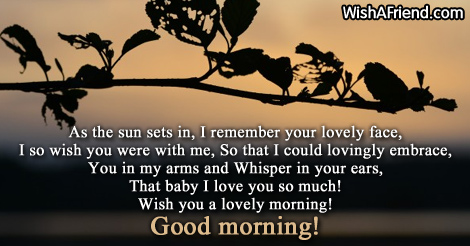 As the sun sets in
As the sun sets in,
I remember your lovely face,
I so wish you were with me,
So that I could lovingly embrace,
You in my arms and
Whisper in your ears,
That baby I love you so much!
Wish you a lovely morning!
Good morning!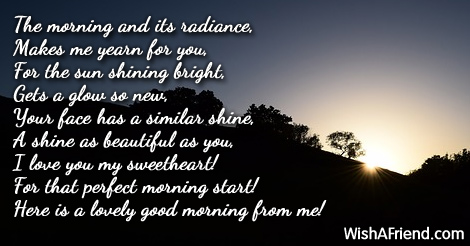 The radiance of morning
The morning and its radiance,
Makes me yearn for you,
For the sun shining bright,
Gets a glow so new,
Your face has a similar shine,
A shine as beautiful as you,
I love you my sweetheart!
For that perfect morning start!
Here is a lovely good morning from me!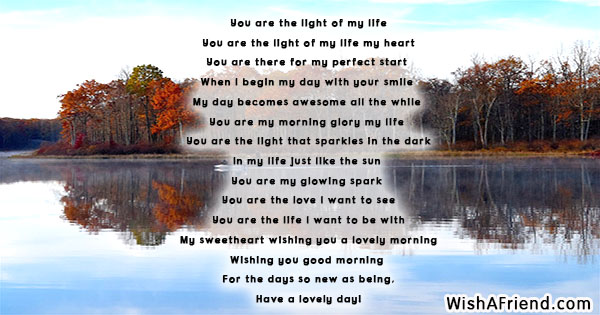 You are the light of my life
You are the light of my life my heart
You are there for my perfect start
When I begin my day with your smile
My day becomes awesome all the while
You are my morning glory my life
You are the light that sparkles in the dark
In my life just like the sun
You are my glowing spark
You are the love I want to see
You are the life I want to be with
My sweetheart wishing you a lovely morning
Wishing you good morning
For the days so new as being,
Have a lovely day!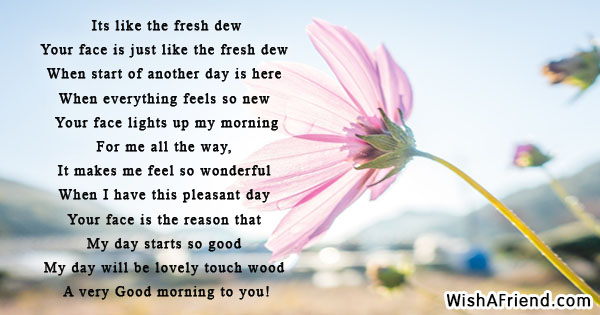 Its like the fresh dew
Your face is just like the fresh dew
When start of another day is here
When everything feels so new
Your face lights up my morning
For me all the way,
It makes me feel so wonderful
When I have this pleasant day
Your face is the reason that
My day starts so good
My day will be lovely touch wood
A very Good morning to you!
I am your wakeup call
I want to be your wakeup call and tell you were missed
My baby first thing in the day
Coz I want that you read my message
And have a look that I also missed you
But the morning glory is finally here
And the misty hue is also here
To tell you that it's the super morning start
But in all you stay in my heart
Good morning to you my dear
Spread the cheer!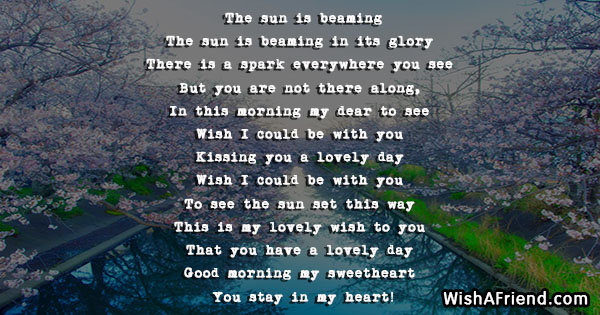 The sun is beaming
The sun is beaming in its glory
There is a spark everywhere you see
But you are not there along,
In this morning my dear to see
Wish I could be with you
Kissing you a lovely day
Wish I could be with you
To see the sun set this way
This is my lovely wish to you
That you have a lovely day
Good morning my sweetheart
You stay in my heart!
I miss you crazy
I miss your crazy madness my love
Early this day when I need you the most
You are so far what I can do
Just want to say that I so love you
Your love is my need at any time of the day
You are my desire you are my way
Wishing you well this early morning time
You and me are like destined
So have the most amazing day
Wishing you good morning for today!