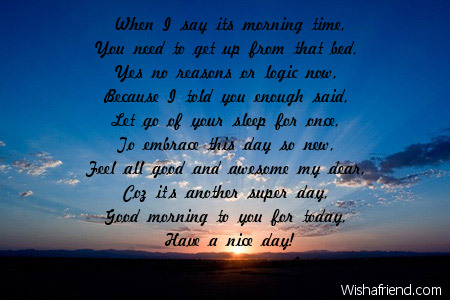 When I wish you
When I say its morning time,
You need to get up from that bed,
Yes no reasons or logic now,
Because I told you enough said,
Let go of your sleep for once,
To embrace this day so new,
Feel all good and awesome my dear,
Coz it's another super day,
Good morning to you for today,
Have a nice day!
Other Popular Good Morning Poems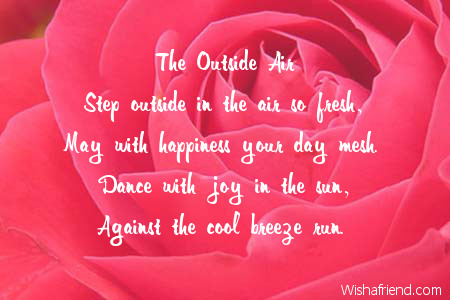 The Outside Air
Step outside in the air so fresh,
May with happiness your day mesh.
Dance with joy in the sun,
Against the cool breeze run.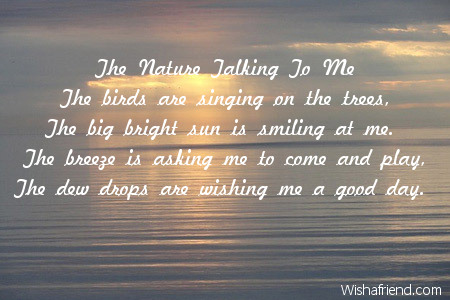 The Nature Talking To Me
The birds are singing on the trees,
The big bright sun is smiling at me.
The breeze is asking me to come and play,
The dew drops are wishing me a good day.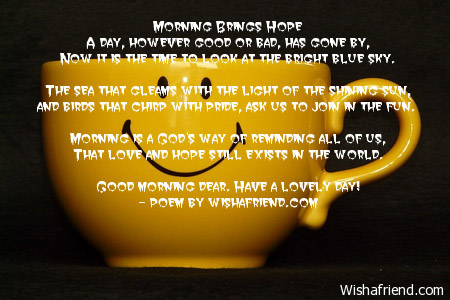 Morning Brings Hope
A day, however good or bad, has gone by,
Now it is the time to look at the bright blue sky.
The sea that gleams with the light of the shining sun,
and birds that chirp with pride, ask us to join in the fun.
Morning is a God's way of reminding all of us,
That love and hope still exists in the world.
Good morning dear. Have a lovely day!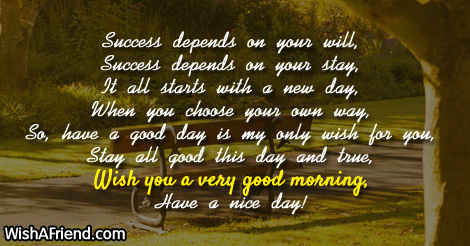 On your will
Success depends on your will,
Success depends on your stay,
It all starts with a new day,
When you choose your own way,
So, have a good day is my only wish for you,
Stay all good this day and true,
Wish you a very good morning,
Have a nice day!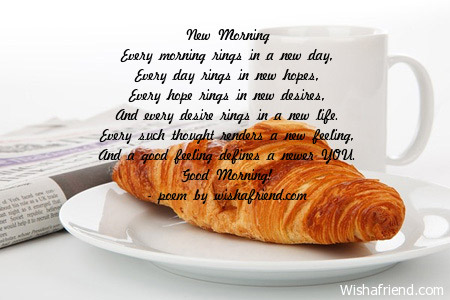 New Morning
Every morning rings in a new day,
Every day rings in new hopes,
Every hope rings in new desires,
And every desire rings in a new life.
Every such thought renders a new feeling,
And a good feeling defines a newer YOU.
Good Morning!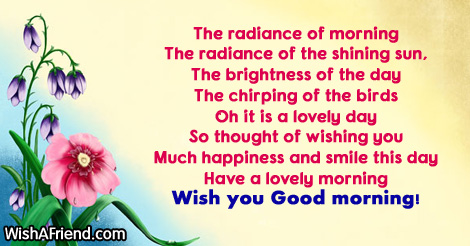 The radiance of morning
The radiance of the shining sun,
The brightness of the day
The chirping of the birds
Oh it is a lovely day
So thought of wishing you
Much happiness and smile this day
Have a lovely morning
Wish you Good morning!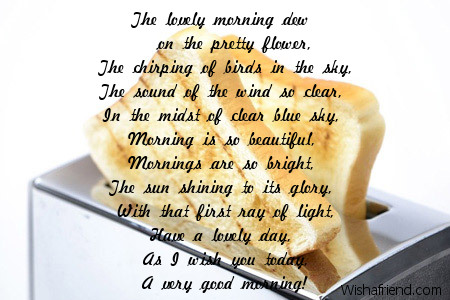 Lovely morning
The lovely morning dew on the pretty flower,
The chirping of birds in the sky,
The sound of the wind so clear,
In the midst of clear blue sky,
Morning is so beautiful,
Mornings are so bright,
The sun shining to its glory,
With that first ray of light,
Have a lovely day,
As I wish you today,
A very good morning!